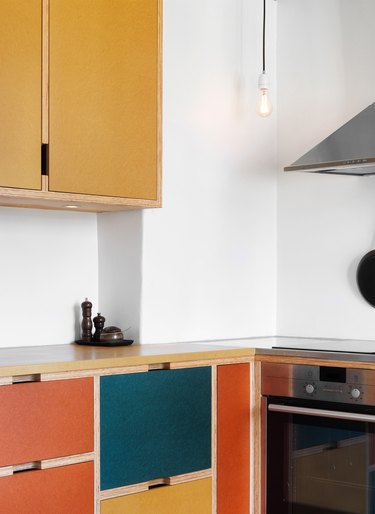 As far as we're concerned, yellow is one of the most underrated colors you can paint your kitchen cabinets. While white, blue, and green are extremely popular options — and look good in just about every nuanced shade — yellow gets a bad rap for being too bright. Choose the wrong shade for your yellow kitchen cabinets and your space will feel as if you are staring directly into the sun or, even worse, haven't upgraded your room since 1955.
Though the hue is one of the trickier colors to master, the truth is yellow can look bold, modern and, yes, indisputably energetic. The secret? You just need to get a little creative. Below, six standout yellow kitchen cabinet ideas to turn even the biggest doubters into believers.
Yellow Kitchen Cabinet Idea #1: Bold Borders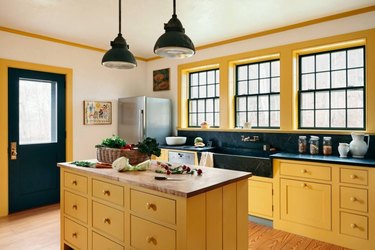 Calling all maximalists: Yellow kitchen cabinets are a great opportunity to embrace your bold eye for design. Think outside the box by painting the borders around your windows and doorways the same shade as your cabinets á la Hendricks Churchill. While this design tactic certainly packs a punch, the bold borders soften the effect of the statement cabinets.
Yellow Kitchen Cabinet Idea #2: Modern Marvel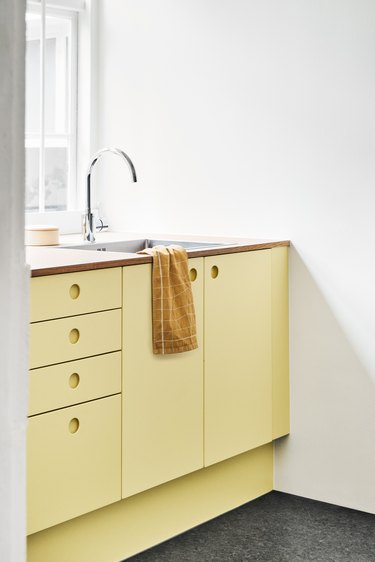 Want to keep your yellow kitchen cabinets from looking, well, archaic? Take a cue from this kitchenette featuring Scandi-chic minimal door fronts, free from ornate trim or hardware, from Reform. The pared-back look balances the sunny hue, making the space feel modern, not fussy.
Yellow Kitchen Cabinet Idea #3: The Blues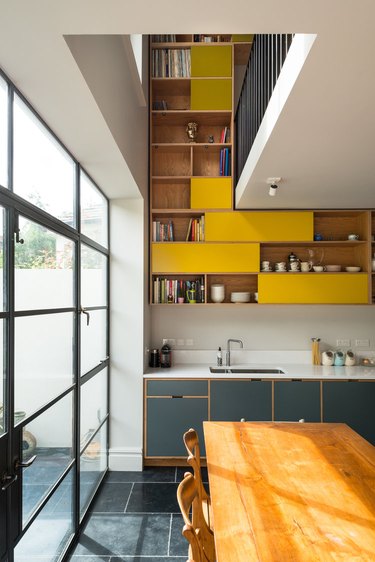 Yellow and blue have been a tried-and-true color combination for just about every room — and your kitchen is no exception. London-based firm MW Architects strikes the perfect balance between light and dark by pairing the upper yellow cabinet fronts with warm wood and lower blue cabinet fronts. The result? A visual treat that's just as mouthwatering as the dishes you're planning to whip up.
Yellow Kitchen Cabinet Idea #4: Buzz-Worthy Bliss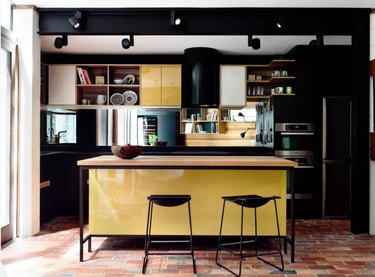 For as long as we can remember, we couldn't look at a black and yellow color combination without thinking about bumble bees. However, this kitchen from Atticus & Milo has made us reconsider the pairing. With matte accents, glossy yellow cabinets, and natural elements like wood and brick, this kitchen hits all the right notes.
Yellow Kitchen Cabinet Idea #5: Au Naturale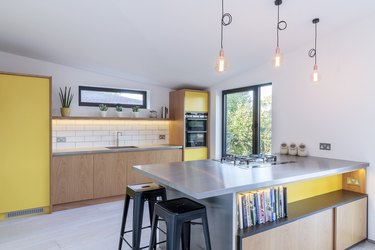 Just because you like the idea of yellow kitchen cabinets doesn't mean you have to douse your culinary space in the sunny hue. For a room that teeters nicely between subtle and statement, take a cue from Papilio Bespoke Kitchen Design and break up the vibrant shade with some wooden accents and stainless steel countertops. Here's a yellow kitchen cabinet idea that would receive Mother Nature's stamp of approval.
Yellow Kitchen Cabinet Idea #6: The Magic of Color Blocking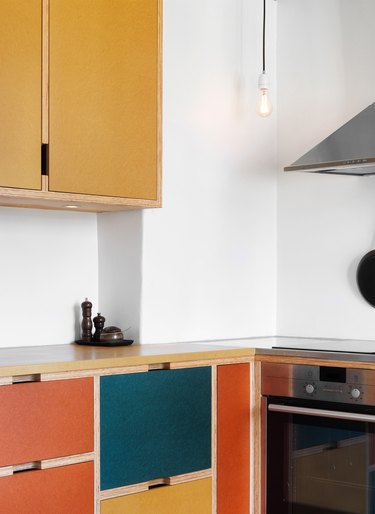 When it comes to your kitchen cabinets, why stop at yellow? Take your love of modern design to the next level with color blocking. Stick to muted shades and pair with a dash of orange and a hint of blue-green to create a warm and inviting space full of playful personality. Let the team over at Swedish design studio Bedow show you how it's done.