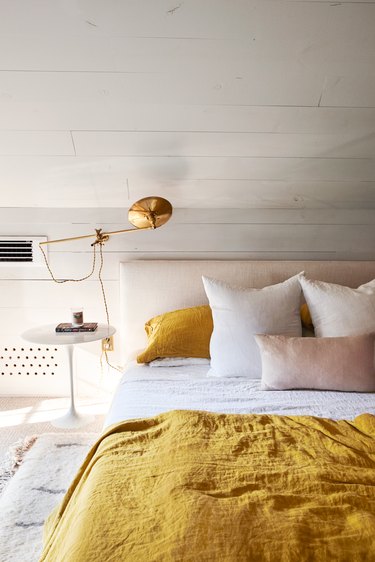 Yellow is surprisingly divisive: Either you love it or you hate it. If you're a fan, great! This post is for you. If you're meh on yellow, we get it: the hue can be daunting. But consider this: Yellow comes in many varieties — from lemon to maize — and has made an especially impressive comeback in the bedroom recently. Let these 10 creative yellow bedroom ideas convince you to incorporate the cheerful color.
1. Paint over brick.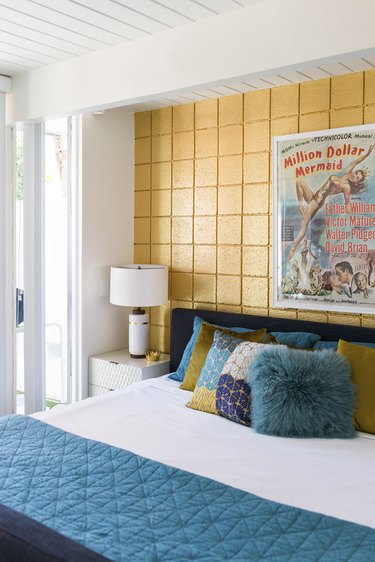 We can't get enough of the yellow brick wall in this Palm Springs bedroom styled by Francie Flynn for West Elm. The bright hue pairs flawlessly with the midcentury decor and even works as an unexpected accent wall.
2. Consider complementing with bohemian accents.
The yellow wall in this bohemian sanctuary belonging to Antonia from At Home With Nia feels right at ... well, home. Her happy-go-lucky bedroom, complete with floating shelves, houseplants, books, and polka dot bedding is as cheerful as can be.
3. Welcome sunny vibes with wall-to-wall wallpaper.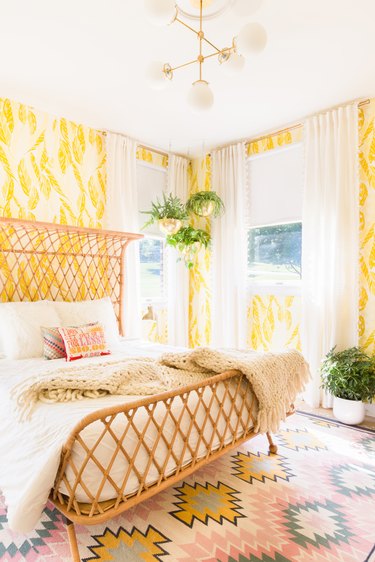 Let the sunshine in with vibrant, yellow banana leaf walls like Elsie from A Beautiful Mess did in her guest bedroom. Use a hint of greenery, woven rattan, and punchy patterns to create a joyful balance that will make you smile every time you open the door.
4. Throw some color on the ceiling.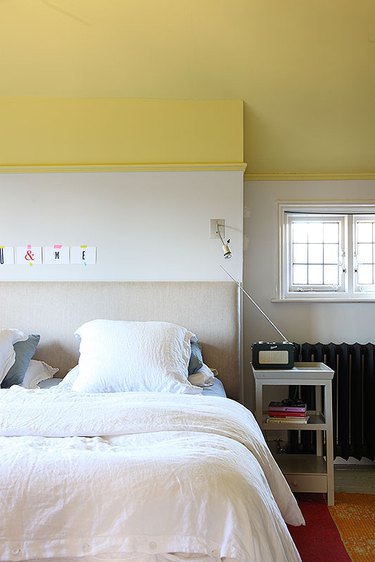 Yellow is the perfect shade to warm things up. Take a cue from this bedroom's lemon-hued statement ceiling, which adds just the right amount of color to otherwise white sleeping quarters.
5. Use yellow as a backdrop.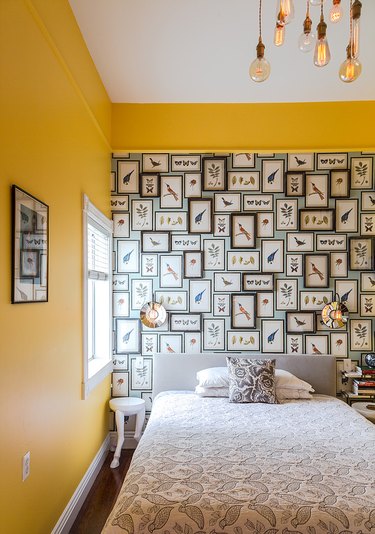 Although white tends to be the color of choice for many, yellow can serve as an ideal backdrop for artwork and other decor, too. This yellow bedroom, designed by Seldin Design Studios, features an incredible gallery wall.
6. Punctuate your room with a yellow bed.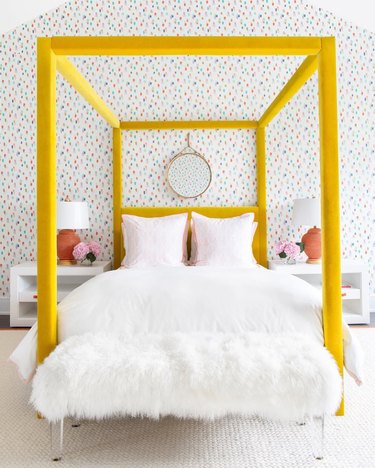 If you don't love the idea of a completely yellow bedroom, why not bring the bright hue in through another detail, like your bed? The cheery four-poster bed in this playful bedroom designed by Chango & Co. steals the spotlight.
7. Embrace a bold accent wall.
Yellow patterned wallpaper is the epitome of risk-taking, and it truly pays off in this lovely guest room in The Dwell Hotel. The flamingo accent wall takes center stage against quieter accents, like wood flooring, red brick, and white linens.
8. Do some color-blocking.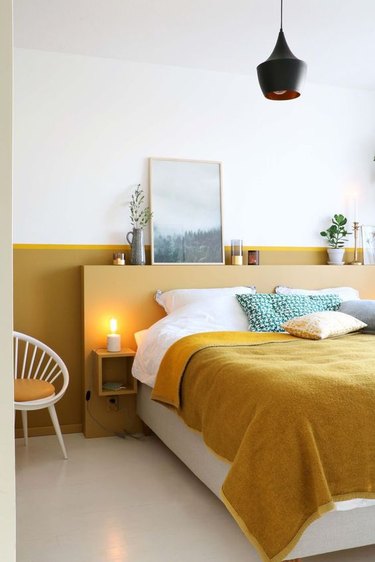 Forget painting the whole wall. Give color-blocking a try and only paint a portion of the wall. Marij Hessel of My Attic decided her bedroom could benefit from a yellow wainscot.
9. Invest in yellow bedding.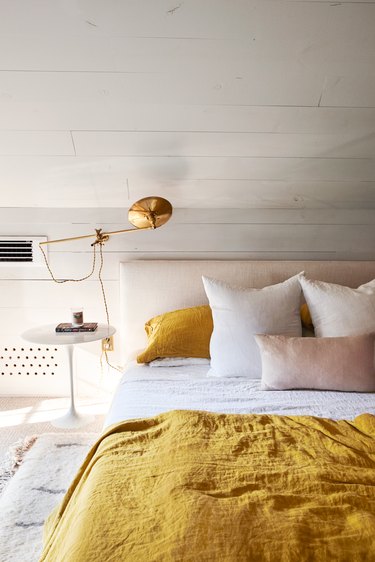 Not ready to take the plunge? If you'd prefer a more casual yellow bedroom idea, look no further than your bedding. Hawkins New York founders opted for this linen set in a warm mustard hue for their Hudson, New York farmhouse.
10. Be brave and mix bold color with daring patterns.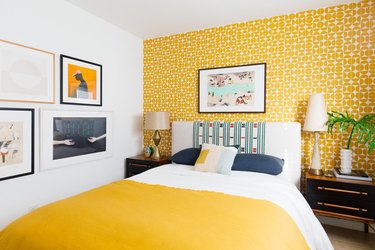 Then there's the other side of the spectrum. If yellow is your be-all, end-all favorite color, by all means, go for it like Dabito from Old Brand New did in his guest room makeover. This yellow bedroom idea makes it pretty much impossible to not be a happy camper.