Nailing the proper vibe when it comes to vintage furnishings — cool but not dated, hip but not cheap — takes a good eye. The Dwell Hotel's owner, Seija Ojanpera, definitely has it.
"I'm always looking for something that makes a statement and has a good price," says Ojanpera. She describes the eclectic look of her Chattanooga, Tennessee, property — open since 2016 — as "a take on midcentury modern." "I'm bringing in the kitschy vibe," she explains. "[But] the swanky part is important." To that end, bathrooms have soaking tubs and art; wallpapers feature lush, colorful patterns; and a luxurious bar and lounge are prime for schmoozing.
Ojanpera, who grew up in Florida and adopted this southern city as her own, has always dreamed of being a hotelier. "Since I was a little girl, I've [been] drawn [to] hotels and my mom was a travel agent," she recalls. Later this spring she'll open a shop next door to Dwell that will allow guests to literally walk out with the design vibe they experienced during their stay. "I've got so many extra pieces and fun finds," says Ojanpera. "A lot of people who come to the hotel want to take home a little piece of it."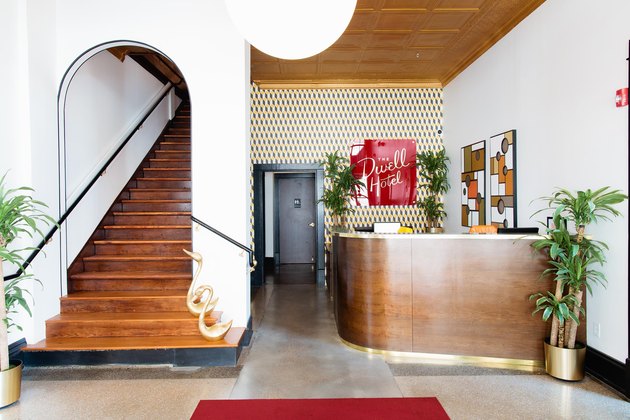 1 of 7
Lobby
A red carpet entrance might feel grand, but it's quickly tempered by the cozier elements of the lobby like a wood staircase and potted plants.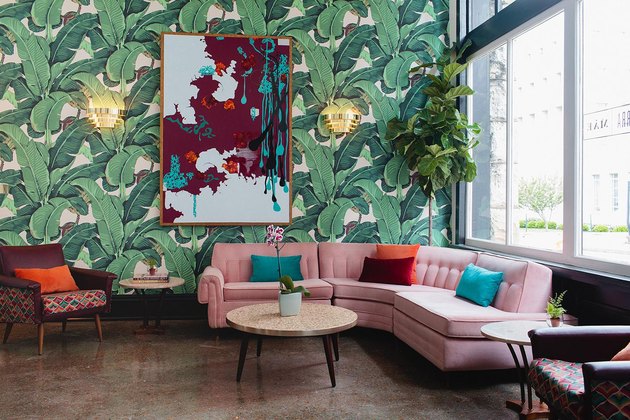 2 of 7
Parlor
"I want each room to be as spectacular as the next," says Ojanpera. "I start with one item that is beautiful, like a turquoise chair, and I build it around that." In the parlor, a rosy-pink sectional is flanked by two midcentury armchairs with teak legs, and a round formica cocktail table completes the vignette.
3 of 7
Bar
Matilda Midnight — the hotel's bar — welcomes guests with turquoise vinyl bar stools with shiny brass legs.
4 of 7
Room
"Nobody wants to feel like they have a boring room," says Ojanpera, who ensures that each boasts unique decor. In the Kite Suite, crisp white linens and royal blue oval wallpaper create a classic look while the lime-green and orange pillows spice it up (not to mention the bold painting with mustard hues and the kites, which gave the suite its name).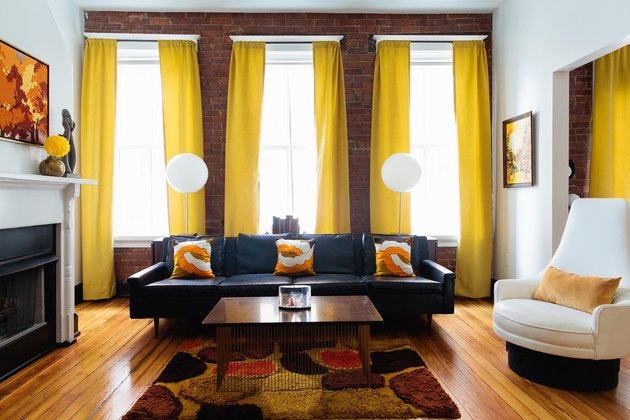 5 of 7
Room
The Mod Suite boasts a total '70s theme, with bright yellow floor-to-ceiling curtains, globe lamps, and a shag rug.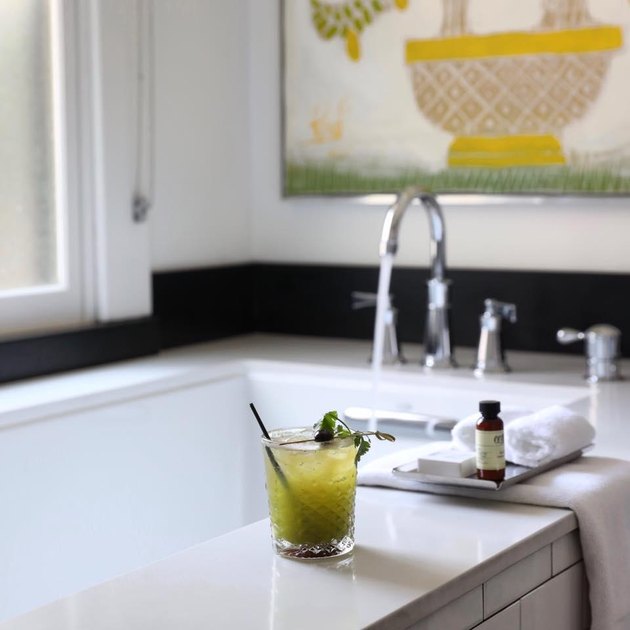 6 of 7
Bath
It was important for Ojanpera to make the baths luxurious, so she included C.O. Bigelow's apothecary-oriented toiletries, soaking tubs (in some rooms), and artwork.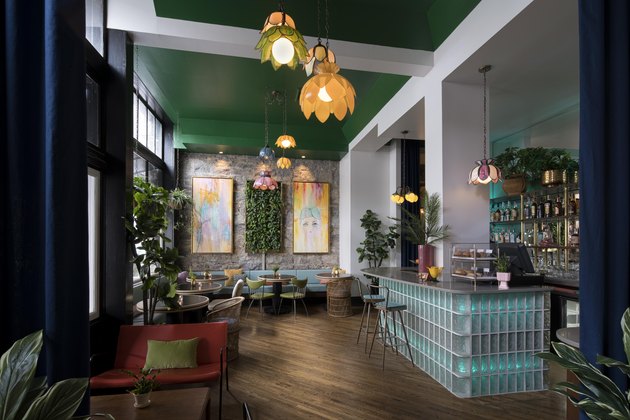 7 of 7
Lounge
Solarium, the Dwell Hotel's lounge, serves breakfast all day under vintage Tiffany-like lights.
---
Based in Wisconsin, Kristine Hansen covers art, architecture, travel and food/drink, and lives in a 1920s bungalow.
View Work