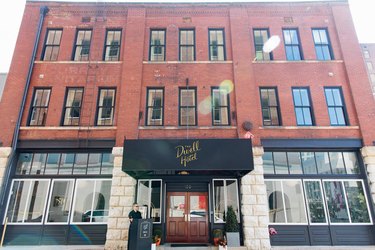 Nailing the proper vibe when it comes to vintage furnishings — cool but not dated, hip but not cheap — takes a good eye. The Dwell Hotel's owner, Seija Ojanpera, definitely has it.
"I'm always looking for something that makes a statement and has a good price," says Ojanpera. She describes the eclectic look of her Chattanooga, Tennessee, property — open since 2016 — as "a take on midcentury modern." "I'm bringing in the kitschy vibe," she explains. "[But] the swanky part is important." To that end, bathrooms have soaking tubs and art; wallpapers feature lush, colorful patterns; and a luxurious bar and lounge are prime for schmoozing.
Ojanpera, who grew up in Florida and adopted this southern city as her own, has always dreamed of being a hotelier. "Since I was a little girl, I've [been] drawn [to] hotels and my mom was a travel agent," she recalls. Later this spring she'll open a shop next door to Dwell that will allow guests to literally walk out with the design vibe they experienced during their stay. "I've got so many extra pieces and fun finds," says Ojanpera. "A lot of people who come to the hotel want to take home a little piece of it."