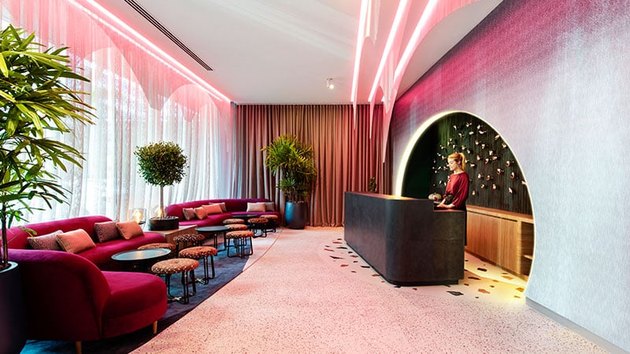 Designer Eva Sue wants you to find "surprising hints of quirk" when checking into the 103-room Ovolo The Valley, which opened in a Brisbane, Australia, 'burb in November 2018. So, if you're looking for a boutique-y hotel with a bit of whimsy for your Aussie vacay, this is definitely one to consider.
"The execution is part Alice in Wonderland," says Sue, principal and regional interior design leader for Woods Bagot, "and part a celebration of nature and the vivid regional flora, to inspire and ignite the curiosity of our guest." This translates to spaces decked out in splashy floral wallpapers and curved velvet upholstery in bold colors.
Curating a whimsical art collection was at the hands of art curator Kathleen Wilson, director of Creative Chase art consultancy. "The artworks are visually strong and feature dynamic, colorful, and sculptural qualities which beckon an emotional response," says Sue, as well as "immersive guest interactions such as the art plinth, which elevates Bobo the Gorilla (one of the pieces, a sculpture) as a museum artifact for a playful tongue-in-cheek moment."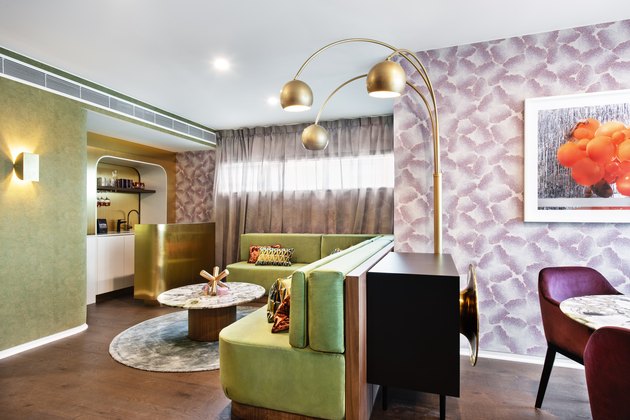 1 of 7
Rockstar Suite
Each Ovolo hotel's Rockstar Suite has a different inspiration — this one draws on David Bowie circa 1970s with snazzy colors and luxe touches like bronze and marble.
2 of 7
Room
Milk glass sconces with gold detailing plus custom wallpaper — which was commissioned from Los Angeles-based, Australian textile and surface designer Liz Casella — are in each of the rooms.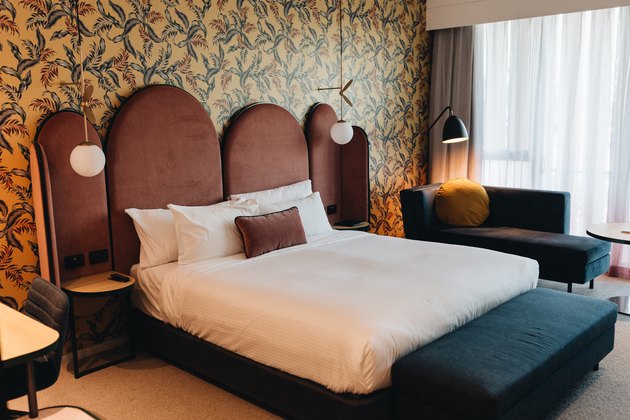 3 of 7
Room
Warm tones like navy and rust brown in plush fabrics make the bold wallpaper design pop even further.
4 of 7
Room
A flamingo snow globe on top of a stack of books — for a home-y touch — is a warm-weather twist on snowy landscapes.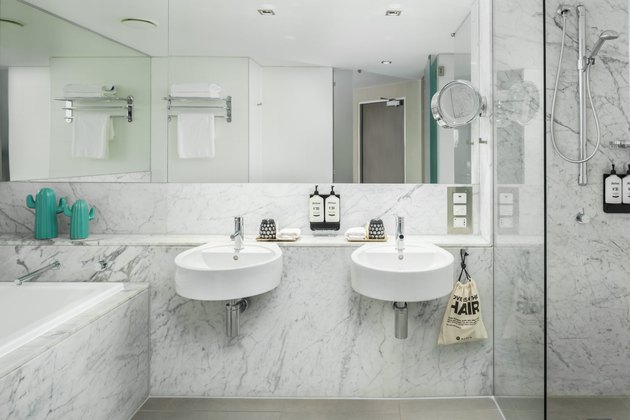 5 of 7
Bath
At first glance, the bath — with its all-white hues and luxury materials — looks simply fancy but then the eye meets a piece of quirk (those turquoise faux cacti!).
6 of 7
Rooftop Pool
A new rooftop pool features inflatable flamingo floats and yellow-and-white striped walls.
7 of 7
Restaurant
Designed to mimic a Parisian café, diners sit either in brasserie-style chairs under the black awning or inside, where the mood is cozy and timeless, featuring a dark backdrop of grays and blacks, accented by golden-yellow throw pillows.
---
Based in Wisconsin, Kristine Hansen covers art, architecture, travel and food/drink, and lives in a 1920s bungalow.
View Work