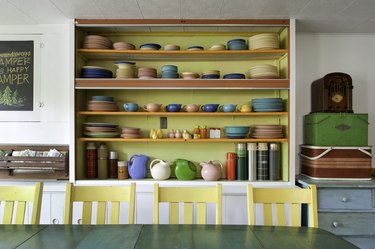 It's a known fact that being a grown-up bites the big one. For starters, you have to pay taxes. But there's also no more summer camp. Thankfully, there's a place that lets you relive your best childhood memories — Camp Wandawega, an idyllic lakeside property in Wisconsin filled with teepees, felt pendants and yes, even an archery range.
Co-founded by husband and wife team Tereasa Surratt and David Hernandez, Wandawega is a nostalgic collaboration that draws on Hernandez's memories of attending camp on the very same property as a kid and Surratt's experience as a designer. The assortment of cabins and bunkhouses (bookable via Airbnb) have that vintage, rustic feeling ("Our 'no-frills' vibe is part of our charm, but it's not for everyone," the site warns), but Surratt has approached each space with a thoughtful, curated eye. "My sourcing is really as local as I can make it," she says. "Flea markets, barn sales, and thrift stores."
Hill House, the camp's newest addition, does take things up a notch, though. "It breaks the mold of everything we've done before," explains Surratt. The spacious, colonial-esque home boasts espresso and metal finishes, subway tiling, and contemporary lighting. "It's a modern look," Surratt says.