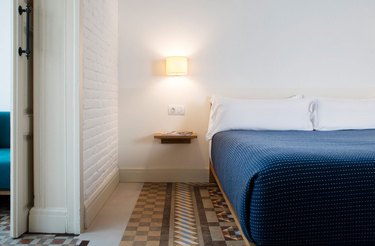 Tucked into a neoclassical building that dates back to 1859, the 68-room Casa Bonay in Barcelona's Eixample Dret neighborhood shines a spotlight on a place in the city many tourists never visit — but should.
"It's a very local neighborhood," explains Ines Miró-Sans, co-founder of Casa Bonay, open since the spring of 2016. "You can't see tourists. We are experiencing a change in this neighborhood. That's one of the things we wanted for our guests."
Naturally, Barcelona artisans were tapped as much as possible — and key historical elements preserved, like antique hydraulic-tile floors, sliding doors, and ceilings. "We kept everything [in the building] — the old stairs, the floors, the column, the facade," says Miró-Sans. "All the [furniture] pieces in the hotel are hand-designed. We just have a couple of vintage sofas."
Two shops in the hotel flaunt local movers and shakers in the arts world, too: Batabasta Shirt Makers, which also conceptualized Casa Bonay's staff uniforms; and Lino, a collection of both new and used books curated by Blackie Books.
Casa Bonay was one of Studio Tack's first projects, but now, the design firm boasts quite a few hotels in its portfolio, such as Anvil Hotel in Jackson Hole, Wyoming; and The Sandman Hotel in Santa Rosa, California. "They were really open [to our ideas]," Miró-Sans notes. "We brought a lot of people into the project." This includes Santa & Cole (considered Spain's most famous lighting company) and AOO (a local furniture designer — Marc Morro — with his own showroom).