We don't need to tell you that color is a big deal. It can impact our psyches, take a room from drab to fab in an instant, and communicate our unique personalities to everyone around us. Needless to say, it's a pretty huge topic of conversation here at Hunker HQ, and we all agree that choosing a hue for our den of slumber is of the utmost importance.
Bedroom colors affect the way we feel as we power down for the night and drift off to sleep, and they can contribute to lowering our stress level at the end of a painfully long day. So it's essential that whatever bedroom color idea you choose makes you feel good.
In an effort to help navigate this vibrant minefield, we've put together a primer to bedroom color ideas, sort of a one-stop shop full of helpful tips and the latest and greatest trends. Now, let's start exploring to discover the shade (or palette) that's perfect for your oh-so-dreamy sanctuary.
Tying In the Trends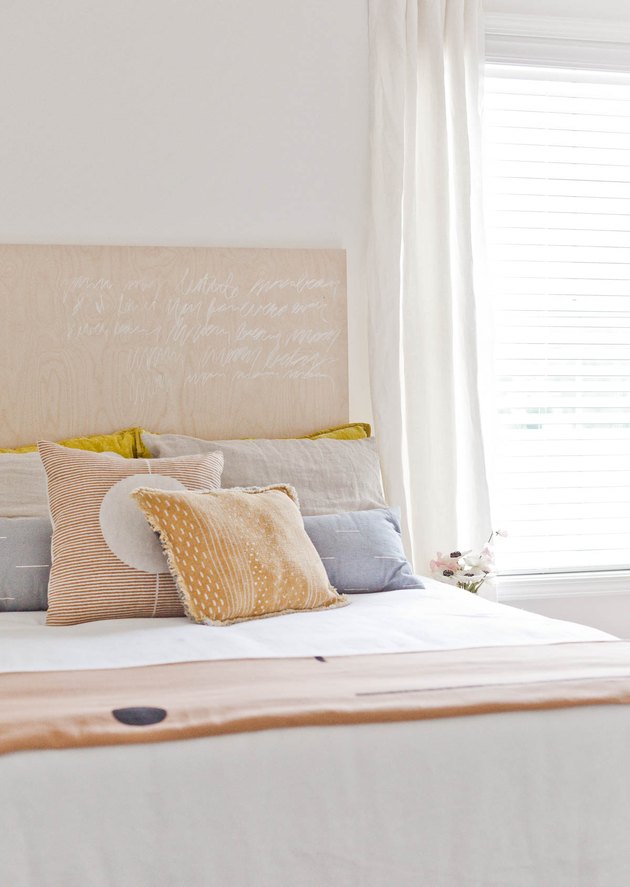 If you're lost in a sea of paint swatches and colorful bedding, there's one surefire way to narrow things down: look to the trends. Absolutely, you can always aim for a trend-less bedroom design (we'll never shake a finger at a timeless all-white setup), but paying attention to popular shades can be an easy way to see what a color actually looks like before committing. Simply type in a paint color and scroll through your Pinterest and Instagram feeds to get the creative juices flowing.
Ombré is a bedroom color idea that continues to reign supreme, probably due to the fact that it's an eye-pleasing and saturated approach that you don't see everyday. Or, you can move beyond just painting your walls and create a full-on, unique combination of colors using decorative pieces. Brittni Mehlhoff of Paper & Stitch shaped a contemporary, pastel palette with her linens, throw pillows, headboard, and artwork.
Other surprising color combinations for bedrooms include orange and pink, lilac and green, or even red and yellow. We also have a thing for verdant greens and dark blues. Or you can avoid on-trend color combos altogether and create a mix of seemingly limitless hues instead, if that's more your speed. We're definitely on board with a multicolored room that feels as if it could live in an Anthro catalog.
On the opposite side of the spectrum, monochrome and neutral bedroom color ideas are also dominating the trends. You can choose to stick to only black and white to create a serene atmosphere or kick things up (slightly) by combining earthy colors and textures with neutrals. Or, you can stick with one truly attention-grabbing hue and make it the star of the show amid the sea of light colors in your space.
The moral of the story? Pretty much anything goes when it comes to bedroom color trends these days, and we're all for it.
In Living Color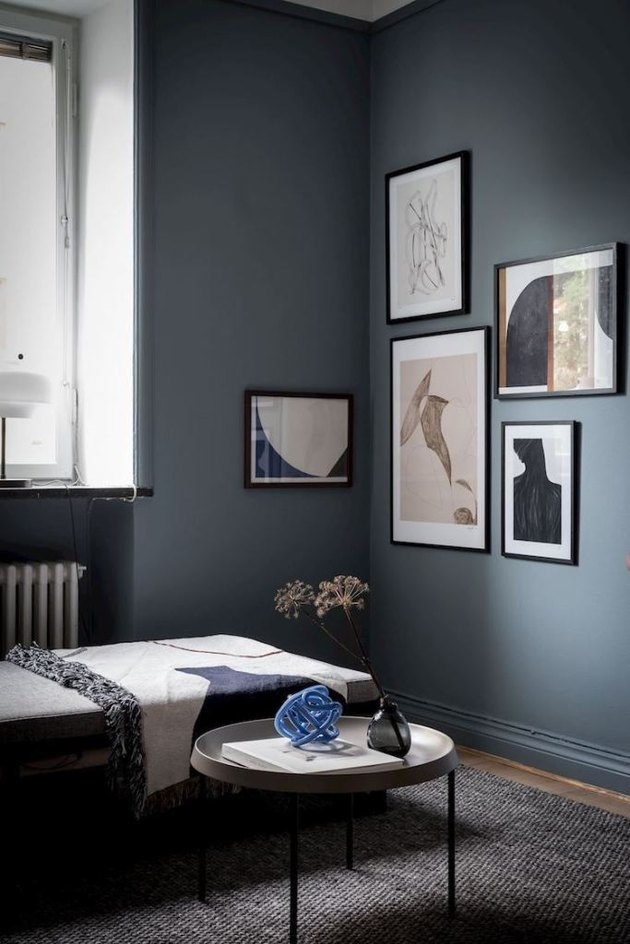 If trends and color combos feel a bit much for you, we suggest zeroing in on a single hue and putting it on a pedestal. This is an approach that works well if you consider yourself a minimalist, if you're aiming for a simple aesthetic, or if you just want to make it easier to shop for bedroom decor.
With the many, many shades of blue available, it's the perfect choice for a bedroom. It's also soothing, as proven by this blue-hued refuge dreamed up by Bon Interior for Bjurfors. Green, on the other hand, can invoke the feeling of the outdoors, which is also another way to create peaceful vibes. Alternatively, you can weave in sunset hues and imagine that you're watching the sun go down from your favorite beach.
Then there are the colors that pop with personality, the ones that will take your bedchamber from a basic place to sleep to an outward expression of who you are. Red is a way to do just that, with variations reminiscent of far-flung locales or color-soaked art museums. Orange is another hue that can push boundaries and manage to look great in Scandinavian, boho, and beach-inspired bedrooms. Between these two colors is pink, a best-of-both-worlds option that's quietly daring and right in line with the trends. And remember that you can always turn to yellow if you want your bedroom to put you in a good mood.
But maybe you desire little-to-no color in your bedroom. That's totally OK, too. In this case, you might find yourself drawn to tried-and-true neutrals like beige or greige. Gray is a naturally calming color, black can feel dark and cozy, and you literally can never go wrong with white.
Getting Creative
There are so many ways to inject personal flair into your space with the help of the right palette.When it comes to bedroom color ideas, you can convey your unique personality with paint, wallpaper, bedding, furniture, curtains, lighting, and beyond.
Patterns can be incorporated through a variety of methods. One no-brainer to achieve pattern panache is with wallpaper. We are especially loving this palm leaf print in a green and pink bedroom created by Jenna Sue Design. For bedroom-friendly wallpaper that won't overwhelm your space, look to small florals, terrazzo, or billowing cloud patterns. Some shades that are leading the trends include coral, hunter green, and tranquil sage. Textiles and bedding can also be a source of pattern and color. For instance, geometric shapes and eye-grabbing hues can be showcased in a throw pillow and blanket. You can also bring in some boldness with an area rug or your duvet and sheets.
For a straightforward way to commit to a bedroom color idea, you can of course paint your walls. We personally adore dark bedroom walls, from black to cherry red to dramatic blue.
Decorative pieces, such as light fixtures, are always an easy way to integrate a pop of color. Linen bedding in a solitary shade can add to your palette, matching or contrasting beautifully with nearby furniture. A bedroom side chair can anchor the room, or, if you have space, a punchy sofa is an instant way to pep up your space.
Lastly, consider pigmenting your sanctuary with window treatments. Curtains can seamlessly reinforce a bedroom color idea. Be brave with orange, green, or a kicky print, or opt for white and let the rest of your colors shine.