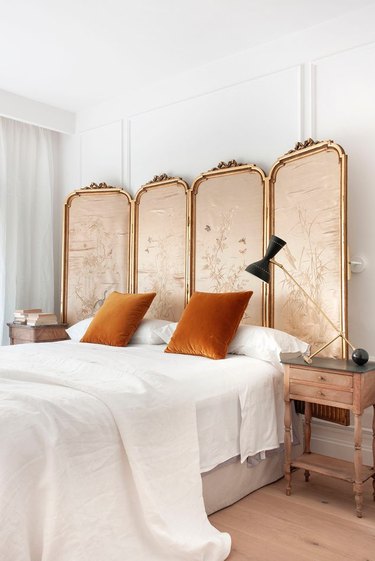 Hunker may earn compensation through affiliate links in this story. Learn more about our affiliate and product review process
here
.
It's no wonder that the words "bedroom" and "sanctuary" are often interchangeable. Yes, your bedroom is the place where you sleep. But, you should also treat it as a homage to your personal style — a place where you can unwind at the end of the day and just be yourself. The easiest way to inject a bit of personality into your sleeping quarters is through the style or theme of your bedroom.
As you navigate the popular bedroom styles of today, which aesthetic feels most like "you"? What type of decor will make you feel relaxed and content? Here are eight of our favorites, which you can tweak to your own leanings, incorporating only the things that make you feel oh-so-cozy and at ease. After all, your bedchamber deserves just as much — if not more — attention and consideration as the rest of your home.
Bedroom Style #1: Midcentury Modern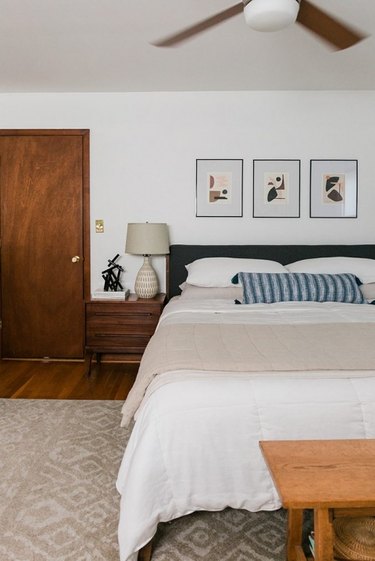 In the world of bedroom style ideas, there's one look that people return to again and again. In fact, people have been drawn to it ever since the 1940's. You guessed it ... midcentury modern design, and it's an amazing choice for a bedroom. Between the abstract artwork, avant-garde sculptures, dark wood finishes, and eye-catching lighting, it's an effervescent style that's sure to make you smile every time you walk into your boudoir. We can't help but grin when we see this mid-mod setup belonging to Carrie of Dream Green DIY.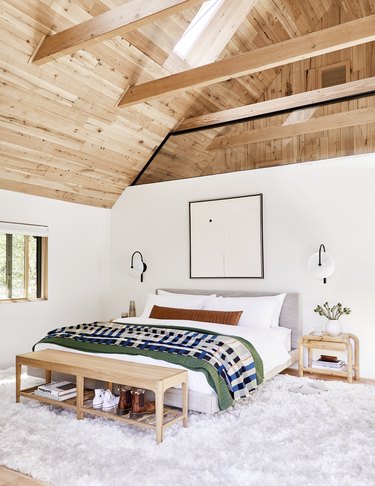 Scandinavian bedrooms, like this beauty designed by Emily Henderson, are the epitome of relaxing. It's no wonder that the creators of hygge have designed some of the most soothing bedrooms in all the land, including elements like warm, natural wood finishes, cozy rugs and linens, neutral color palettes, and hints of modern design for good measure.
Bedroom Style #3: Industrial
If you're aiming to design a bedroom with a bit of edge that also weaves in bygone eras, look no further than an industrial look. Some must-have elements include metal light fixtures, exposed wiring or HVAC, reclaimed wood, and ideally, a brick wall or concrete flooring. In this loft styled by Karen of Making Spaces, the room looks cool and complete with an exposed brick accent wall and barn style wall sconces to boot.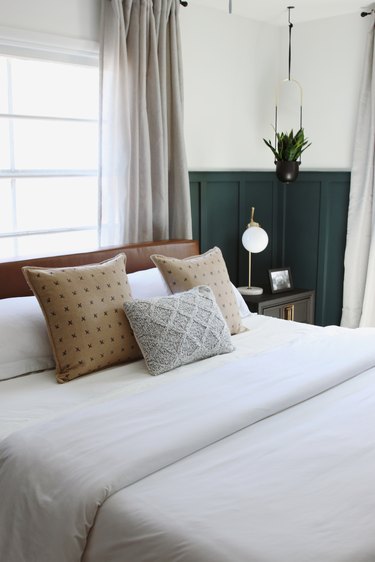 Among bedroom styles, modern is the one that's most closely tied to midcentury modern design. Instead of a literal take on midcentury, modern quietly nods to the aesthetic with the help of futuristic lighting, subdued color palettes, and linear design. For instance, in this space belonging to Chris and Julia of Chris Loves Julia, linear details can be seen in the green wainscoting, plant hanger, and even the headboard.
Bedroom Style #5: Contemporary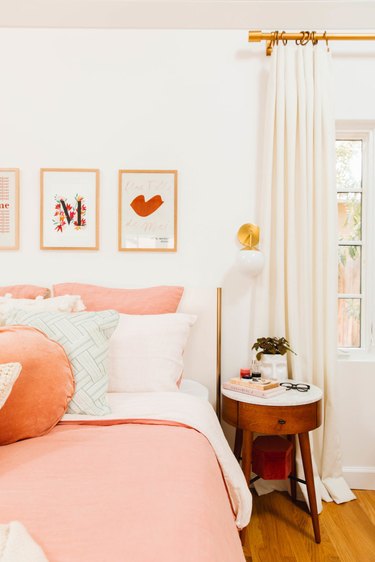 Contemporary bedroom styles tend to look as if all the best ideas in your Instagram feed have come together to create a completely on-trend space. It's very right now, typically incorporating popular colors, artwork created by up and coming artists, and unexpected lighting. Robert and Christina of New Darlings gave their bedroom a contemporary spin, and we can't get enough of those blush accents and floor-to-ceiling drapery.
Bedroom Style #6: Farmhouse
If you're going for sweet and cozy in your bedroom, farmhouse style will be right up your alley. It's unfussy and timeless, like in this space by Micheala of Micheala Diane Designs. In order to recreate the look in your own home, pick up some airy, white linens, artwork to hang above the bed (preferably a four poster bed, because who doesn't want one of those, right?), light wood finishes, and a stunning chandelier.
Bedroom Style #7: Bohemian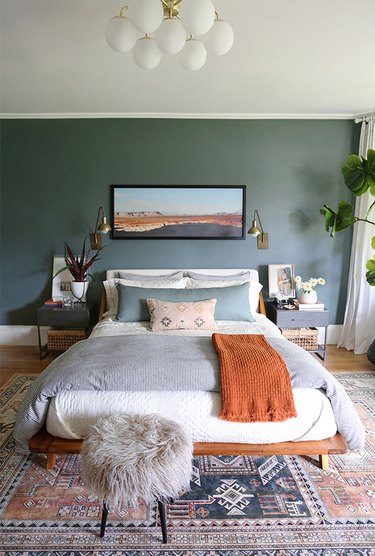 Let's say you want to forgo most of the popular bedroom styles out there and just do your own thing. We are definitely down with a more free-spirited or bohemian look filled with eclectic decor, global patterns, wild and untamed textures, and houseplants galore. Jenny of Juniper Home nailed the idea in her green guest bedroom.
Bedroom Style #8: Vintage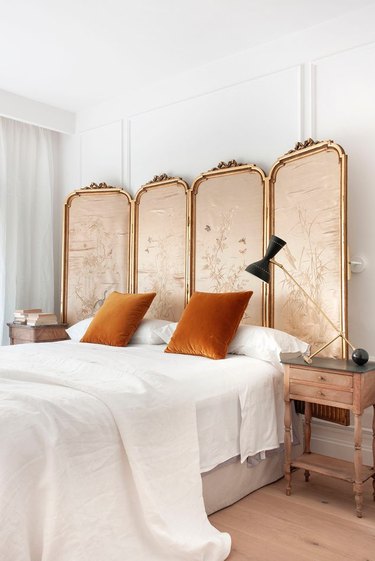 Perhaps all of this new-fangled stuff doesn't really appeal to you. If this sounds like you, may we recommend a vintage approach for your bedroom? Here, you'll need family heirlooms, flea market finds, and antique treasures, of course, along with new items that complement the look: Think of an ornate gold mirror, and an oversize, retro light fixture. Let Maria Santos of Estudio Maria Santos show you how it's done — she managed to accomplish the look flawlessly, and with a French twist no less, in this romantic bedchamber. Swoon!