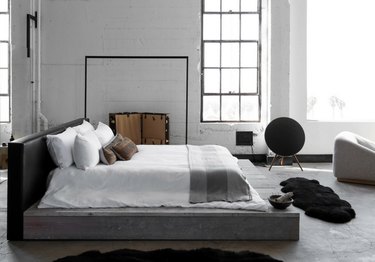 Ever since loft-dwellers began transforming warehouse neighborhoods into chic living spaces, the design world has lusted after the industrial look. From perfectly aged brick walls to metal pipes galore, this chic look has infiltrated cities, suburbs, and farmlands alike. But not every industrial bedroom needs to be stuffed with warehouse relics: These nine spaces run the gamut, from rustic brick walls to bold steel accents.
1. Show off brickwork.
If you're looking for the "aged warehouse" vibe, you can't beat a bare brick wall. Dress it up with lush linens or black window frames like this New York loft designed by Union Studio. The exposed steel beams and the ceramic tile headboard don't hurt either.
2. Soften the look with wood.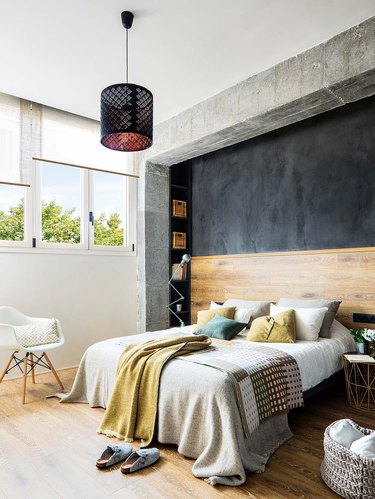 Industrial decor can feel cold and harsh, thanks to materials such as steel and concrete. Warm things up by adding wood, as seen in this sleek bedroom in Barcelona designed by Egue y Seta.
3. Say yes to black.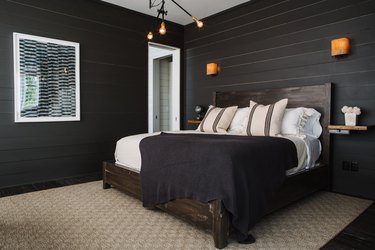 Painting your walls black can add a serious dose of drama to your industrial digs. Designed by Smith Hanes Studio, this bedroom's ebony shiplap walls are the perfect bold example. And pairing it with amber lighting warms up the space beautifully.
4. Embrace exposed ceiling beams.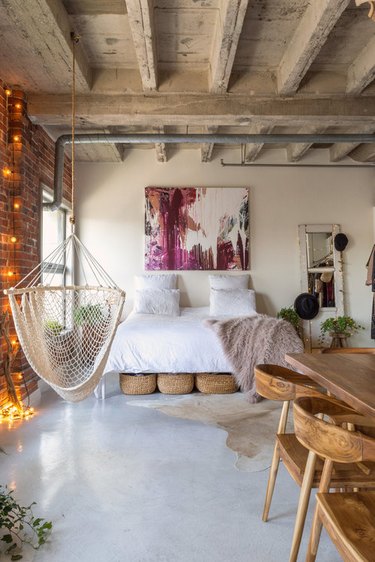 Whether they are wood, steel, or concrete, you just can't go wrong with exposed ceiling beams. Designed by Oh Beauty Interiors, this industrial bedroom's concrete beams are picture-perfect proof.
5. Show off your ductwork.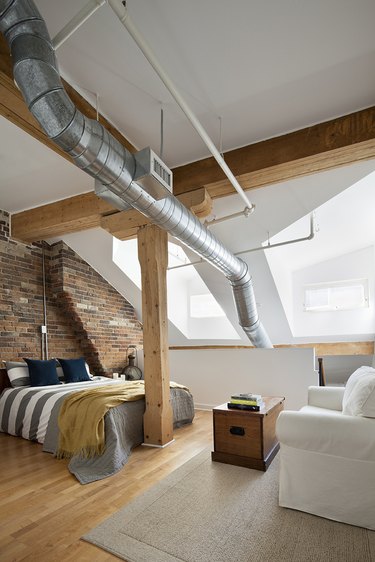 Nothing says "industrial" like exposed ductwork, so go ahead and show it off. Instead of hiding the HVAC ducts in the ceiling, Rad Design kept the ductwork exposed in this bright industrial bedroom in Toronto, and we aren't mad at all.
6. Opt for concrete.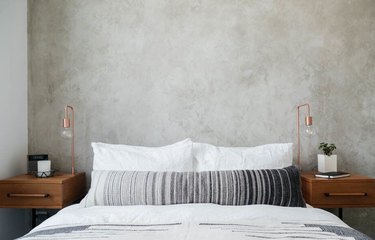 The look of concrete on the wall (this is actually a faux finish made to mimic the look of concrete) gives this dreamy industrial bedroom designed by Emma Beryl from Homepolish a rich, almost suede-like texture. Paired with copper table lamps and wood nightstands, we'd happily unwind in this relaxing oasis any day or night.
7. Use pipes as artwork.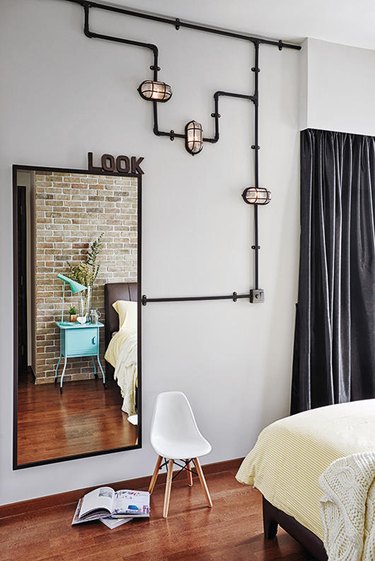 Don't relegate these industrial-decor mainstays to shelving and bed frames. Steel pipes can be versatile — and rather artistic, as proven in this industrial condo. Careful placement leads the eye and adds flare to an otherwise bare wall.
8. Invest in steel frame windows, if you don't have them already.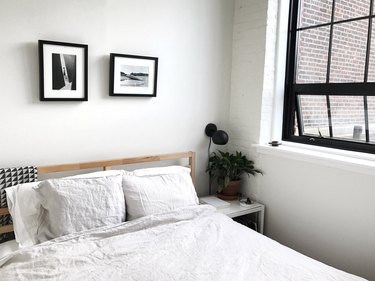 Steel frame windows ... need we say more? Architects Ingrid Montoya and Christopher Mechaley's black and white Hoboken, New Jersey bedroom — which was formerly part of a factory — already had factory-style steel frame windows (some people get all the luck!), and the minimal design allows them to take center stage.
9. Mix and match your accents.
Lucy from Craftberry Bush transformed her oldest son's bedroom into a handsome retreat by combining industrial elements — like the cage pendant lights hanging from a steel pipe — with rustic accents — like the watercolor painting of a horse and the chunky wood nightstands. Now this young man has a cozy and beautifully layered space to call his own.