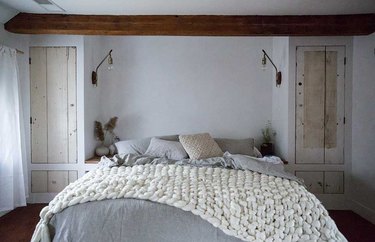 The influences of the Scandinavian design movement (also lovingly referred to as Scandi design) have impacted virtually every corner of the globe — you've heard of IKEA, right? The term originated in the 1930s when a trend toward simplicity, minimalism, and functionality emerged within the five Nordic countries — Finland, Denmark, Sweden, Iceland, and Norway. Just a few preeminent designers that emerged out of the Scandi movement are Alvar Aalto, Kaare Klint, Finn Juhl, and Hans Wagner. Their iconic pieces, and those of their contemporaries, are still used today and impart timeless style on interiors the world over.
It's no coincidence that Scandinavian style, with roots in light colors, no-fuss layouts, and plenty of textural components, was born out of countries near the Arctic circle, where they're shrouded in cold, dark, and long winters that necessitate spending much time indoors for a good portion of the year. The emphasis on pared-down interiors wasn't purely aesthetic: Creating bright, cozy, and uncluttered spaces also offers a welcome respite from the dark winter skies (which can last 20 hours a day), and allows available light to move about more freely. These principles still resonate today and have been adopted by those who aren't subject to the same weather conditions simply because the style just looks good.
Scandinavian-inspired interiors are by no means formulaic, but there are some hallmark design elements seen throughout. For example: A premium is placed on white walls to emphasize light, color use is restrained, natural fibers are showcased, and there is a celebration of craftsmanship. Similar to modernism, Scandi spaces emphasize functionality and a less-is-more approach, but they put a premium on warmth. Scroll on to discover bedroom ideas that incorporate the look beautifully, and the timing couldn't be more perfect as we prepare to transition to the colder and darker months ahead.
1. Mix styles.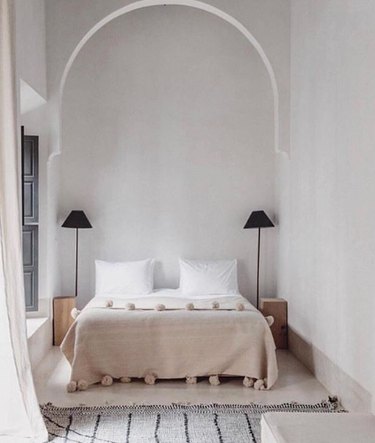 You don't have to forgo all other styles in order to incorporate a bit of that Scandi-goodness into your boudoir. With its grand arch and pompom-trimmed throw, this bedroom idea incorporates some distinct Moorish design influences, but the muted color palette, lime-washed walls, and sparse decor also read Nordic. Riad 42 Marrakech, a destination hotel firmly on our bucket list, combines the two design principles for a chic getaway full of style.
2. Create a grown-up tree house.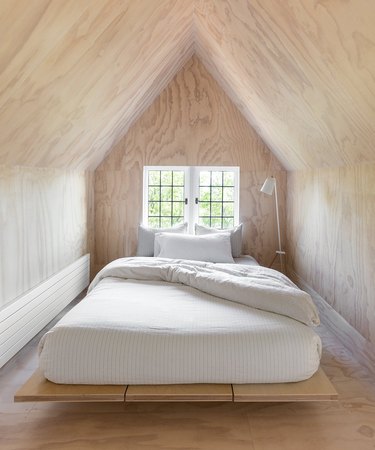 Cocoon yourself in floor-to-ceiling plywood for a grown-up tree house effect as seen in this space by NB Design Group. Nothing fancy here: Plenty of natural light, a simple platform bed, and a fluffy comforter work together to hit all the Scandi design high notes.
3. Lean in to the darkness.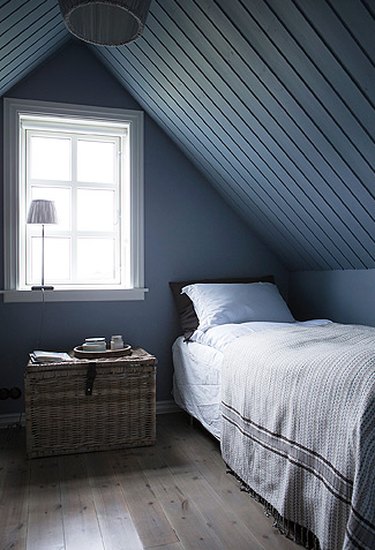 Don't fight it: Instead of competing with your outside environment, lean in to short winter days by painting your walls a moody and comforting bluish-gray. Dark interiors are so cozy, and the addition of a tongue and groove ceiling, wicker side table, and crisp linens infuse this bedroom idea seen on Boutique Homes Iceland with texture and approachability. Bare wood floors and a lack of heavy window treatments are quintessential Scandinavian design trademarks.
4. A bit of color is a good thing.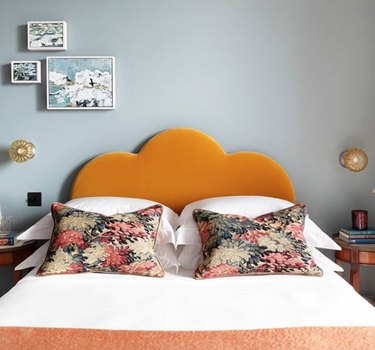 5. Add some kitsch.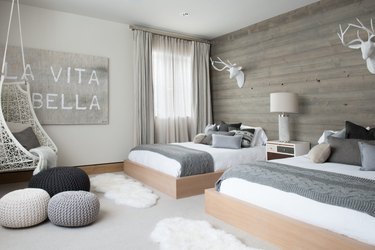 This bedroom idea by Reed Design Group takes a decided ski cabin bent with a feature wall adorned in wood and a set of plaster-cast deer busts. Icelandic sheep throw rugs are a welcome addition on cold mornings and a simple monochrome color scheme allows the textural components to stand out.
6. Let your foundation do the heavy lifting.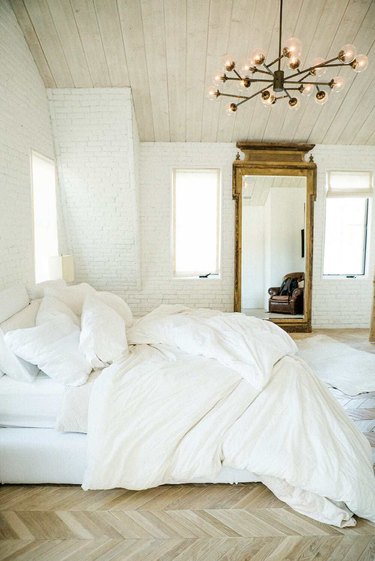 When you're working with a great foundation like chevron wood floors, tumbled brick walls, and a wide-beam wood ceiling, your decor can take a back seat. An all-white bedroom has plenty of depth when it includes textures and layers as this one by Leanne Ford does. Add a vintage mirror and a modern chandelier for character and originality without overwhelming the monochrome space.
7. All the textures.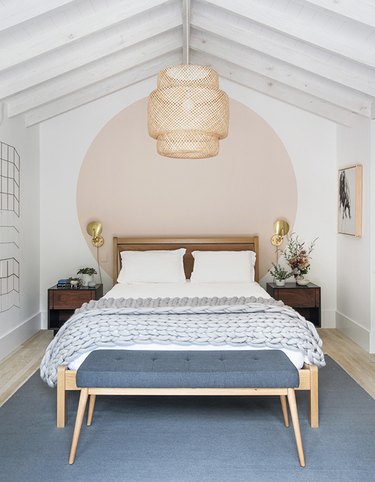 Jessica Helgerson's timeless spaces are considered, yet approachable and every piece in this pared-down bedroom is practical without sacrificing beauty. A large painted pink circle behind the bed anchors the space and creates a focal point, while plenty of texture and depth are incorporated with a woven pendant, thick throw, and brass sconces.
8. Embrace bleached wood.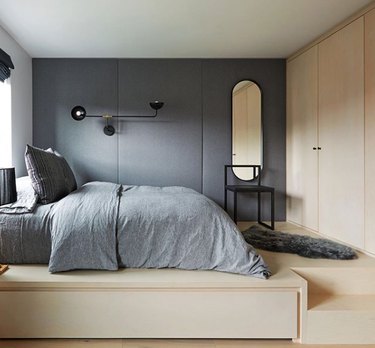 There's something youthful about a walk-up platform bed that we love. The bleached wood built-ins and flooring in this bedroom idea by Elizabeth Roberts Architecture are the yin to the yang of a soft, dark gray upholstered wall, fur rug, and bedding. Accessories like an oval mirror, simple accent chair, and architectural wall sconce are utilitarian and decorative.
9. Add a measured dose of pattern.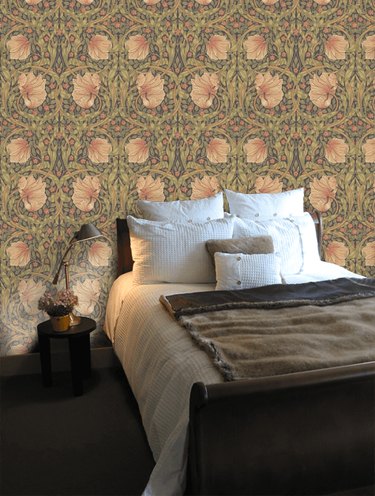 If you feel lost without pattern, we feel you. Luckily, pattern can be incorporated into a Scandi-inspired bedroom idea in a thoughtful way that isn't overwhelming, when balanced with simple furnishings and accessories. This setup seen at Fashion Wallpaper Co. features an old world floral print by British textile designer William Morris and is complemented by straightforward and utilitarian pieces like a wooden bed and articulating lamp.
10. Less is more.