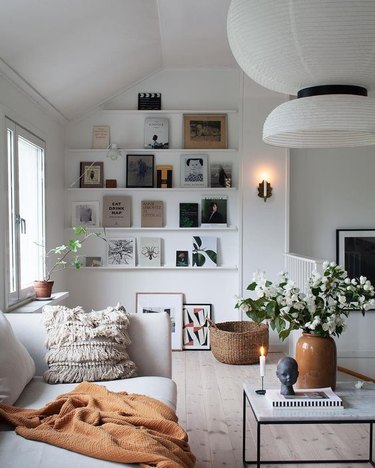 Picture an ideal afternoon spent in your living room. Perhaps it's raining, or even snowing outside. If you're imagining yourself wrapped in a thick, soft blanket, surrounded by wood furniture, warm decor, and glowing candles, there's a good chance that Scandinavian style is a perfect match for you.
The current-day version of Scandi-chic design arose around the same time as the midcentury modern movement in the 1930s, but it made its way to the United States in the 1950s, with forward-thinking homeowners clamoring for its sleek lines, wood pieces, and minimalist sensibilities. As luck would have it, plush textures, simple designs, artful decor, and furniture made with natural materials are universally beloved — clearly the Nordic countries knew what they were doing when they devised this aesthetic. But before you start planning your move to Stockholm, here are 10 Scandinavian living rooms that have captured the spirit flawlessly.
1. Decorate with thoughtful pieces.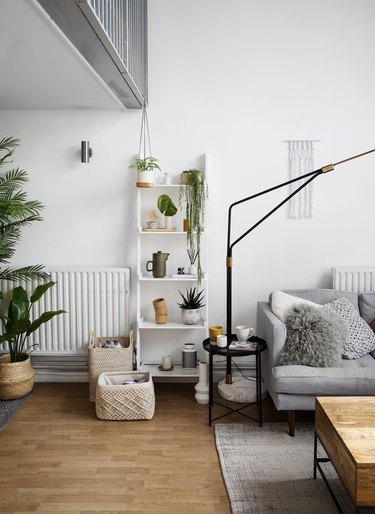 In a Scandinavian living room, every piece serves a purpose, whether it's practical or pleasing to the eye. Each item has been lovingly chosen, which lends significance to each object and avoids clutter. This nook styled by Teri of The Lovely Drawer is a great example of this edit approach: curated ceramics that go together effortlessly, a few simple storage baskets, and a handful of potted plants — another Scandi style must-have.
2. Don't overlook texture.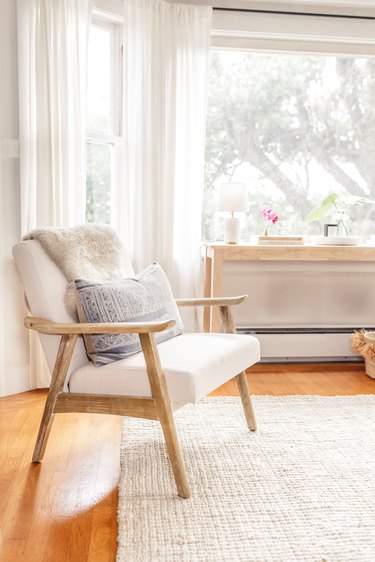 Texture is oh-so-very key in a Scandinavian living room. It's a style that arose from areas with long, cold winters, so many of these spaces integrate faux furs and sumptuous area rugs. Chrissy of Harlowe James shows us how it's done.
3. Go the minimalist route.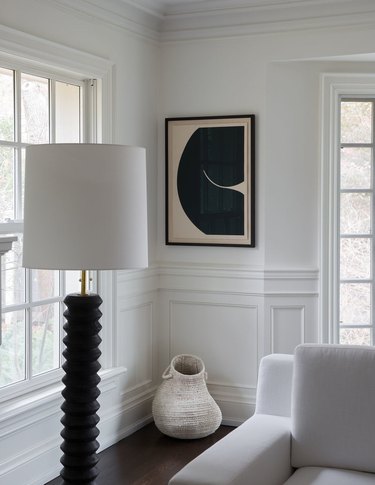 Scandinavians were minimalists long before it was cool, and it shows in their interiors. This living room belonging to Meg of Meg Cassidy Creative proves that you don't need a lot of stuff to make an impact. These limited, artistic pieces create a sophisticated design that effortlessly stands out from the crowd.
4. Take a lesson in geometry.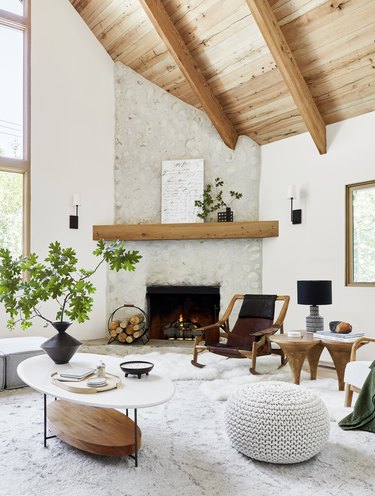 If you look around a Scandinavian living room, you'll likely notice a myriad of shapes present. Best known for curvaceous silhouettes seen in furniture and decorative pieces, many other items in a Scandi-chic room often showcase clean lines and modern silhouettes. This is plain to see in a living room designed by Emily Henderson.
5. Consider natural accents.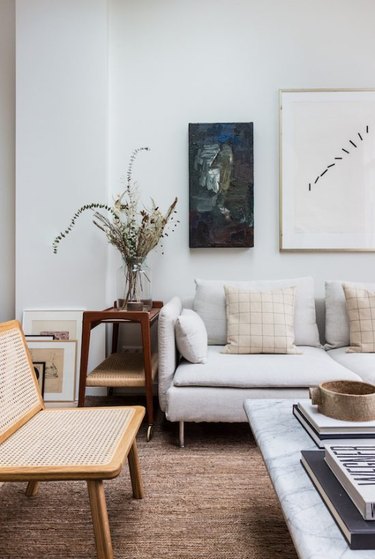 Since the outdoors are covered in snow much of the year, it makes sense that Scandinavian interiors showcase natural materials in their designs. Draw inspiration from this space designed by Holly and Hedda of Avenue Lifestyle and bring the outdoors in — think dried flowers, wood furniture, and a color palette that mimics natural environments.
6. Make it all about the hygge.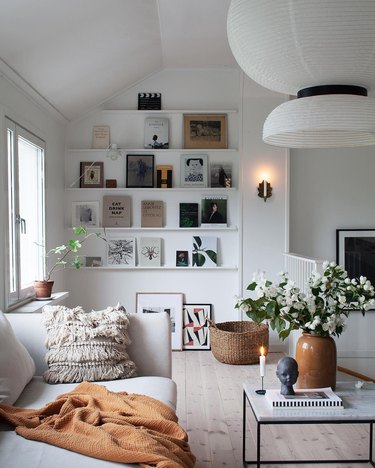 Here's an assignment from us that you'll likely love: make your Scandinavian living room as cozy as possible. In the spirit of hygge, use blankets, soft pillows, and candles to create a sanctuary that's tough to leave. We could spend all day (and then some) in this living space belonging to Janniche of Bloggaibagis.
7. Keep things light and bright.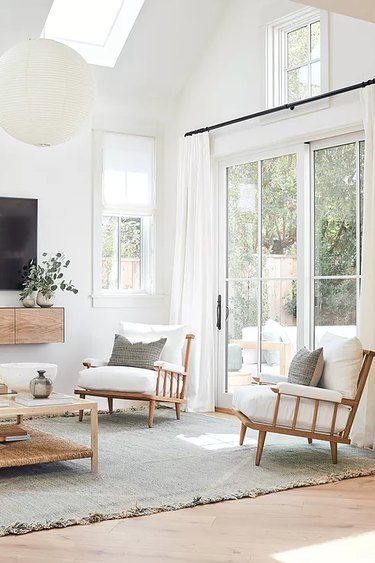 Many Scandinavian spaces let in as much natural light as possible to create a buoyant, airy atmosphere. In this living room, Joyce of JDP Interiors uses white hues, sizeable windows, and skylights to invite in lots of sunlight.
8. Get eclectic.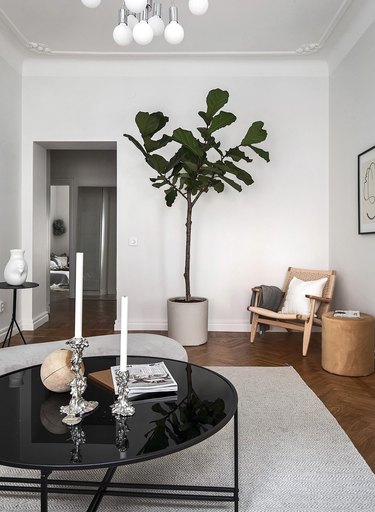 9. Welcome wood finishes.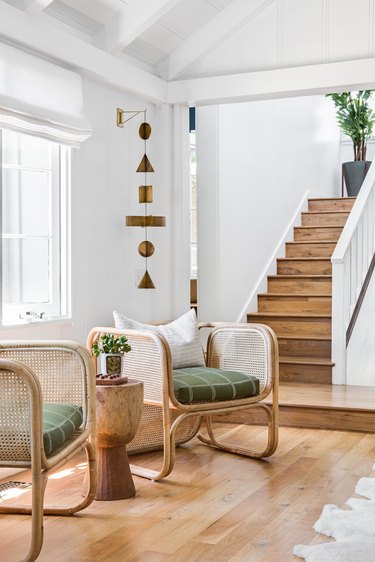 Anything in wood, including furniture, floors, and decor, is a Scandinavian living room must. Scandi design leans toward light woods with knots and character, which can be seen in this space designed by Jen Samson Design. And can we talk about those cane chairs? Swoon!
10. Make a statement with your lighting.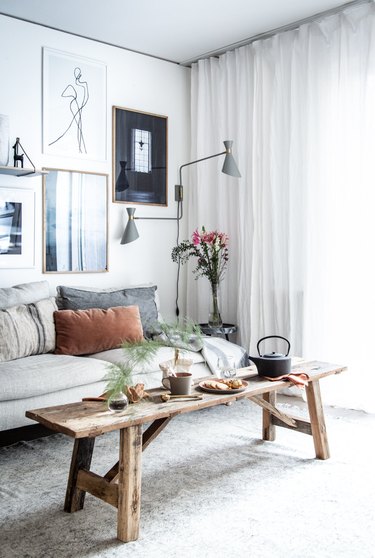 Scandi design is all about statement lighting (look no further than the IKEA catalog for proof), which just so happens to make the perfect focal point in a living room. Niki of My Scandinavian Home executed this idea brilliantly by complementing the gallery wall in her abode with a contemporary double sconce. The result is a winning combination that we're pinning stat.