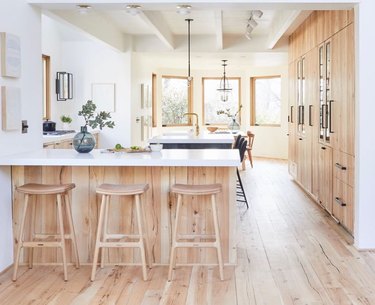 There's nothing more classic than wood flooring—and it's this very timelessness that means you can play with trends without risking that your floors will go out of style.
For a master class in what's gorgeous in wood floors right now, look no further than the work of top designers Leanne Ford, Sarah Sherman Samuel, and Emily Henderson. The one through-line in all of these trends? A hefty dose of Scandinavian minimalism, which balances out these creative touches with subtle flair. (Not saying you should steal their double tap-worthy ideas—but you should steal their ideas.)
Together with Bona—a brand that tackles all of your floor care needs from installation and renovation to maintenance and basic care—we've rounded up our favorite three Scandinavian-inspired wood floor trends that are happening right now. Get ready, you'll want to screenshot all of this.
1. Picture Frame
This design is exactly what it sounds like: a series of rectangular shapes slowing drawing inwards. Pro tip: If you're short on space, this feature actually makes tiny rooms appear larger, serving up that airy feeling that often accompanies Scandinavian design.
By carrying the galley kitchen lines through to the floor, Ford managed to make this room feel open and created a series of 90-degree angles that feels distinctly Nordic.
2. Raw Wood
To instantly elevate the look of any space, try a monochrome palette. That's exactly what Emily Henderson does in this Scandinavian-inspired mountain kitchen. Everything from the floors, drawers, pantry, and doors are crafted from lightly treated reclaimed wood to let the natural colors shine through.
With its natural beauty, the raw wood look is a strong go-to if you're really wanting to lean into the Scandinavian aesthetic—it basically does half the design work for you.
3. Chevron
Don't get it twisted with herringbone—chevron is actually different. While herringbone consists of solid rectangles arranged to meet at the corners, each piece of wood in chevron flooring is cut at an angle to create neat triangles. The effect? Classically cool.
Chevron wood floors are typically used to add dimension to an area of your home that you'd like to show off a bit more, like your kitchen, entry way, or dining room. Come on, can you even take your eyes off those floors?
Trust a trained professional with your floor renovation. Contact a Bona Certified Craftsman to make your dream floors a reality.