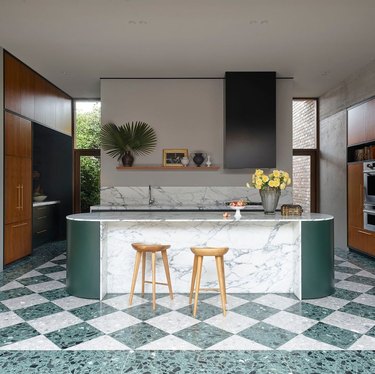 Is it the influence of Netflix's ​The Queen's Gambit​? Or just that traditionalism is still going strong and trickling its way into new pockets of design? I don't know. Either way, I can't get enough of checkerboard motifs that are showing up all over rugs, tile design, and accessories. Let's take a look at some of the awesome ways you can incorporate the look into your home.
We first started realizing how hot checkerboard is through none other than Miss Sarah Sherman Samuel, who has been favoring checkered tile in a number of her projects, including her own guest bath and a cafe/restaurant she's working on. She also installed black-and-white checkerboard tile in Vanessa Carlton's Nashville home, which feels reminiscent of old school NYC bathrooms: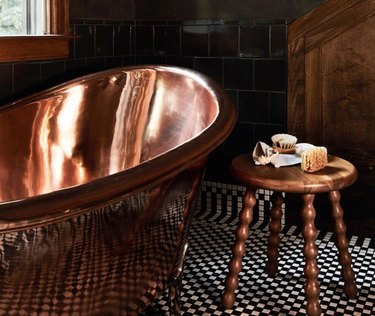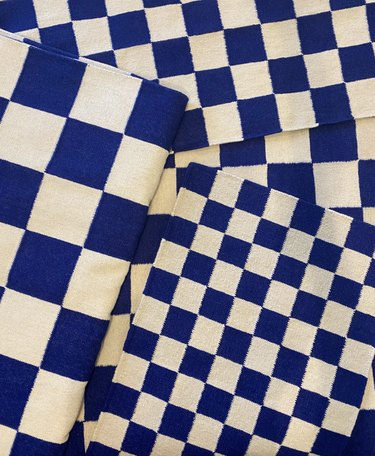 As we saw with Sarah Sherman Samuel, lots of designers these days are opting to alternate colored square tiles to create checkerboard motifs, however the owner of rug shop June and Blue taught us that you can make larger checkerboard patterns by grouping more tiles together to create a spin on a trad style:
My latest retail obsession has got to be Baina, a maker of organic cotton towels featuring boxed patterns in red and green — I think I need a combo of both colors in my bathroom STAT:
Here, Athena Calderone of Eye Swoon (hi, I love you, be my best friend), shows off a completely luxe checkerboard rug by Empire Collection. Love how this mimics a classic stone floor in a completely new texture:
When I saw this kitchen by Arent&Pyke on Instagram recently, I stopped and thought, "This is it. This is THE kitchen." Using a green and gray terrazzo to create this sleek, checked kitchen floor, the design studio makes luxury feel more cutting edge and modern: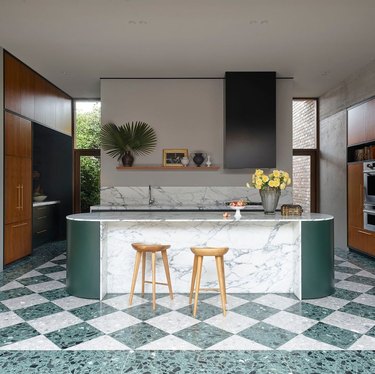 ---
Leonora Epstein is Hunker's Senior Director of Content. She has previously served as Executive Editor at HelloGiggles and as BuzzFeed's Deputy Editorial Director. She is the co-author of "X vs. Y: A Culture War, a Love Story" (Abrams, 2014). Feel free to reach out at leonora@hunker.com.