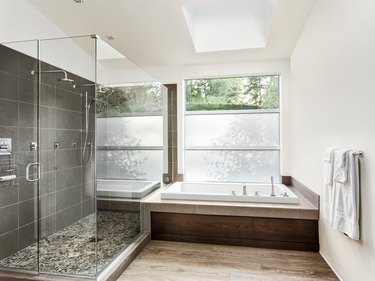 Porcelain tile is a man-made material used in both floor and wall applications in homes and offices. It comes in glazed and unglazed formats, but the difference doesn't affect the overall structural integrity of the material, merely the color and surface style. The surface qualities dictate where you install specific types of porcelain.
Unglazed Porcelain
Porcelain tile is another form of ceramic, but porcelain is created out of finer clays and is a much harder substance after it has been fired. In the unglazed format, the surface of porcelain tile is smooth to the touch but porous in nature, which means it soaks up stains and liquids over time. If you rub your finger over unglazed ceramic tile it feels slightly rough, like a very fine sandpaper or dried-out modeling clay.
Glazed Porcelain
Glazing is a hard coating that covers the porcelain tile in a polished finish. There are numerous colors available to choose from, as well as patterns. Glazed porcelain tiles are nonporous and will not soak up water. They are more useful in wall applications than floors, given that the glazing is too slippery to be used in commercial flooring settings.
Gloss Test
A glazed porcelain tile has a polished and smooth finish that feels like glass when your rub your finger over it. Older installations that are covered in dirt and grime, however, make it impossible to determine if the tile is glazed or not. After you have cleaned the tile, you can instantly tell if the tile is glazed or not if it has a polished, smooth surface.
Visual Inspection
If you are working with new tiles, you can easily tell if a porcelain tile is glazed or not by looking at the side of the tile, or the underside. Glazing only partially covers the edge of a tile, and the bottom of the tile is a completely different color than the glaze on top. Unglazed tiles are the same color all the way through and are thus solid colors.