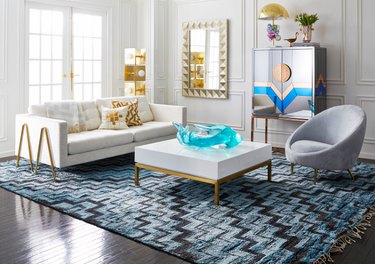 Hunker may earn compensation through affiliate links in this story. Learn more about our affiliate and product review process
here
.
Magazines and movies continue to spark conversations around interior design, particularly as channels that point design lovers in the direction of new styles and designers. This was definitely the case for Hollywood Regency, a look that embodied its moment and brought forth an era of glamorous spaces.
Hollywood Regency traces its roots back to around the 1930s, in line with the high point of Hollywood's Golden Age. Some of its major features include bold patterns, gold accents, jewel tones, opulent mirrors, sumptuous textures, and statement chandeliers.
If you notice some similarities between the style and art deco, you're not wrong. The same sense of luxuriousness infuses the two styles — but Hollywood Regency is like a more outspoken, playful cousin with the loudest laugh at the Gatsby-themed party.
Influential Hollywood Regency Designers
Hollywood Regency had close ties to the movie industry (thus the name) and a few figures in the worlds of both design and entertainment helped shaped it. The movie industry during this time started to see more people with architecture and design backgrounds working in set design.
Dorothy Draper contributed to the look of Hollywood Regency as the expert on Modern Baroque and a serious lover of color. She was also one of the first female interior designers to professionalize the industry by doing commercial design work. Hollywood star William Haines helped push the style forward, specifically through his work for stars like Joan Crawford. He also designed furniture pieces that became classic; some of them went up for auction for thousands of dollars in 2014.
Figures like art director and production designer Cedric Gibbons looked to European design for inspiration. Gibbons actually visited the now-iconic 1925 International Exhibition of Modern Decorative and Industrial Arts in Paris and brought those sensibilities to his film sets.
Hobart "Hobe" Erwin also contributed to audiences' introduction to the style on the big screen. As Eedrmans explains, Erwin started working for MGM in the 1930s. Among his designs were, "an all-white bedroom and dressing room set in eleven shades of white, which showcased [Jean] Harlow to dazzling effect" for the 1933 film Dinner at Eight.
How to Incorporate Hollywood Regency Into Your Home
Need to infuse your space with some Hollywood Regency glamour ASAP? Start by taking stock of what you already have. Does anything fit into the style? Can you replace some of your everyday pillow covers with more glitzy ones? Hollywood Regency definitely works with a number of colors, but if you want to stick to the quintessential style, opt for a black and white color palette.
If you don't mind spending a little, go for statement pieces. A vintage chandelier — or a modern one with a classic twist — can take your space's vibe up a few notches. Look for statement furniture in jewel tones or with gold accents. Tie it all together with a rug in a bold pattern and a large mirror in a bold frame. Don't be afraid to experiment with wallpaper; whether you use it on an accent wall or the entire room, choose something with a deep shade or a traditional pattern.
Basically, the more luxurious and eye-catching, the better. That changes from one person to the next, so just follow your design-loving heart.
Where to Shop for Vintage Hollywood Regency Pieces and Hollywood Regency-Inspired Pieces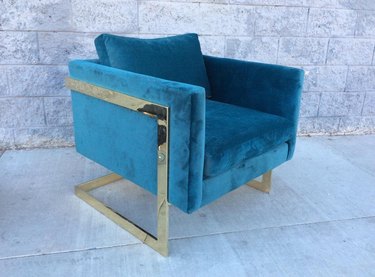 Modern designers and brands offer plenty of furniture and decor in Hollywood Regency-inspired colors, patterns, and textures.
You can easily mix and match contemporary decor with vintage pieces. When it comes to shopping for those classic pieces, browse sites like Chairish, 1stdibs, and Etsy. If you're going to pay a pretty penny for these items, just make sure you get enough information from the seller to verify it's a legitimate purchase.