Some of us yearn for a luxe approach to interiors: gold accents à la art deco style; sophisticated seating in jewel tones; eye-catching statement lighting; you name it.
The drama and elegance of looks like these traces back to Hollywood Regency, a style that takes its name from, yes, the movie industry and in all its glitzy glory.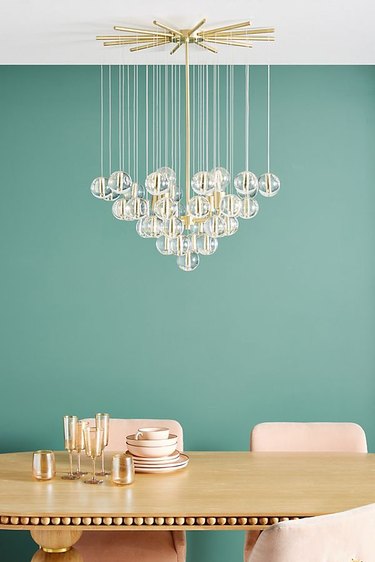 "Satin upholstery, bullion fringe, overscaled and simplified period-inspired furniture, mirrors galore, and intensely complicated draperies were all hallmarks of this period revival," Emily Evans Eerdmans writes in Regency Redux: High Style Interiors: Napoleonic, Classical Moderne, and Hollywood Regency. The style took inspiration from Rococo and Neoclassicism, Eerdmans writes, and mixed in contemporary pieces. The patterns and sculpture of the time also took influence from Greek, Egyptian, and Asian cultures.
Most sources say the style started around 1930; a few key figures helped to develop the look. William Haines, an actor and Hollywood star whose interior design was sought-after, significantly shaped the style. He designed for stars like Joan Crawford and some of his lasting contributions include the Brentwood Chair.
Dorothy Draper also played an important role in Hollywood Regency's evolution. Though she's known primarily for the Modern Baroque style, Draper's aesthetic very much aligns with Hollywood Regency's bold palette and nods to traditionalism. Draper was also one of the first women to make interior design her profession, primarily because of her work in commercial spaces.
The 1930s marked the peak of Hollywood's Golden Age. According to History.com, "up to 80 million Americans went to the movies each week during the Depression." Movies shaped how Americans looked at fashion and, ultimately, decor and interior design. You could take ideas from sets and replicate them at home.
And the way sets looked changed significantly during this period. Eerdmans writes that as the industry started in the 1930s, Hollywood set design turned into "a regimented department headed by art directors trained in architecture, art, and theater design." European influence started to make a big presence. Art Director and Production Designer Cedric Gibbons, for example, traveled to the 1925 International Exhibition of Modern Decorative and Industrial Arts in Paris and infused art deco aesthetics into film sets.
The stars wanted in on this style. Figures like John Elgin Woolf transformed their homes into lavish, modern spaces. His client roster included everyone from Cary Grant to Katherine Hepburn.
Today, you can still see the popularity of the style. For starters, pieces in this style can sell for thousands of dollars. Modern designers like Kelly Wearstler continue the legacy of deep tones, gold accents, and luxe furniture in their work. Look up #hollywoodregency on Instagram and you can see more than 130,000 posts. Keep an eye out for the glam style — your favorite hotel, restaurant, or dream interior might just feature some of its signature elements.