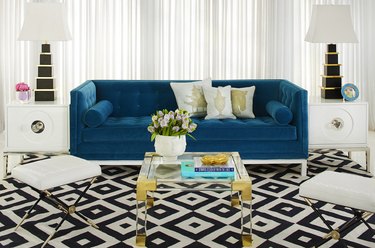 When you think about the luxury and glitz of the 1920s, the words art deco might come to mind. There's the classy charm of flapper style, plus the glam interiors and grand architecture associated with it. Not to mention the furniture and art. But as much as we might think of the style as an easily recognizable one, many sources emphasize that it's not totally homogenous.
Here, we're taking a look at the history and origins of art deco style.
Origins of the Term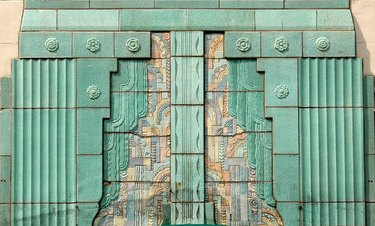 The term art deco dates back to the 1925 Paris Exposition Internationale des Arts Décoratifs et Industriels Modernes, which became an important introduction of at least one early version of the style. In Art Deco Style, authors Bevis Hillier and Stephen Escritt write that the term didn't exist until 1966. That year, the Musée des Arts Décoratifs in Paris organized an exhibition called Les Années 25 and the subtitle to the show's catalogue was "Art Déco."
Other sources say the term originated with the Exposition itself, to encompass a new aesthetic in everything from art to furniture to fashion. And while the U.S. didn't take part in the exhibition, many Americans did visit it. This sparked the movement of the style to the States, where it would take root in everything from decorative arts to architecture.
But before we get into its global influence, let's take a close look at its beginnings.
The Evolution of Art Deco Style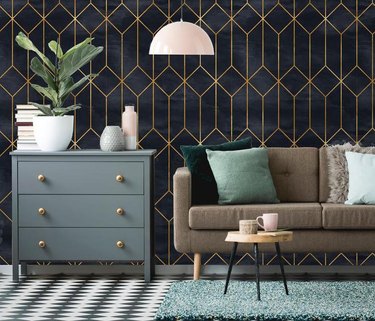 Like many decor styles and art genres, art deco can be summarized as a reaction to the aesthetic standards that came before it. Originating in the 1890s, art nouveau largely took its inspiration from natural and organic shapes (think curving forms and flowing shapes). The term appeared around 1884 in L'Art Moderne, a Belgian journal. The movement was influenced by other genres such as Japanese art; its impact could be felt in everything from illustration to architecture.
You might recognize lasting contributions by figures like Louis Comfort Tiffany — son of Tiffany & Co. founder Charles Lewis Tiffany — known for his experimentation with stained glass lamps and windows. Another well-known figure: architect and designer Antoni Gaudí, known for La Sagrada Família. Art nouveau came to an end in the early 1910s, particularly with the beginning of World War I in 1914.
Art deco kept some of the characteristics of art nouveau, but it also took on other aesthetic qualities, largely due to other important contributions in visual culture. The Ballets Russes, spearheaded by the impresario Serge Diaghilev, struck a chord because of the costumes and set design used in productions. Some of the colorful costumes were designed by artists like Pablo Picasso and Léon Bakst. Art movements like fauvsim, cubism, and De Stijl, Italian futurism, and Russian constructivism also made a mark on the style. The style also drew from Egyptian, Mesopotamian, Mayan, Aztec, African, and Native American symbolism and culture.
When it comes to decor, some of the major characteristics of art deco include geometric forms, opulent colors, zig-zag patterns, and materials such as glass, steel, aluminum, and wrought iron. In architecture, the art deco style became known for fluting, sharp edges, decorative panels, and (also) geometric forms.
Jared Goss, independent scholar and former associate curator at the Metropolitan Museum of Art, writes that French designers felt "disillusioned by the commercial failure of Art Nouveau" and founded the Société des Artistes Décorateurs (a "professional designers' association") in 1900 as a result. The French government decided to sponsor an exhibition in 1912, but it was postponed due to World War I. That exhibition would eventually be the 1925 Paris Exposition Internationale des Arts Décoratifs.
And because many American visitors also saw the exhibition, the style had its moment in the U.S. as well. Everything from art to architecture showed this influence. Notable buildings include The Wiltern, Eastern Columbia Building, and Los Angeles Jewelry Center in Los Angeles; the Empire State Building, Chrysler Building and Radio City Music Hall in New York; and the Civic Opera Building, Merchandise Mart, and the Carbide and Carbon Building in Chicago. Because leisure travel increased in the 1920s and 1930s, you could see the art deco impact in train cars, boats, and train stations as well. In the U.S., you could encounter the style everywhere from museums to department stores; in 1927, a Macy's department store exhibition highlighted important art deco architects.
In Art Deco Complete: The Definitive Guide to the Decorative Arts of the 1920s and 1930s, Alastair Duncan writes that the term art deco usually summarizes "the decorative arts of the interwar years" even while the things that were being produced at this time were not totally homogenous. The style achieved an international appeal, which perhaps indicates why we still love it today. Although interest in the movement waned in the early 1930s and ceased around 1939, a new interest in the style occurred in the early 1970s, according to Hillier and Escritt.
Modern Art Deco Style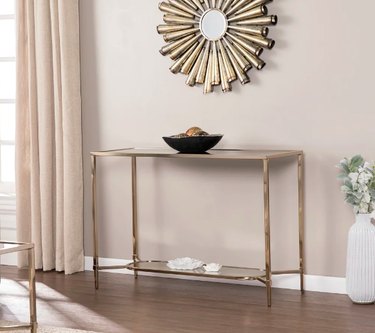 Plenty of retailers, designers, and indie brands pay homage to art deco. The timeless decor style continues to impact how we decorate our spaces, whether we want to transform a room into an interior from The Great Gatsby or we just want to add a little more glam here and there. Search Etsy for terms like "art deco wallpaper" or "art deco lamp," and you'll see plenty of options.
Some of our favorite spaces incorporate a variety of styles, like a charming Seattle studio that blends boho with art deco. This Portugal art deco-inspired single-family home was turned into four apartments with impeccable design that breathes new life into the space's architecture.
No matter how you decide to incorporate the style, it's bound to add history and character to your home.