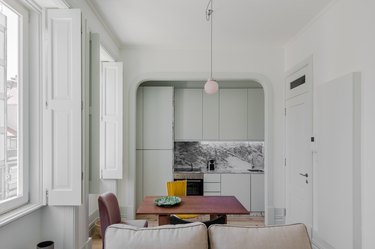 Linking the historic city center of Porto, Portugal to the northern (more modern) part of the coastal city is the bustling Rua de Camões, where Pedro Ferreira Architecture Studio took on the task of converting an art deco-inspired single-family home into four elegant and spacious apartments.
Looking now at the photos of the residences, it's hard to imagine what the space looked like before, which, Ferreira said, was in a "pre-ruin state." What's even more impressive is how natural Ferreira's apartments feel — as if the building was always this way. This, in part, comes from the team's decision to not drastically change the structure, keeping the floor plans mostly intact. They also wanted to maintain many of the original architectural details, and the result is a seamless combination of past and present, aided by simple, elegant furniture.
---
After interning at Dwell magazine in San Francisco, Kate began writing about arts, design and culture for other national publications. She is based in Los Angeles and San Francisco.
View Work