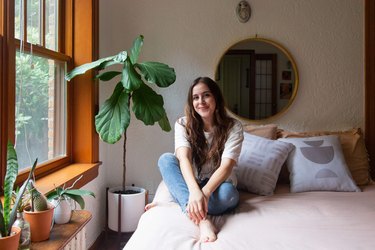 Who: Andrea Pons
Where: Lower Queen Anne, Seattle, Washington
Style: Bohemian modern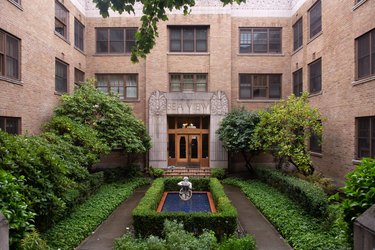 The Sea View, tucked away on a corner of the Lower Queen Anne neighborhood, is one of the few pre-war Art Deco buildings in the city of Seattle. With its original plaster walls, ziggurat arches, hardwood floors, and the vintage building elevator, it was the perfect place for editorial stylist and set designer Andrea Pons to land a year ago. She had recently left a relationship and wanted to create a space of her own.
"What drew me into this space initially was the integrity and preservation of the original style of the building when it was built," she says. And while many of the condos in the building have been given modern updates, countless period details — like original light fixtures from 1938 — remain.
The Mexican-born Pons wanted to honor and highlight those period details, and so her updates were minimal. She changed the wall colors from an egg yolk yellow to a neutral white to help the 650-square foot studio feel as big as possible. She swapped out old lightbulbs for modern ones, but kept the warm wooden French doors.
The kitchen and dining area — in particular — exude that vintage, Art Deco charm, updated slightly with, for instance, thrifted baskets hung gallery-style on the wall. It's Pons' favorite place to be.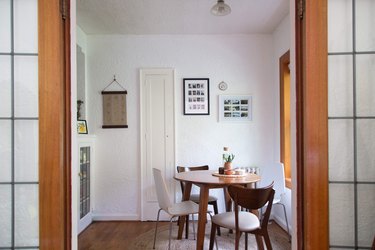 "I come from a strong, community-based Mexican family," she explains. "Most time [spent] amongst loved ones is in the kitchen." She loves to cook and entertain. "Even though my kitchen is small, I love inviting people over for wine and having them sit while I stand over the stove cooking and sharing time with them."
Still, the place is equally perfect for a party of one. "My space is just comfy enough for one person — and a cat." It's the personal details — the vintage and thrifted pieces, the art, and the hand-made woven accessories — that really count, says Pons.
"It's what makes my home feel like me," she says, "what gives it personality and makes it feel lived in rather than empty."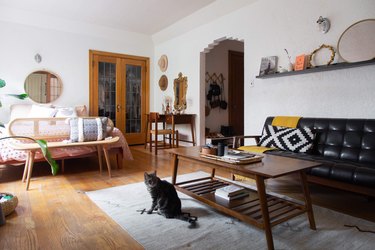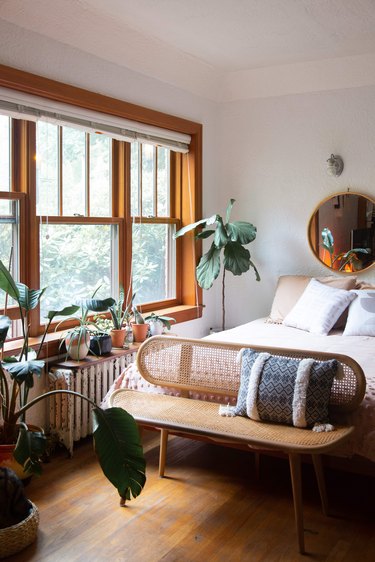 Pons can hear the small fountain in the Sea View courtyard from her window.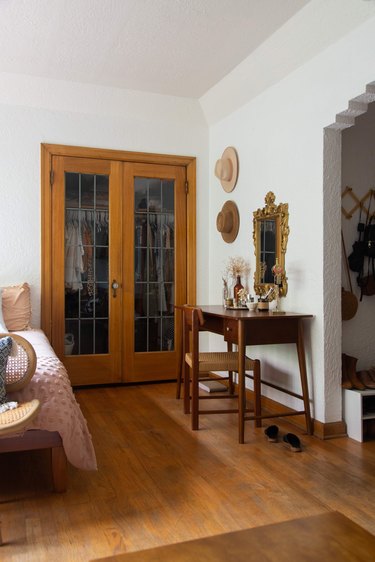 Pons sourced the vintage vanity mirror at a flea market.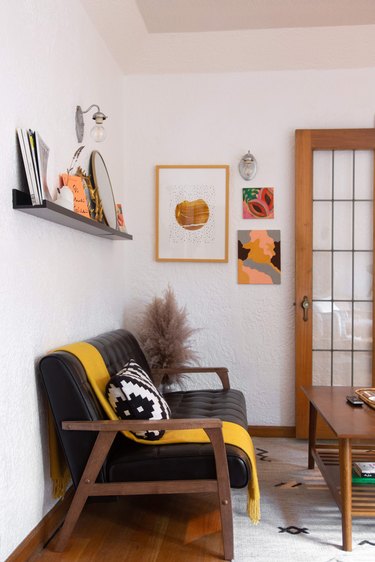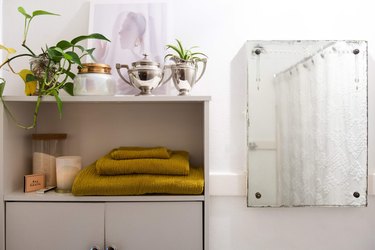 "I grew up enamored with art," says Pons. "When I was five, my parents purchased a Salvador Dali coffee table book for me, and I would stare at the images for hours on end."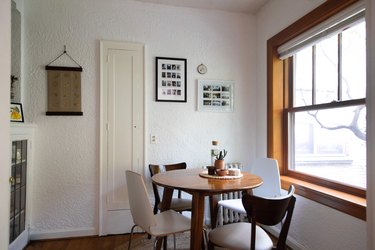 "My kitchen table and brown chairs belonged to an artist couple," says Pons.
"My favorite part about my home is the french doors and the arches," she says. "I would describe it as a hidden gem."
Locals Know Best
Favorite piece of design or architecture in your neighborhood, town, or city: "This is no surprise to any Seattleite … but the Seattle Library, to this day, is one of my favorite architectural designs. It's like being in a museum whether you are inside or outside of the structure."
Best places for thrift store finds, antiques, or flea markets: "Fremont Sunday Market is one of my favorites. Sodo Flea Market is another great one."
Best happy hour: "My favorite is at Bar Vacilando in Capitol Hill. If you go, you need to try their bean dip and mushroom tacos."
Best cheap and cheerful restaurant: "Good Weather, which is tucked away in Chophouse Row. It's a bicycle shop with a cafe inside. You are guaranteed to have the best salad and sandwiches, served to you with a smile."
Best place to experience art and culture: "Pioneer Square! So much history and many art galleries to explore."
If I were to have visitors, I would take them to: "Harry's Fine Foods for brunch, then a walk around Washington Park Arboretum in Madison, followed by a natural wine testing at Left Bank in South Park, a quick trip to see the Amazon Spheres, a bike ride around South Lake Union, and end the night with dinner in Pioneer Square and a sunset drink at The Nest."