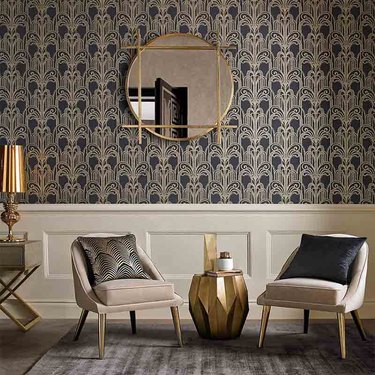 Hunker may earn compensation through affiliate links in this story. Learn more about our affiliate and product review process
here
.
As an aesthetic, art deco style makes many decor lovers think of sophisticated interiors and lavish parties. Something about it feels timeless yet somehow still modern. The style, after all, embraced technological advancements and ushered in a new standard for decor. And, as the saying goes, everything that seems old eventually feels new again.
The roots of art deco trace back to 1925, the year the International Exhibition of Modern and Industrial Decorative Arts took place in Paris. This was the official call, the introduction of a phrase many would soon be familiar with: art deco. And while the designers of the era didn't always create in the same style, there was something about the 1920s and '30s that unified them — namely, a focus on modernity and a taste for sophistication.
Here, we're taking a look at art deco style and its importance. Read on to find out more about the style's development and how you can incorporate it into your own space.
Influential Art Deco Designers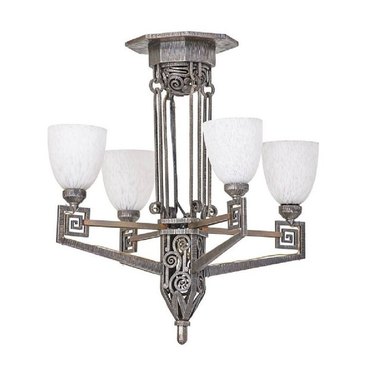 Art deco designers pushed the envelope in lighting design, crafted glass pieces fit for royalty, and bent iron and metal into geometric wonders. The work of influential names like Jean Perzel, Walter and Greta von Nessen, René-Jules Lalique, and many others heralded the glamorous peak of the art deco era.
Today, design enthusiasts pay quite the high sticker price for these designers' original pieces. And some of their work has even made its way into museum collections, like the Metropolitan Museum of Art.
History buffs will notice that some designers, like Eileen Gray, didn't just create within the heyday of art deco. Gray made some important contributions to the style, but her fruitful career extended to other movements, like midcentury modern.
One thing these designers held in common: a willingness to experiment with new materials. Gray, for example, was the first trained Western practitioner of lacquer in Paris. No matter their material of choice, art deco designers often incorporated elements such as geometric forms, gold details, and elegant curves.
The Major Elements of Art Deco Architecture
Art deco broadened its reach on a large scale through architecture, particularly after American designers and architects visited Europe and brought the style back to the States. The defining characteristics of art deco in decor — like geometric patterns and metallic accents — echo in architecture as well. Both also heavily borrowed from the visual culture and architectural styles of Native American, Egyptian, and Mesoamerican cultures.
Many art deco buildings also incorporate colorful terra cotta, sleek lines, and tall towers. Their interiors personify the zeitgeist of the 1920s and '30s, with stylized natural motifs, eye-catching chevrons, colorful mosaics, glimmering stained glass, and opulent brass accents to name just a few.
Some of the most famous art deco-style buildings in the U.S. include the Eastern Building in Los Angeles, the Chrysler Building in New York, and the Cavalier Hotel in Miami. Other iconic structures include the Hoover Building in London, Eden Teatro in Lisbon, and Fairmont Peace Hotel in Shanghai.
How to Incorporate Art Deco Decor Into Your Home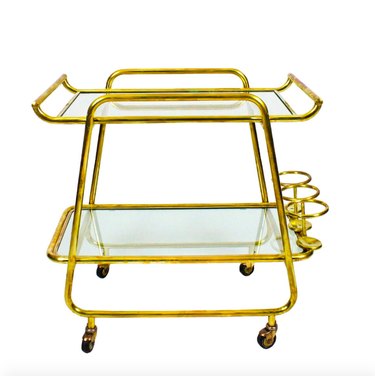 Even a century after its prime, art deco style still makes its way into our modern homes. Some of the major elements you might see include geometric forms, jewel tones, metallic materials, and rich woods. Everything from wallpaper to furniture and decor items can infuse your space with a little art deco glamour.
For starters, look for art deco pieces made with materials like glass, chrome, silver, and lacquer. These were especially popular during the art deco era. Because art movements like Cubism influenced many designers of the time, the style is also all about playing with angles. Add a starburst item here and there or accentuate a room with a large statement mirror.
And if you want to go especially bold, seek out items with animal prints and gold details. We especially love the idea of pairing these with dark neutrals for a moody setting.
Where to Shop for Art Deco Furniture and Decor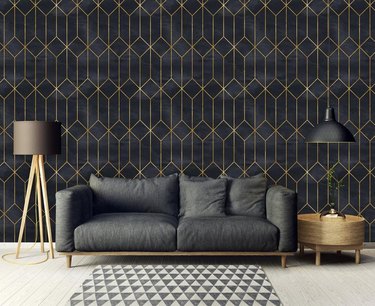 And while we love the idea of spending a Saturday at an antique shop or estate sale, you can also find some serious vintage art deco gems online. Searching by designers' names can yield fruitful results, although you can expect some pretty high prices. When doing a more general search, keep in mind materials and use those as keywords. For example, shagreen (a rawhide) and Bakelite (a plastic) were often used during the art deco era.