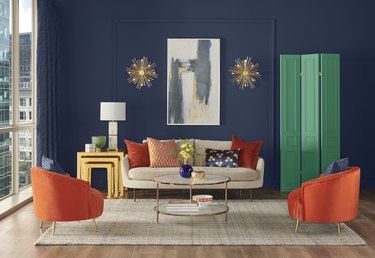 As the year starts to wrap up, we're looking forward to a fresh start. And that means we're also in search of color inspiration for the year ahead. Luckily, Sherwin-Williams is giving us some major inspo with their official 2020 color of the year: Naval. You can now find it at your local Sherwin-Williams store.
The color experts at Sherwin-Williams predict that 2020 will see a shift toward colors that are both deep and rich but also relaxing and soothing. Naval takes a lot of its inspiration from the art deco style of the 1920s and '30s. It signals a change towards a neutral shade that isn't your average muted hue.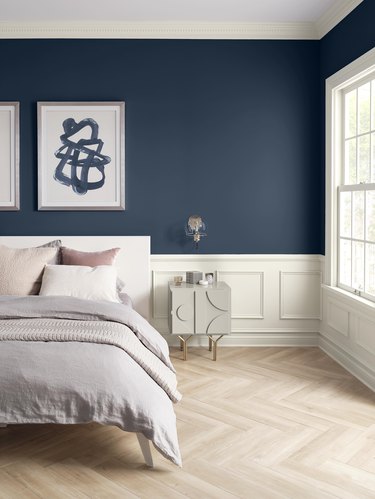 "After years of heavy focus on whites and grays as neutrals and the clean lines of midcentury modern as the trendy design style, it's a natural progression to transition to something bolder and more decadent," Sue Wadden, director of color marketing for Sherwin-Williams, tells Hunker.
Wadden sees this "new neutral" as a "bolder and more decadent" choice than a lot of the colors we're seeing right now. We've definitely seen navy used as a neutral in fun and exciting ways, whether it's in a living room or bathroom.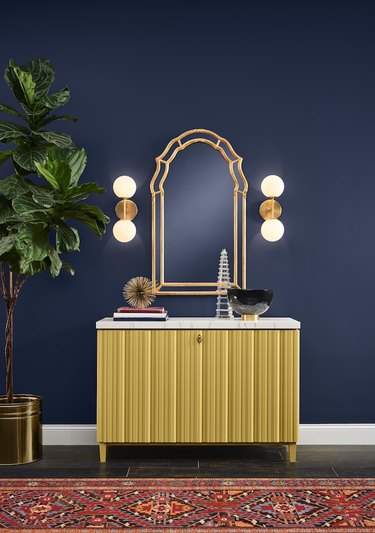 "The deep navy feels confident [and] calming, and is reminiscent of the deep sea or the night sky," Wadden says. "It's classic and isn't your typical color 'trend' that's here today and gone tomorrow."
Here's to new neutral possibilities.