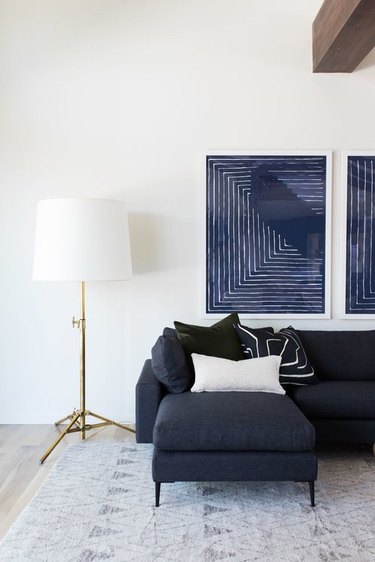 It's hard to deny the power of neutrals, especially when it comes to home decor. Redecorating can be costly, so it makes sense that we often err on the side of caution to accommodate changing trends, seasons, and tastes. Still, maybe it's the rebel in us, but we can't always fight the urge to mix it up a bit and step outside the gray box. Can you blame us?
That's why we sat down with two of our favorite interior designers to talk about the hue we couldn't help but notice was outshining its neutral counterparts: Navy. Ahead, Shea McGee of Studio McGee and Emily Henderson of Emily Henderson Design share their go-to tips for making navy blue living room ideas work.
1. Add warm accents for contrast.
According to Shea McGee, "True neutrals can read cool or warm, but we love taking advantage of navy's cool tone to mix in brass and wood accessories for warm contrast."
2. Use in place of other dark neutrals for a softer look.
When you want to keep your color palette neutral without being stark or harsh, Emily Henderson advises, "Use navy as you would any other dark neutral like black or charcoal. It helps to give depth and dimension with a slightly softer visual touch."
3. Choose a navy with gray undertones.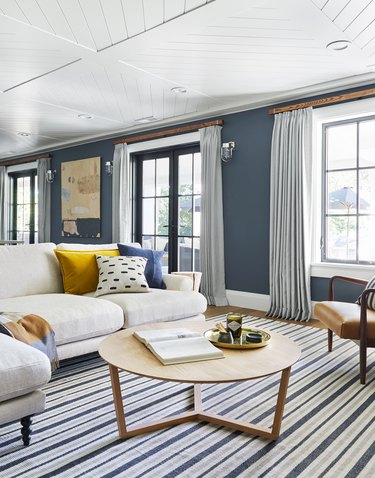 When it comes to navy blue living room ideas, Henderson suggests keeping the undertones in the gray family. "Navy with a purple or green undertone will stop looking neutral and go more saturated and jewel toned."
4. Incorporate navy in the main pieces of your home.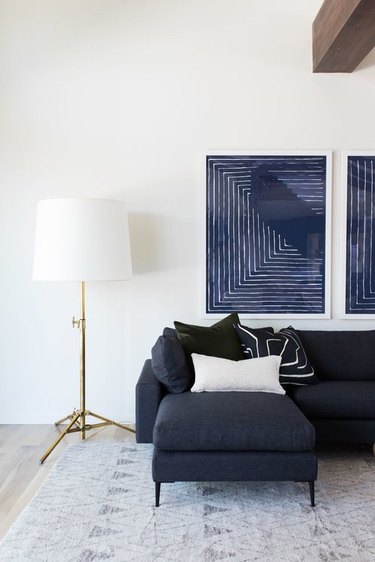 The designers behind Studio McGee are ready to challenge everything you know about keeping your main pieces in the beige/gray family. "We'll often opt for navy in the foundational pieces of a home, like the living room sofa. Navy is just as versatile as a beige or gray so you won't have to reupholster it every time you restyle your home, but it's better with kids and hiding stains!"
5. Think of it like your favorite pair of denim.
It seems like an obvious point, but Henderson makes navy blue living roomideas feel more accessible than ever with this tip: "Navy is the denim of the design world. By that I mean it goes with EVERYTHING. Try and think of a color navy doesn't go with … you won't. Just go for it." We're listening, Emily!
6. Pair with black and charcoal for a bold statement.
We love a little risk when it comes to interior design, so we were all ears when McGee mentioned that even though one of the biggest design rules you'll hear is "don't mix navy and black," she totally recommends it. "Black and blue are both bold neutrals and sometimes a design calls for following your heart, and it just works." The proof is in the pudding, folks.