Blue tends to be a go-to color for bedrooms because it's an ideal shade for lowering stress and promoting mellow vibes. Since that's a feeling you probably want to experience throughout your home, why not consider the bold hue for your living room, too? After all, the central space is your headquarters for chilling out after a long day, so it deserves to have a soothing quality as well.
Additionally the tone can inspire visions of beautiful seaside locales, and if that doesn't make you feel relaxed, then frankly we don't know what will. It's also a completely classic shade that won't go out of style anytime soon — even though it's totally trending at the moment. And since it's a neutral, it will literally go with everything. So strap on your overalls and grab a can of paint, here are six stunning blue living room ideas that will inspire a dramatic refresh.
1. Use blue as a backdrop to show off decor.
We definitely love a white living room, but to truly make your decorative pieces stand out, contemplate painting your walls in a deep, noticeable color like blue. In this traditional, yet feminine, living room belonging to Sally Fazeli, a bookcase full of knick-knacks and a mantle topped with plants stand out thanks to the pretty blue-green shade on the walls.
2. Punctuate a blue living room with shades of white.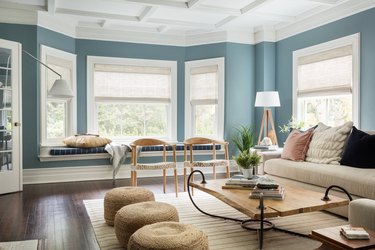 White and blue are a tried-and-true, can't-go-wrong pair. It's a color combo for your living room that you'll love for years to come, and we adore how the two hues automatically create a fresh vibe in any space. This breezy, blue living room idea created by Alexandra of M&P Design Group has a toned-down coastal look and an airy ambiance.
3. Include a statement ceiling.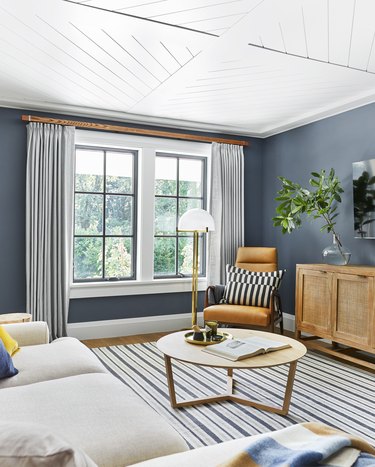 4. Don't be afraid to include dark hues.
Sure, a darkly hued room is always a bit of a design risk, but we think it's one worth taking. If you're going with a moodier shade of blue for your living room, don't shy away from weaving in other dark elements as well. In this space styled by Kristine Hall of Restoring Lansdowne, a black fireplace and other shadowy accents come together to create a dramatic, head-turning space.
5. Push the modern look.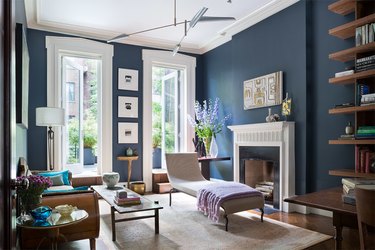 Even if the architectural details of your home lean more traditional, you can still make your blue living room idea feel modern and fresh by pairing it with unexpected, contemporary pieces of decor. In this transitional space created by the team over at Dineen Architecture, a space-age chandelier and geometric artwork make for a design that feels oh-so-current.
6. Mix together primary colors and neutrals.
Blue is a color that can really go with just about anything, which is proven in this traditional-meets-modern space dreamed up by Shea of Studio McGee. The blue accent wall partners flawlessly with the rich, green sofa; pastel artwork; and the grays and whites seen throughout the rest of the room.