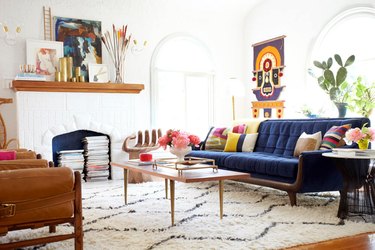 There are some risks that are worth taking, like ditching your purse for a gold chevron-quilted fanny pack or adding a vibrant-colored sofa to your living room. As with any risk there's a chance that it won't translate in the way that you pictured, but we're here to assure you that it can be done, safely, even if you're someone who pledges allegiance to neutrals.
While gravitating away from classic beige or gray couches that have become a safe standard might be daunting, the trick is to craft a space that doesn't compete with your couch. When considering a sofa in any other shade — whether you choose to go top-to-bottom kaleidoscopic living room to match the vibe of your couch, or prefer to let the sofa take center stage amid traditional hues — don't let it overpower the room, allow it to look like a seamless feature and don't fight it.
Here are eight ways to safely incorporate a colorful sofa into your living room without scaring away your guests.
1. Weave it into the overall color palette.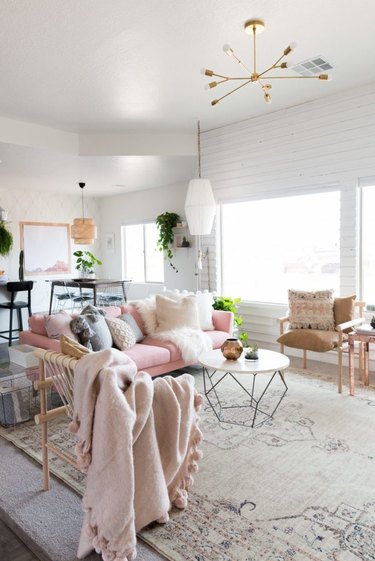 Mandi from Vintage Revivals made over Aspyn Ovard's living room, and the result is a beautiful and airy space with a rosy sofa as the centerpiece. In this room, the pretty-in-pink couch doesn't compete with the rest of the room because it echoes the other colors throughout, which include light hues such as cream, white, and other shades of pink.
2. Think vintage.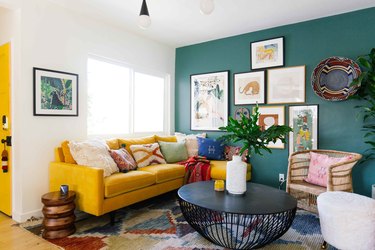 There's a chance you saw a bright-yellow couch in your grandmother's house when you were growing up, and the trend is here once again. In this space, Dabito of Old Brand New revived the bygone look and created a floor-to-ceiling boho-vintage atmosphere, pairing the goldenrod couch with retro artwork, throw pillows, and furniture. (Bonus points for matching the yellow door to the sofa.)
3. Consider traditional styling.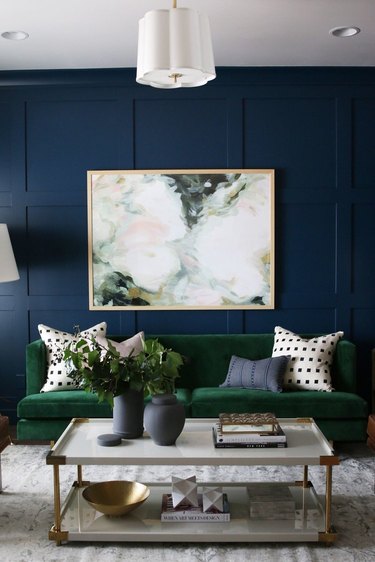 Remarkably, a vivid sofa also works well in a traditional space. Shea of Studio McGee gave this green gem the spotlight in a room brimming with classic-meets-modern decor. The sofa really stands out against the navy blue wall that acts as a dramatic backdrop.
4. Pair it with patterns.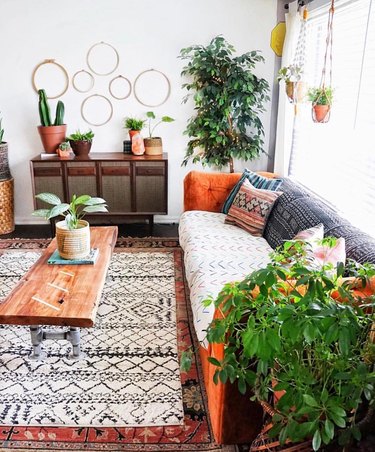 No matter what, orange is a color that will always stand out, especially when you choose an entirely orange sofa. If you're someone who loves go-big-or-go-home style, get inspired by this living room belonging to Camille of Bryant House. The velvet orange seat is draped in patterned textiles, which partner up nicely with the rest of the pattern-filled room.
5. Think of it as a neutral.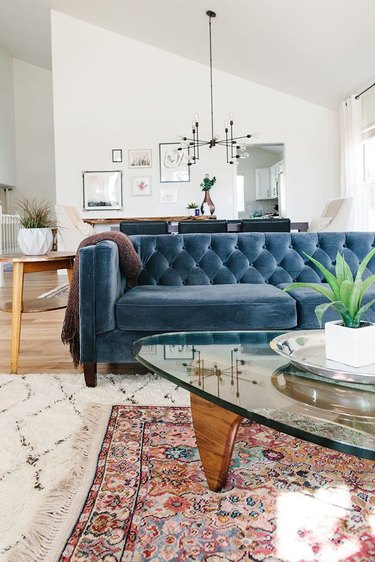 If a rainbow-inspired room just isn't your thing, you can also think of your colorful sofa as a neutral. If you choose a tried-and-true hue like blue or green, the sofa will blend into the rest of your decor. Alexandra Evjen from Ave Styles accomplished this look beautifully in her living room with a tufted navy sofa that doesn't compete with the striking Noguchi coffee table or layered area rugs.
6. Regard the sofa as an art piece.
To create an artistic space, you can consider your richly colored sofa to be a work of art in itself. In this living room designed by Dabito of Old Brand New, the maize couch is a creative accent alongside abstract wall art, graphic throw pillows, and stylish coffee table books.
7. Make it stand out among light colors.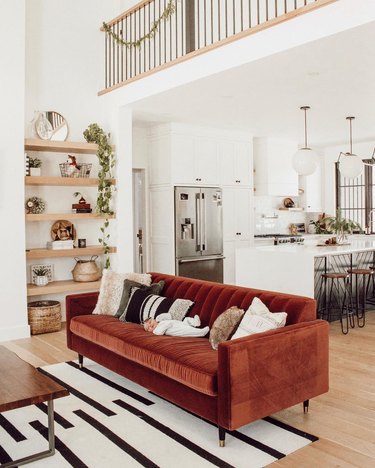 It might seem like a colorful sofa would look too showy in a room full of neutrals, but it turns out that the opposite is true. In fact, a vibrant sofa can have an anchoring effect that brings cohesion to a living room, proven by the rust-colored sofa showcased in Kassandra Dekoning's living room.
8. Don't shy away from whimsy.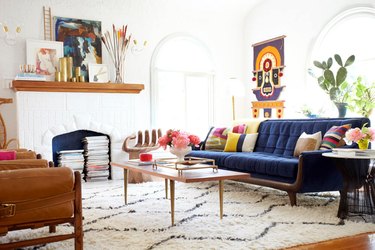 Emily Henderson brought a midcentury-inspired royal blue sofa into her living room, and since it carries a hint of fun, she decided to match it up with lighthearted and fanciful accessories. So, display the vintage arrows, hang the quirky wall hanging, and toss the rainbow-hued throw pillows on the couch. We guarantee that your colorful seating will look right at home amid these bold decor choices.