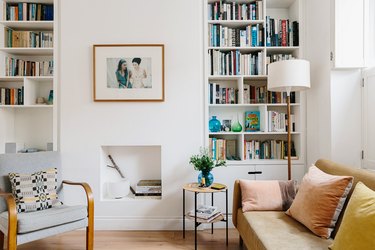 If your kitchen is the heart of the home, the living room is the soul. It's where you chat with friends, indulge in your favorite shows, and cuddle on the couch with your pups. But living in a cluttered space can make your soul sad — so if you're lacking for storage and leaving your belongings scattered around the room, it might be time for a solution.
Before getting started, there are a few important things to consider. First, what's your layout? Storage needs for an open floor plan will differ from an enclosed living room, because you're working with fewer walls. And if you're short on space, you'll likely be looking at dual-purpose furniture to maximize every inch.
You also need to consider budget. If you've got a lot of cash to play with, you can easily go custom and consider things like built-in cabinetry and bespoke furniture. Those with small budgets need not despair: There are plenty of affordable options to keep your living room organized.
And don't forget to think about your specific belongings. If your DVD collection rivals a mid-'90s Blockbuster, you won't need the same solution as a video game aficionado. Before thinking about what's best for your space, make sure you know what's best for you.
Options for living room storage are endless — the only limit is your imagination. For most people, the focus of your living room is the entertainment center, so that's a good place for most of your storage. However, there are other options, too.
Popular Living Room Storage Options: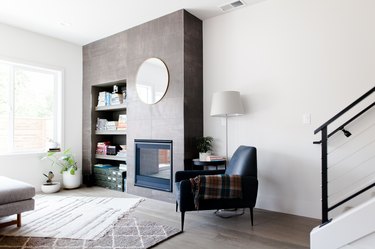 Think you need to hire a carpenter to get the fancy-pants built-in look? Think again. You can easily construct built-in cabinetry or shelves by hacking inexpensive IKEA furniture. Your guests will never know the difference.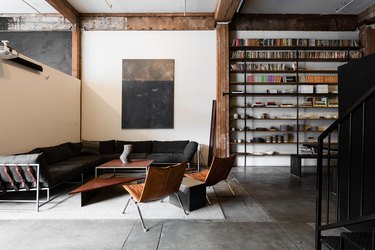 Lack the budget — or frankly, the interest — in going custom? Many of the best living room ideas require only store-bought shelving, and the results can be stunning. Use plain white bookshelves to enhance a minimal space, or glass-shelved metal models for a geometric, modern look.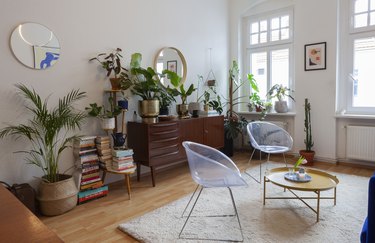 A classic credenza or a super-stylish entertainment center can be a fabulous decor-defining statement piece for small spaces. Choose one with closed cabinetry to tuck away ugly cables, or consider open shelving if you're eager to show off your collection.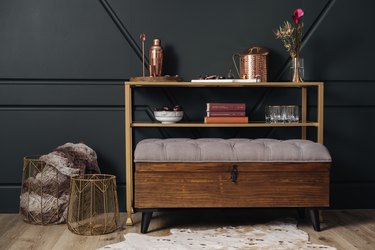 If you're truly lacking space, you need furniture to do double-duty. Look for coffee tables, ottomans, and benches with hidden storage spaces.
Small Living Room Storage Ideas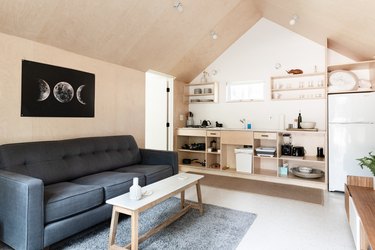 In addition to useful entertainment centers and dual-purpose furniture, small living room owners need to think extra creatively. Step one: Go vertical. It's tempting to feature a single gorgeous piece of art on your wall — and there's nothing wrong with doing so — but if you're lacking for storage, you've got to look up.
Elect for floating shelving to enhance a sunny, breezy room, or choose decorative brackets to enhance your room's personality. You can even smoosh your shelving up against a gallery wall to show off your artsy side, too.
To keep your space less cluttered, keep your shelving hyper-organized or consider placing it closer to the ceiling, which allows your walls to breathe.
There's also another option for tucking away your stuff. Just like the space under your bed, the space beneath your couch can probably be better utilized. Under-the-couch storage can keep your spring pillowcases hidden during winter and your game controllers out-of-sight.
Living Room Entertainment and TV Storage Ideas
Simply sticking your television on top of your credenza may not be the ideal design solution — the result can look clunky and chaotic. There are a lot of excellent entertainment center storage ideas that go beyond the standard TV/media stand combo.
If you hate the ugly look of a black mirror staring back at you, tuck your television behind sliding doors in a built-in bookcase. Or hang it on the wall above your entertainment center, whether that be a gorgeous credenza, a floating sideboard, or simple shelving. The resulting look is sleeker and more streamlined — helping your living room look less cluttered. (And whatever you do, don't forget to hide your cords.)
When you're planning your storage, make sure to keep your other entertainment needs in mind, too. If you're a big gamer, carve out space for your consoles so they aren't out in the open — unless you like that look, of course. Movie aficionados may want to consider their DVD collection, too. Dedicated drawers for controllers, games, movies, and spare cords streamline your living room, ensuring that the next time you're in the soul of your home, you're not the slightest bit stressed.