We've all seen those fantasy living rooms as we flip through magazines or scroll on Instagram. The ones with huge amounts of space, sky-high ceilings, and the ability to store anything and everything with ease. For many of us, those spaces are aspirational, and we envision them in our "dream homes" we'll live in when we win the lottery. Until then, we will just have to make the best of the small living rooms we have. They may not be as grand as those dream spaces, but they do come with a few positive aspects, like coziness and not having to buy tons of furniture.
But we are all too familiar with the not-so-idyllic side when faced with the challenge of storage. You might think, "Where am I going to stash these books? Or blankets? Or TV wires?" Never fear. We're here to save the day, sharing some stellar, small living room ideas focused on storage. Read on for six helpful suggestions, plus a few of our favorite retailers when you're ready to go shopping.
1. A Bench Behind the Sofa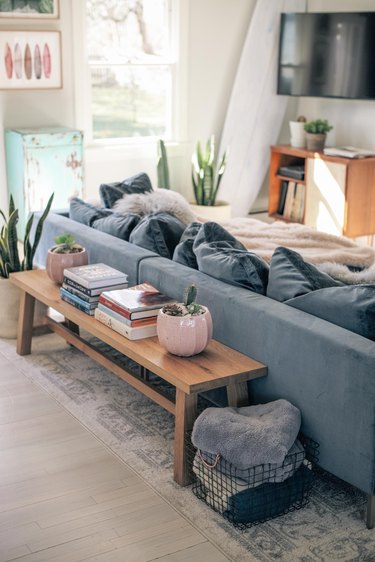 When it comes to small living room ideas, the more creative the storage solution, the better. Sometimes all it takes is a good, hard look at your space to realize which nooks and crannies you're underutilizing. For example, are you putting the space behind your couch to good use? Place a bench or console table there and you'll have a spot for books and tchotchkes, which is what Jess Ann Kirby ingeniously did in her living room.
2. Small-Scale Furniture with Storage Built In
3. Baskets, Baskets, and More Baskets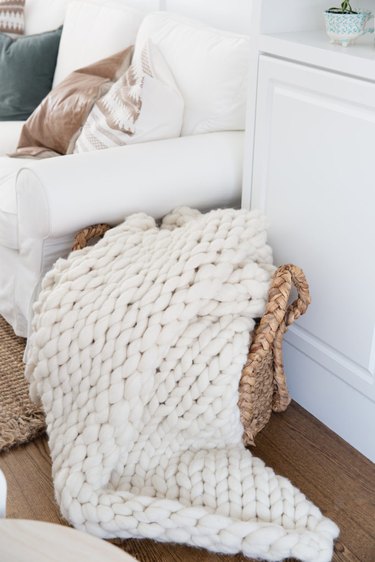 As you gather up small living room ideas, you might see that there's a surprising amount of floor space in these tiny spaces, and your room is no exception. Even in the teeniest of quarters, there's always space for at least one basket, otherwise known as a throw blanket holder. This basket and blanket look oh-so-cozy in a living room belonging to Roxanne of Bonjour Bliss, and it's practical, too.
4. The Space Under the Window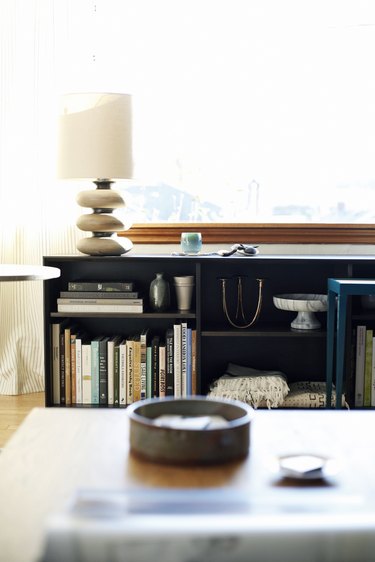 We bet there's another space you're not using in your living room — the area below your windows. If you choose the right furniture piece to rest there, such as the bookcase that Cassandra of Coco Kelley chose for her living rom makeover, you'll suddenly have loads of functional storage.
5. A Makeshift Floor-to-Ceiling Bookcase
Among all the living room storage ideas out there, floating shelves are on the easier side of things. They can be installed in a flash and practically anywhere, and are ideal for storing small items and decor. We love the idea of hanging them from floor-to-ceiling (as seen in this Scandi-chic refuge by Mainstreet Stockholm), resembling a built-in bookcase.
6. A Coffee Table That Pulls Double Duty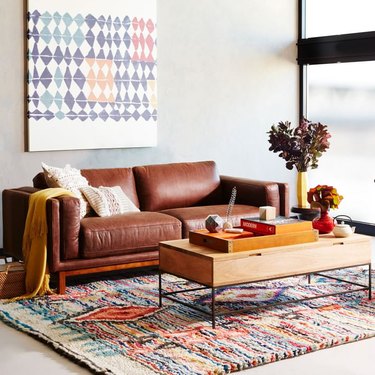 In a small living room, it's all about pieces that can double as something else. For example, instead of buying a minimalist set of nesting tables that have zero added storage, invest in an option that has storage built-in. We love this pop-up option from West Elm. The top literally lifts up so you can stash essentials inside. And a bonus: the pop-up top can also become a makeshift workstation or dinner table for one, which will come in handy during those Netflix binge sessions.
7. An Old Fireplace Gets a Second Life
Who needs to throw another log into a crackling fire when you can use the carved out nook for storage instead? That's exactly what Anna Gerber decided to do with the disproportionately sized furnace in her London pad, and the result is pure genius.
Where to Shop for Small Living Room Storage:
These retail destinations are brimming with small living room storage ideas, from credenzas to shelving and everything in between. Get ready to say goodbye to your lack-of-storage despair.
The Container Store is a lot more than just containers. Look to their Living Room Storage department to discover a world of wall-ready shelving that can fit into a variety of spaces.
We all know that the masterminds at IKEA are actually small space geniuses, and it's no wonder that they have a myriad of living room storage ideas ready-made for tight squeezes. Think budget-friendly storage boxes and baskets, living room storage systems, and sideboards galore.
For some extra-chic living room storage, look no further than Crate & Barrel. Peruse their stackable bookcases, cabinets, and modular storage sets injected with plenty of style.