Depending on where you live, blankets might only come in handy for about five months out of the year. The rest of the time, blankets become a storage nightmare. Oftentimes, blankets end up living on the back of a couch or shoved in a linen closet. We all have that corner of the closet that is overflowing with mismatched blankets and comforters, collecting dust.
Blanket storage doesn't have to be an afterthought. From a repurposed drying rack to a DIY ladder, here are several attractive storage solutions for blankets.
Organize with like colors.
If your towels, blankets, and sheets are all within the same color palette and aesthetic family, then simply folding them in the linen closet will look more attractive. If this was your carefully organized and color-coordinated closet, you wouldn't even need to close the door.
Utilize baskets.
Find a large basket to keep blankets out of sight. The benefit to storing extra blankets in a basket? They don't necessarily need to be folded — having a casually tossed blanket works with the look.
Consider a storage crate.
Multi-use storage is always a great find. You can hide folded blankets inside the crate and keep the top clear for sitting or extra storage use. Here's a similar DIY using actual wood crates from Michael's. Another option would be a trunk or storage bench, like the one below.
Hide blankets in a storage bench.
This Target bench ( $161.49 ) offers both seating and storage. Open it up and throw your blankets inside or drape them over the bench itself to use the blanket as an accent throw.
Repurpose a drying rack or towel rack.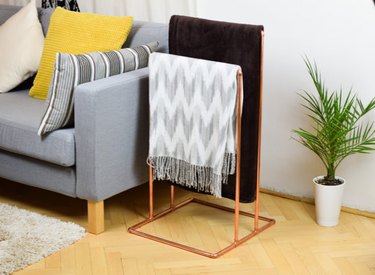 This copper stand on Etsy ( $103.31 ) is a bit pricey, but any drying rack of your liking would work. Target has some starting as low as $14.99. If you don't love the look of the rack, simply fill it with your blankets so the aesthetic of the blanket is the focal point and not the rack itself.
Make a blanket ladder.
A blanket ladder is a surprisingly easy DIY and Remodelaholic has instructions for one that they say will only set you back five dollars. The best thing about a blanket ladder is how easily you can move it from room to room because all you need is a wall to lean it against.
---
Kenya is a freelance writer from Dallas. She currently contributes to Apartment Therapy and has written for various online publications, including Playboy, Essence, Bustle and more.