Underbed storage isn't just for small bedrooms. Everyone has stuff they don't want on display — from lumpy winter comforters to swimsuits and long johns. Instead of stuffing them in linen closets, evict the dust bunnies from under your bed. These bedroom storage ideas transform unused space into a bonafide arsenal, providing space to hide your shoe collection, your kids' toys, your spare linens — anything you need. And if you are working with a small space, extra storage can be a godsend.
Here's how your bed can do double-duty.
1. Get custom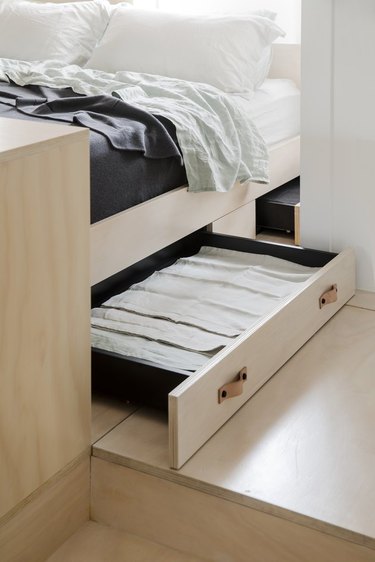 Only you know your exact storage requirements — so get bold with a bed custom-designed for your precise needs. Perhaps you need more bedroom storage for your winter blankets, or you're stuffing away oversized ski pants. This custom bed offers enough storage to keep a 230-square-foot "Nano Pad" studio from feeling cramped.
2. Elect for cedar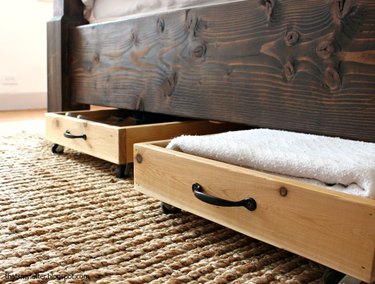 While cedar underbed storage will never offer all the benefits of a cedar closet, it can certainly help keep spare linens smelling fresh. Brittany at Pretty Handy Girl created these convenient rolling cedar trays that offer more than just extra bedroom storage space — they look pretty, too.
3. Keep your shoes corralled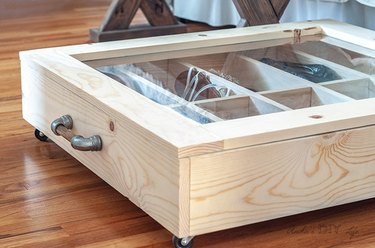 If you're obsessed with shoes, keeping your collection in one place can prove challenging. That's why Anika's DIY Life's underbed shoe storage is so brilliant. Like the cedar trays, it rolls from underneath your bed — but it also includes dividers and plexiglass to create shoe cubbies so you can pick out the perfect pump for the occasion.
4. Lift the mattress
If you love the look of plush, low-to-the-floor beds, you might think underbed storage isn't in your future. Think again! Lifted beds, like the Haven model from West Elm, give you a sleek upholstered look without sacrificing bedroom storage. (Just make sure to keep the upholstery clean.)
5. Show off your stuff
Underbed storage is more than just tucking away unwanted bedroom items, like winter clothes and extra linens. Why not create a thing of beauty? Always Rooney DIY-ed a platform bed with open storage. Wire baskets offer storage space, and the stained wooden shelves are the perfect place for a gorgeous planter.
---
Jamie is a freelance writer based in Denver, Colorado, who writes about real estate and interior design.
View Work