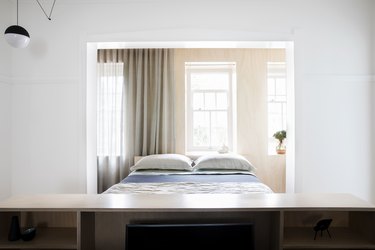 When architectural firm Studio Prineas arrived to assess an art deco apartment in Darlinghurst, an inner-city suburb near Sydney, Australia, the team noticed that poor planning with a small layout (literally; it's 230 square feet and the firm refers to the project as the 'Nano Pad') resulted in unnecessary clutter. An added challenge: The tiny space needed to function both as a home and as a short-stay rental for when the clients are out of town.
First order of duty: reformatting that messy layout. Taking advantage of the original high ceilings, the team designed a custom bed raised from the floor, packed with storage. A space by the entry became an ideal area for a small kitchen. To create the feeling of "rooms" within the studio, Prineas added a plywood unit that separates a bedroom and living room.
The result is a compact apartment that offers comfort and style — for both the homeowners and any guests they welcome.