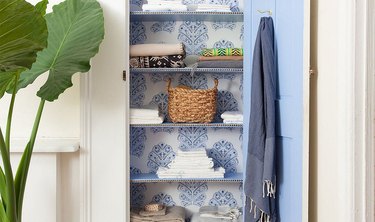 Picture your linen closet. Are there leaning stacks of washcloths that threaten to fall over, half-folded mismatched sheets you should've tossed long ago, and boxes of half-spent toiletries? If so, congratulations: You're human like the rest of us. Don't feel bad. With all of the use they get, linen closets are notoriously tricky to keep neat, and even some of the most beautifully designed houses struggle to keep them tidy. But with a few simple tricks, your linen closet can be a place of serenity and order. First, you'll have to purge what you don't need (yes, it's time to part with those bleach-spotted towels). Then, follow these six easy linen closet organization ideas for a beautiful storage cabinet that you'll actually be happy to open.
1. Mix Open and Closed Storage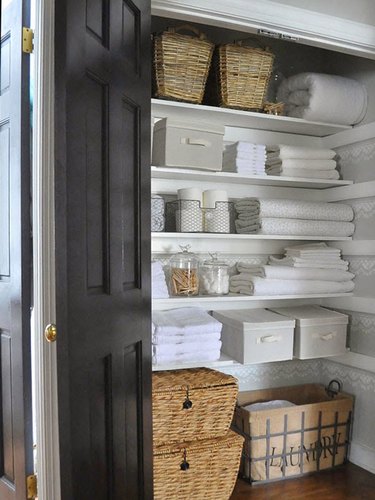 Follow the lead of Jenni from Dear Lillie Studio and invest in a combination of closed storage containers (think woven baskets and lidded bins) and see-through options (like wire baskets and hanging mesh bags). Stash small, often-reached-for essentials like extra TP and washcloths in see-through containers — they'll be easier to find and access. Opaque storage will keep any unsightly goods neatly stored and out of sight.
2. Stash Bulky Things in a Jumbo Basket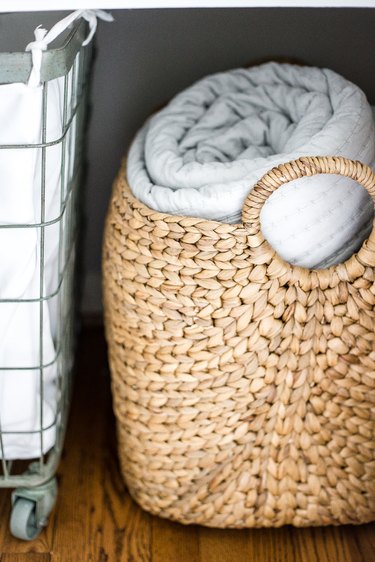 How to store that big, bulky comforter? It won't stay folded, and it'll fall off the shelf if it's rolled up. Instead, find an oversize basket that fits on the floor of your linen closet, then roll and tie your comforter (or blanket) and tuck it inside. Or find a good-looking bin on wheels. When you need an extra blanket, just slide (or roll) the container out. Never again will a blanket fall on top of you when you pull it from the top shelf. Let Lauren from Bless'er House show you how it's done.
3. Label by Size and Type
Dust off that label maker — or, better yet, some pretty card stock, a pen, and your best calligraphy skills. Make labels for your towels according to size (washcloths, hand towels, bath towels), then affix directly to the shelf, like Julie Blanner did, or basket where you plan to keep them. Store each sheet set together, folded and bagged in its own pillowcase; then label the whole package according to their size, such as "king," "queen," "twin" or use "guest room sheets," "kids' room sheets." It'll be much easier to find what you need — and put everything back in its designated spot — on the first try.
4. Stack Linens With the Neat Side Facing Out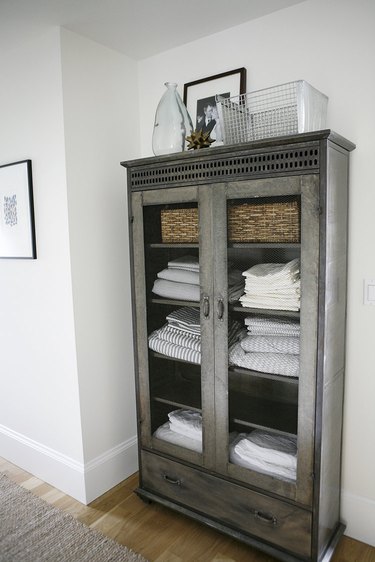 A linen closet organization idea that will instantly make your space neater? Stack folded towels and sheets with the folded part facing outwards and the messier edges facing inwards, as seen in this cupboard by Katie Hackworth. The messy bits will be out of sight — and it'll be easier to grab one towel at a time, too.
5. Stand Up Small Items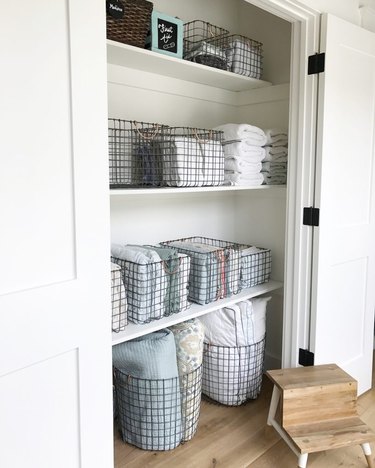 When it comes to smaller linens like washcloths and pillowcases, channel Marie Kondo with this linen closet organization idea: Fold or roll neatly and stand them up vertically in a basket, as seen in the wire bins here by Sam from Simply Organized. It'll save space, and you won't have to empty the whole container to find those pretty pillow shams for the guest room.
6. Employ the Reach-In Rule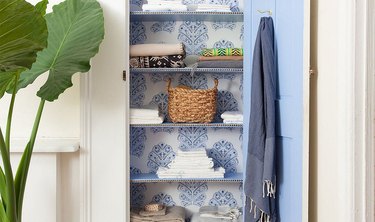 To make your linen closet organization idea work for you, think through what items you use most. Maybe it's bath towels for your rotating roster of houseguests; maybe it's spare toiletries. Store your most-grabbed items within arm's reach, on the closet's middle shelves — no bending down or standing on a chair required. Lesser-used things, like off-season blankets, extra pillows, and a bulky steamer can go on high or low shelves.