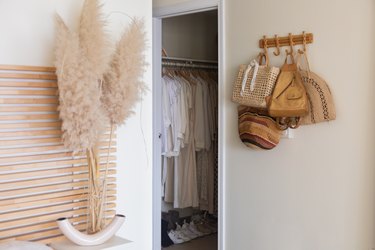 Hunker may earn compensation through affiliate links in this story. Learn more about our affiliate and product review process
here
.
You might not know it, but your house has another room. Maybe even a few. They're called closets.
No matter where you live — in a house, an apartment, a studio, or a tiny home — chances are you have ​at least​ one closet. This could be a hall closet, linen closet, bedroom closet, cleaning closet, or even a pantry closet. Most often, we tend to think of closets purely as storage, filling them to the brim with stuff and shutting the door, Monica Geller style. But what if we gave closets the same amount of consideration as every other room in our house? It's time to think of them as equal parts hardworking, neat, and, yes, beautiful.
Whether you have an entryway closet, bathroom closet, walk-in closet, or all of the above, there are a few considerations you should keep in mind to make your setup work for you. Read on for a few closet storage idea questions that you should ask yourself.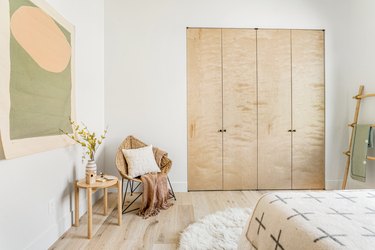 What Are You Working With?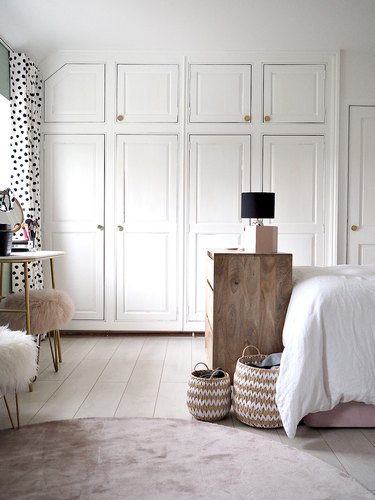 First, assess your needs. What do you need to store in your closet? Clothes, shoes, heavy winter coats, sports equipment, towels, sheets, spare toiletries, cleaning supplies? How much stuff is there? What will you need to access every day or every week, and what can go in deeper storage, to be accessed once a year or once a season? Can you weed any of it out? (The answer to this is almost always "yes.")
Next step, assess your closets. Take everything out and have a look around. What are the dimensions? Is it a walk-in, a reach-in, or a wardrobe? Are there rods? Hooks? Shelves? Drawers? Are there parts that are hard to reach, or empty corners going to waste? Do your towels topple over, or is it impossible to reach the shoes stuffed in the bottom corner? What would make it easier to use on a daily basis? Think about what your ideal closet would look like. Our closet would definitely involve multiple doors like this situ belonging to Olivia over at Lust Living.
Lastly, think through your budget. If you can't spend a dime, there are tricks and tips using things you already own to make your closet more efficient, like using magazine holders (similar to the IKEA Pluggis) to stash bottles of cleaning supplies or rolled-up tee shirts. If you have a bit more money to spend, invest in some attractive baskets, bins, hooks, peg rails, or even a small set of drawers to transform your closet. And if you have a bigger budget and are handy (or can hire someone), consider tearing out the entire thing and customizing it to your needs.
What Kind of Organization Is Best For My Closet?
In a bedroom closet — whether it's a walk-in, reach-in, or even a freestanding wardrobe — you'll need a mix of hanging storage (like a rail or rod) plus drawers or shelves, baskets and bins (for folded items that don't need to be hung, and smaller items like socks and underwear) à la Shira Gill. How much of each type of storage will depend on your wardrobe and how you use your closet. If you wear a suit each day for work, you may need mostly hanging storage. Same if you just really hate folding. If your wardrobe is mostly jeans and tee shirts, you'll be best off with mostly open shelving or drawers and a small hanging rod. Regardless, add a few hooks for hanging your next day's outfit, plus space for a hamper, if possible.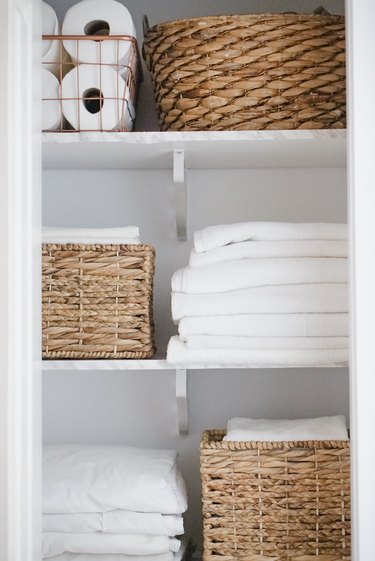 For a linen closet, open shelving tends to be best. Space them fairly close together to get the most use out of your space and prevent too-tall stacks of towels and sheets. Add baskets and bins, with labels — we love the woven option that Linnea from Linnea Carmen went with — to store smaller items like washcloths and extra toiletries. You can also add shelves or hooks to the door for holding items like an ironing board, broom, or cleaning supplies.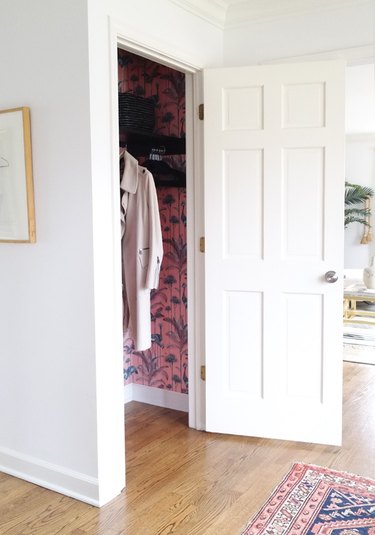 Depending on what the climate is like where you live, hall/entryway/mudroom closets end up being catch-alls for coats, shoes, hats and mittens, backpacks and bags, and sometimes sports or outdoor equipment. Chances are, half of what's in there (like off-season coats) can be in deeper storage, while the other half needs to be easily accessible daily. Consider a high-up shelf or two and some bins where you can store out-of-season goods, plus lots of hanging storage, hooks, and baskets or bins (labeled according to type, or assigned to each family member) for everyday goods. Make sure to assess what's in there regularly and change out each season. You can even dress it up with some wallpaper like Kyla from House of Hipsters did in her home.
In a cleaning closet, you're best off with shelves fitted with labeled bins, or even lazy Susans, to keep all of your cleaning supplies within fingertip reach. Easy-to-clean wire baskets (like this tidy cleaning closet by The Home Edit) or plastic bins are your friend. Leave enough extra floor space for bigger items like the vacuum and hang brooms on a hook or on the door. This is one closet where you'll want to keep things nice and open so it's not a struggle to access bulkier items like the vacuum.
How Do You Organize a Tiny Closet?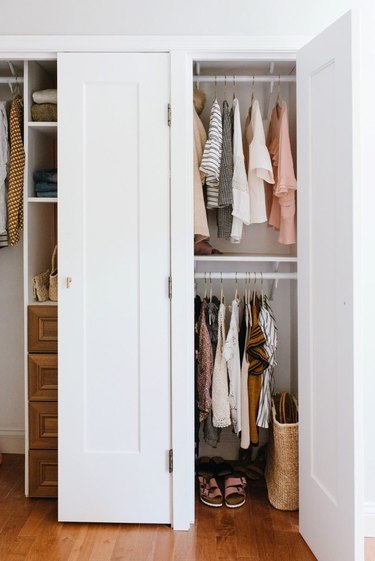 Is your closet the size of a postage stamp? Don't worry: There are plenty of storage solutions to make the most of your space. First, you'll need to whittle down your inventory. Seriously. No matter how smart your storage, too much stuff is too much stuff. Then, put some clever tricks to work: Add peg rails or hooks to make the most of every inch of wall (even ceiling) space. Utilize the door. Add a high shelf (and a step stool). That's just the beginning; get more ideas for making the most of teeny-tiny closets here.
What Are Some Creative Storage Solutions for Closets?
To get a closet that truly works for you (and looks great while doing it), think about some creative closet storage ideas that are also aesthetically pleasing. Need some inspiration? Peg rails and pegboards, like the one on the closet door above, make the most of every nook and cranny while also putting your favorite things on display. (Here's how to hang one.) Opt for good-looking baskets and bins you'll be happy to look at. Make everything easy to find with pretty labels. Hack an IKEA closet that looks custom. Hang a step stool on the door so you can use even the highest, hardest-to-reach shelves. Take the doors off to make an open, easy-access closet. Put what you use most often on the middle shelves to make it easy to reach. But most important for a well-organized closet of any type? Edit and clean it out regularly to be sure your space stays in good working order.