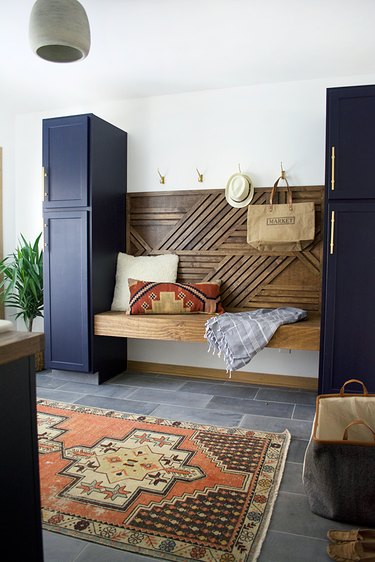 Hunker may earn compensation through affiliate links in this story. Learn more about our affiliate and product review process
here
.
As one of the most-trafficked areas of the home, the mudroom can often be the most unsightly, especially during inclement weather when you may be tracking all kinds of debris from the outside indoors. If you're brainstorming mudroom ideas, it's wise to account for the various elements you'll face — rain, snow, mud, to name a few — and adequate storage for all that you carry with you. But there's no reason you can't create a mudroom with some serious flair. These mudrooms are so utterly functional and stunning that it feels like an injustice to call them anything with the word mud in it.
1. Create a "Mudroom" Using Architectural or Graphic Elements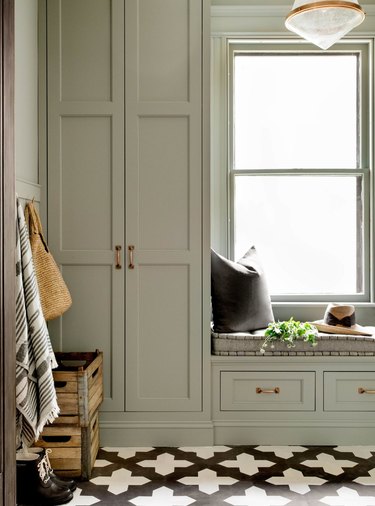 Designer Becca Casey's mudroom for this Hudson River Colonial has it all: elegant storage, hooks to make daily-use items easily accessible (and perfect for drying), a graphic floor treatment for interest, a conversation-worthy light fixture, and comfy seating area. What's particularly amazing is how well Casey optimized what actually isn't a room at all. In reality, this is a narrow strip of space — with one true wall — just left of the home's entryway. She brilliantly sectioned it off with crown molding to create the mudroom of our dreams. Imagine doing the same with an underused area in your home.
2. Make Storage Accessible to Every Member of the Family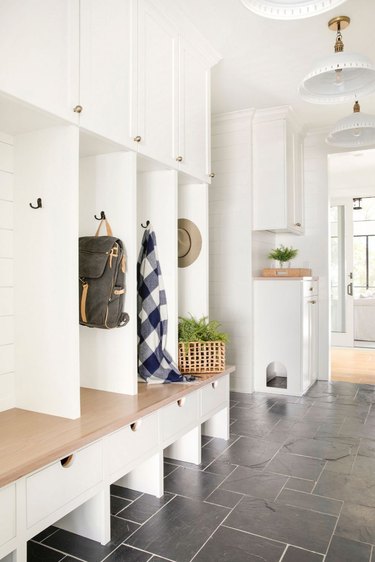 Modern farmhouse style informed Bria Hammel's design of this enviable mudroom. Using a simple color palette with interesting materials — white shiplap, geometric charcoal floor tile, light wood seating, and woven baskets — keep the mudroom looking clean and cheery. And the hardware-free low drawers (ideally) make it a cinch for younger family members to tuck their belongings out of sight. Hammel even designed a cabinet in the mudroom to conceal their cat's litter box.
3. Allow for Floating Furnishings for More Storage Possibilities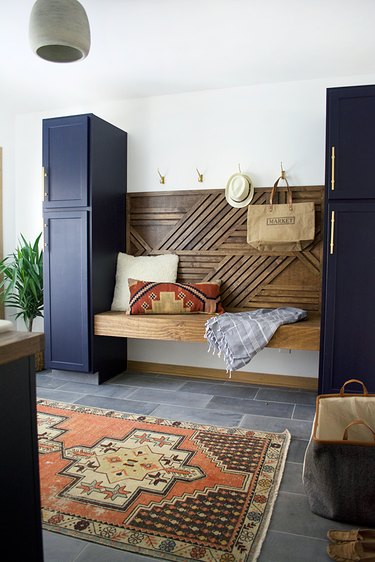 Various textures and patterns abound in the mudroom/laundry room in the home of Bre Bertolini of brepurposed. Frankly, if our mudroom just had this DIY wood wall feature with a floating bench, we'd be thrilled — and you're just seeing one wall of the room. With ample storage space in the cabinets, hooks for hats and bags, and an area under the bench for additional storage possibilities, it's easy to keep the room tidy when you ensure there's a place for everything.
4. Pass on Built-Ins for More Flexibility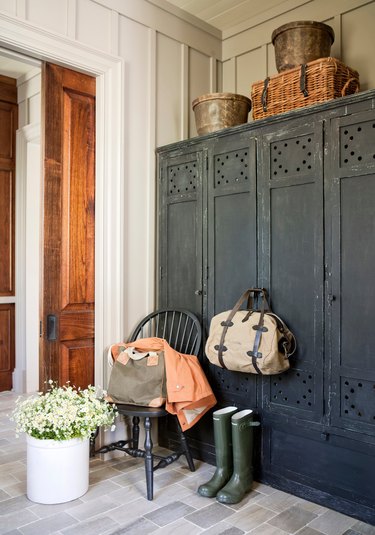 Built-in cabinets and seating aren't for everyone, nor are they necessarily affordable. For more versatility in your mudroom, opt for freestanding cabinets and other movable pieces that can adapt to your needs and moods. There's a lot of character packed into this mudroom corner with just a few items. We adore how designer Suzanne Kasler used a dark vintage armoire as a storage solution that still has space for baskets and decor atop it. One chair also does the trick for a smaller room and household.
5. Choosing a Single Dark Color Can Be Worthwhile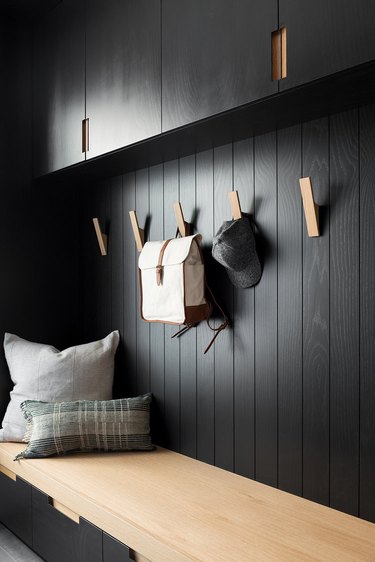 Going all black with a mudroom may seem like an odd color choice, but Studio McGee demonstrates how it's anything but. Paired with a wood bench and statement hooks, the black vertical panels, cabinets, and drawers make the room feel incredibly modern and polished. Even if you went monochromatic in your mudroom, you can always add pops of color with patterned pillows or rugs and hanging artwork.
6. Mix Open and Closed Storage for Convenience and Clutter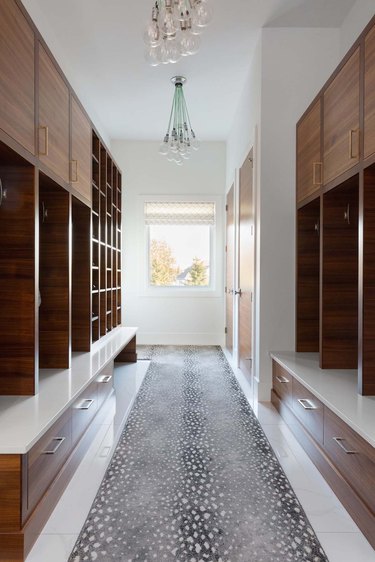 Reena Sotropa and In House Design Group outdid themselves with this ultrachic mudroom for a family of five in rural central Alberta. "Our clients are exceptionally tidy and organized people, so creating a space for everything (and everyone) was our main goal," they shared. "We created open 'lockers' to allow each family member to keep exactly what they needed on hand. We strategically mixed in closed storage to hide as much visual clutter as possible." The imaginative light fixtures and custom animal-print rug to protect the white marble flooring really elevate this family mudroom to boutique hotel lobby, no? Even in a smaller mudroom, using a runner with a simple vertical pattern can give the impression of a larger or longer space.