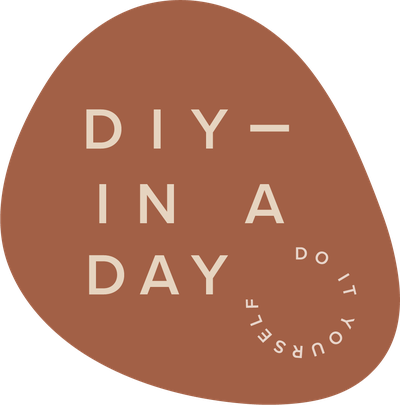 DIY in a Day brings you step-by-step instructions for easy projects that will spruce up your space — within 24 hours (or less!).
See that chic boho basket planter? It started out as a plain $15 bathroom trash can we found on Amazon. To make it into a cute tasseled basket, all we needed was an inexpensive tassel maker, some yarn, and a bit of leather. Use it as planter to hold your beloved houseplants or for storage. Heck, you could even still use it as an upgraded trash can if you ​really​ wanted to — you choose!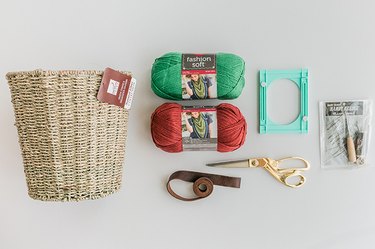 Step 1
Use the instructions that come with your tassel maker to turn green- and rust-colored yarn into tassels. If you use the same exact tassel maker that we did, note that we lined up the second set of arrows on the sides of the tool, and wrapped our yarn around five times to get the specific size tassels you see here. Make four of each color, and attach them together using one longer length of yarn in the same color, respectively.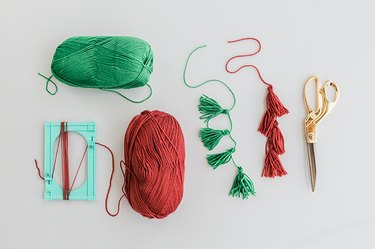 Step 2
Push the wicker fibers aside in an area toward the top rim of your basket. Fit the end of the first tassel strand through the wicker, pulling it taut against the side of the basket. Triple knot to attach it, then cut off any excess yarn from the strand. Repeat with the second tassel strand.
Then, cut your leather strap down into two individual 5-inch lengths. Use a hand sewing kit to attach the leather straps to the sides of the basket in a loop design, as you see here, to create handles.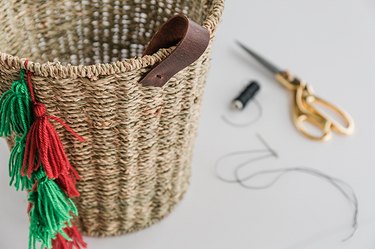 Step 3
Since there's no glue or other kind of sticky adhesive involved in this project, you can ​immediately​ situate your basket where you want it and add a plant to finish!