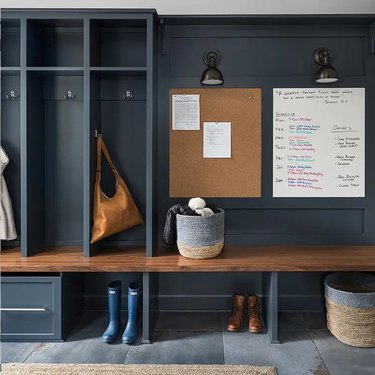 Are you always clearing up coats in your entryway? How about tripping over shoes around the house? The struggle is real, but we may have the solution. A mudroom might seem like a fancy addition to your home, especially if you live in a modest abode. But if you've got an underutilized garage, why not convert it into a place for keeping clutter at bay? A garage mudroom could be a game-changer. From quick and easy to solutions to full-on renovation inspo, there's a stylish storage solution for everyone. And we're here to tell you how to get it.
Here are six garage mudroom ideas that will have you googling carport conversions before the day is out.
1. Think about function and form.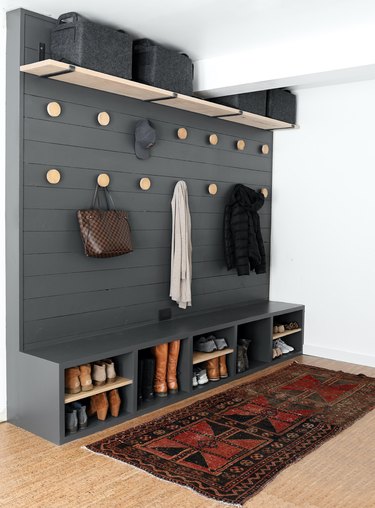 We know that it's likely been drilled into you to always consider function over form, but with a garage mudroom, you really don't need to compromise on the latter. This built-in mudroom bench by Dorsey Designs is proof that your setup can look stylish while also corraling your outdoor essentials. Get the look yourself with a pot of charcoal paint, round hooks, and some shelf brackets.
Hooks are absolute essentials in any mudroom, and your carport will allow for plenty of them so don't hold back. Katie and Jeremy of Bower Power teamed up with Clayton Homes to create this garage mudroom, and we love how they incorporated storage features while still making it feel cozy. The duo used the entirety of the wall as a place to hang bags and coats and even added striking green paint for some design flair.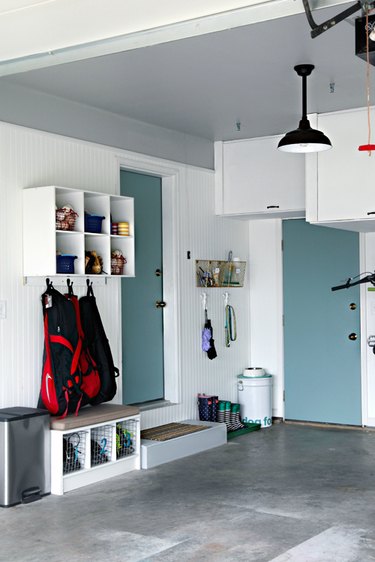 If your garage has to remain double-duty (i.e there needs to be room for a car), install overhead storage. It might not be the perfect solution for shoes, but sports equipment, winter coats, and any other lesser-used items will be fine tucked away.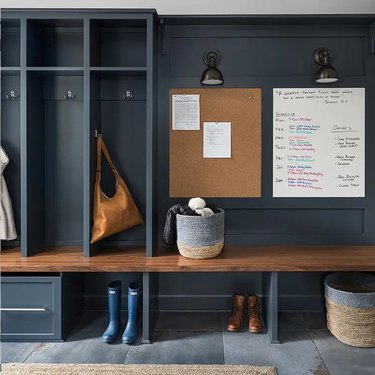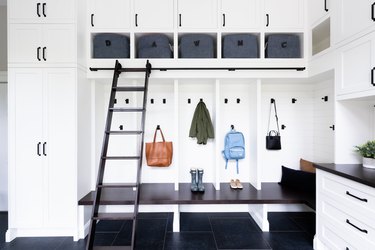 If you don't need your garage for cars, bikes, and the like, you could convert the entire space into a permanent mudroom and reap the benefits of an extra room. Of course, if that's the case, fill every corner with storage solutions and go all out on the design front. This mudroom by Z Plus Interiors has full length cabinets, overhead cubbies, baskets, and drawers all in a chic monochrome palette.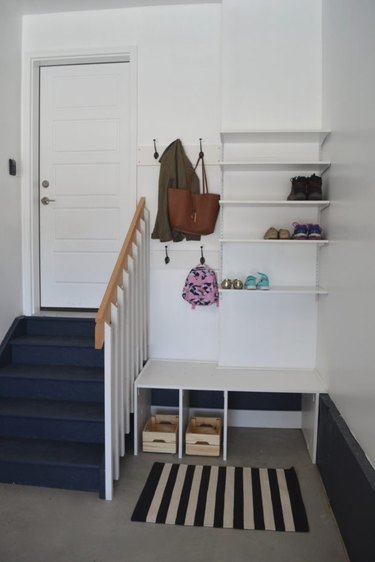 Don't let a small carport stop you from adding in elements of a mudroom — you don't need huge amounts of square fotage for wall-mounted shelves and a bench. This corner in a compact garage has enough room for coats, shoes, and backpacks. Plus, the striped rug adds the sweetest touch.