Whether you live in an apartment or house, you're not always guaranteed to have enough space dedicated to cleaning your clothes. Oftentimes the laundry room is awkwardly inside a tight hallway, the kitchen, or a even closet. But if you're able to relegate the washer and dryer to an under-utilized carport or shed, you're in luck. And these garage laundry room ideas will help you spruce up the space to make it functional and pretty stylish.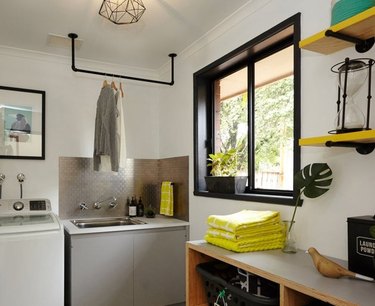 2. Hang things where you can see them.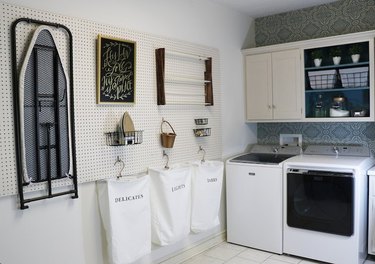 From laundry bags for sorting clothes to an ironing board, all of the items on this simple and smart organizational system from Romdelaholic are perfectly arranged. The pegboard creates an easy storage solution in a snap and turns a ho-hum wall into a happy place.
Garage laundry rooms tend to be a little more utilitarian than chic, but who says yours has to be bland? Add wallpaper to the wash area, along with a couple plants and some open shelving so you can store your supplies in fun baskets instead of something that's just blah. Also, a front-loading, side-by-side washer and dryer combo will allow you to install a shelf for folding, sorting, and storing.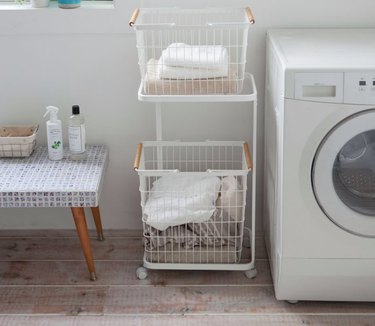 Even in the tiniest of laundry spaces, you'll want a little zone for sorted clothes or detergent. Try a two-tiered table on wheels, like this piece from West Elm, that can hold bins and be moved out of the way.
5. Carve out room for cupboards.
If you're converting a corner of the garage into a laundry room, make sure you leave space for plenty of storage. Keep your washer and dryer side-by-side, so you can install shelving or cupboards up above. We like how this nook from Studio McGee is fitted with personal touches like subway tiles and knick-knacks.