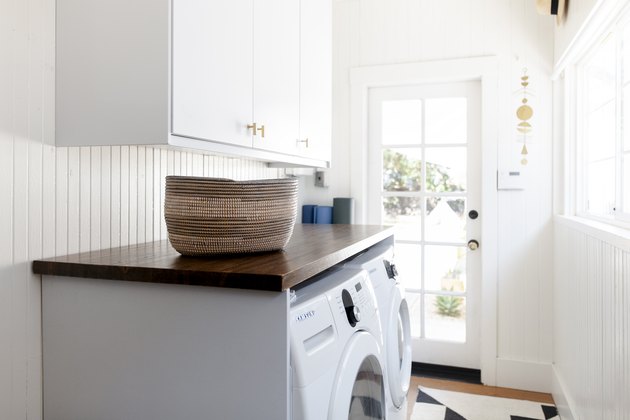 It wasn't all that long ago that laundry rooms were purely utilitarian spaces, decorated only with boxes of detergent and lint rollers. But designers have started to take some liberties in this once forgotten room of the house, complete with statement light fixtures, elegant wallpaper, and thoughtful built-ins. When done right, well-designed laundry rooms are the best example of form and function, transforming one of life's most dreaded chores into (dare we say) an absolute pleasure.
All that to say, we assume you're here because you're on the hunt for laundry room ideas. Good news: You've come to the right place. Whether you're designing an entirely dedicated room or making the most out of a tiny closet, we've rounded up the most important things to consider when planning your utility space.
Laundry Room Design Ideas
It will come as a surprise to no one that function is king when it comes to laundry rooms, and it all begins with the best possible design plan. You'll first want to consider the ideal layout: would stackable or side-by-side suit your space better? Is there a place where you can add a clean countertop for sorting and folding? Whether square footage is no object or you're making the most of a compact nook, this complete guide to laundry room design will lead you from start to finish.
And then, there's style. You can incorporate your favorite design style into your laundry room with colors, accessories, and tile, just like you would in any other room of the home. Need some inspiration? These 14 gorgeous laundry spaces are a great jumping off point.
Laundry Room Storage Ideas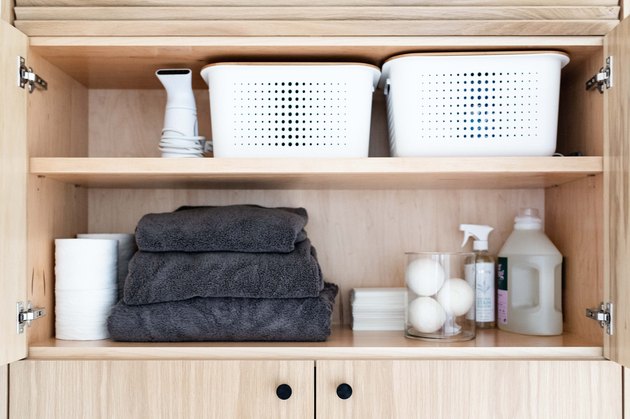 There are few worse design faux pas than a utilitarian space that lacks ample storage. No matter your budget or square footage, you can absolutely create a storage haven in your laundry room thanks to woven baskets, labeled bins, built-ins, portable furniture, and countertop space. These laundry room storage ideas will whip your organization into shape with just a few quick changes.
Laundry Room Hack Ideas
The laundry room might be our favorite place to insert a little DIY action, whether we're utilizing hacks that improve the way the space looks or functions.
These 10 storage DIYs will totally transform the way your small space operates, while these cool hacks will get your wheels turning with inspiration, from transforming old plumbing pipes to hanging a pegboard. Consider the big difference even little changes can make, like swapping your bulky detergent boxes for labeled glass jars, or hanging your ironing board on the wall to free up extra floor space.
Laundry Room Appliances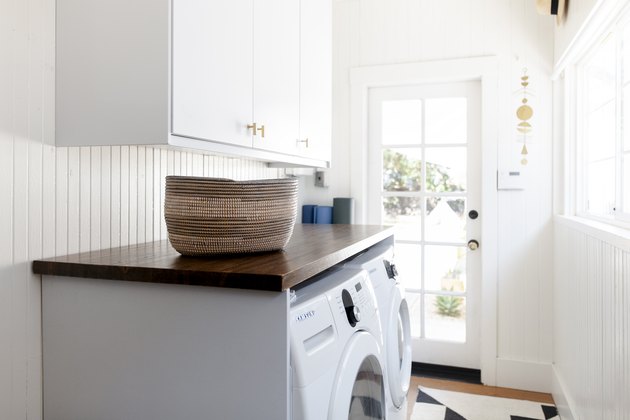 The laundry room would be nothing without appliances that work well and efficiently, so this is an important laundry room idea to pay attention to. Depending on your space, you'll want to consider side-by-side appliances versus stackable ones, and front-loading versus top-loading. Front-loading appliances easily allow you to install a counter directly on top of the appliances, giving you ample space to fold and sort clothes, and are often more efficient, but they are also more expensive. You may find it best to decide on a budget you feel comfortable with before you begin shopping.
There are even some options that combine a washer and dryer all in one appliance, working well as a small space solution. It's important to thoroughly research and read reviews and experiences of previous customers since this will likely be one of the greatest investments in your laundry room, and ideally you'll want these machines to serve you over a long period of time.
Where to Shop for Laundry Room Must-Haves