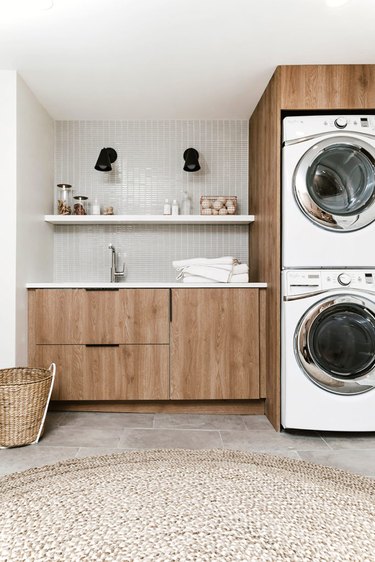 Some folks might consider doing laundry a chore, but washing clothes in the comfort of your own home sure beats hauling your hamper to the basement or plying coin-operated machines with countless quarters. Not to mention being at the mercy of your neighbors' schedules.
Regardless of square footage, you can still create a functional and stylish laundry room. From pedestals to wall-mounted drying racks, we've gathered 10 clever storage hacks to make the most of your space.
1. Invest in a washer/dryer pedestal.
Why put a pedestal under your washer/dryer? It raises the height of the units, so you don't have to bend as much (much better for your back!) and the drawers are super for stashing odds and ends. Many new models come with drawers below for an additional cost, and some manufacturers can retrofit older machines.
2. Add a drop-down drying rack.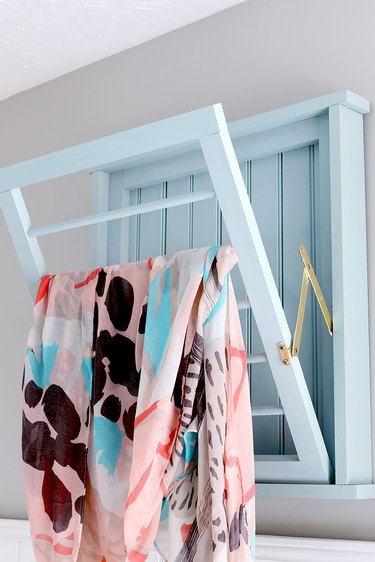 A drying rack is a must. Opt for a wall-mounted model, which won't take up precious floor space. You can buy one from Ballard Designs ( starting at $119 ) or build your own like Jen from the The House of Wood did in her laundry room.
3. Create a countertop.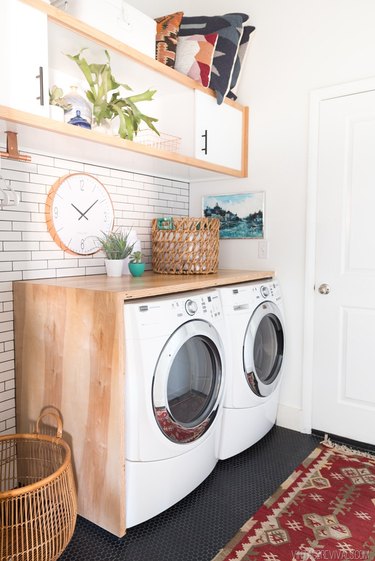 A countertop is a necessity for folding stuff and storing essentials. But what if your "laundry room" isn't actually a room, but rather a nook that's just big enough for a washer and dryer? Take a cue from Vintage Revivals with a stacked plywood solution.
4. Install a pegboard.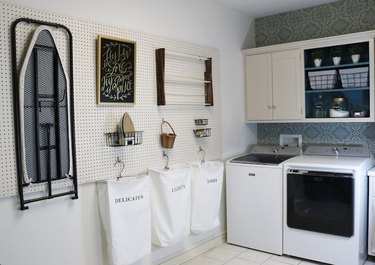 Make your utilitarian tools work double duty as decorative accents by hanging them on a DIY pegboard like Sara from Sincerely Sara D. did in her laundry room. This is a quick, easy, and inexpensive way to keep your washing station beautifully organized.
5. Or build a bookcase.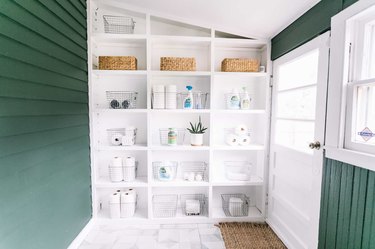 Of course, storage is a priority. But sometimes a lot of cabinets can make a tiny space feel even smaller. Open things up with a bookcase. This is a great alternative — particularly for folks with a knack for organization.
6. Customize your storage.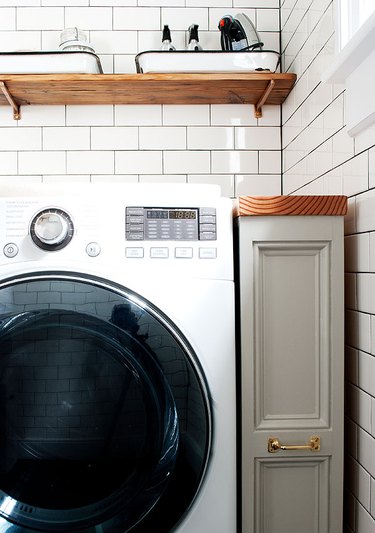 Can't find a prefab storage unit that's quite right? This DIY rolling cabinet from Manhattan Nest is the perfect way to make use of every square inch of space, as well as give yourself extra room to stash supplies.
7. Install a hanging rod.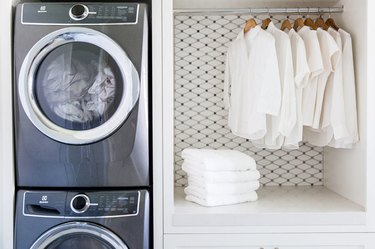 Not all items are supposed to go in the dryer (a lesson you probably learned the hard way when you first starting doing laundry). For delicates and shrink-prone pieces, a hanging rod is imperative. This swoon-worthy example from Vintage Revivals is proof that copper pipe is literally good for everything.
8. Or try wall hooks.
If you don't have that many hanging garments, a trio of hooks but might be a better solution. There are tons of chic options, from sleek matte black ( $8.95 ) to multi-hued metallic ( $29.95 for four piece set ).
9. Dress up the walls with open shelving.
Bre from Brepurposed had the right idea in her laundry room. It's amazing how something as simple as adding open shelving can make a world of difference.
10. Put unused corners to work.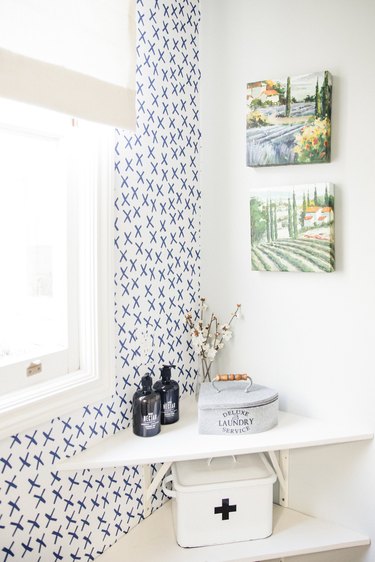 It sounds pretty intuitive, but bears repeating: When space is at a premium, every square inch matters. Utilize unused corners like Jen over at Freckles On Fillmore did in her laundry room. Now, that's making it count!