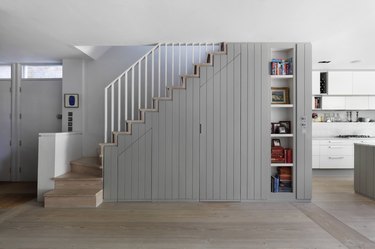 You've scratched your head. Scrolled Pinterest for hours on end. Only to come up empty as you continue your quest to find more home storage. Sure, you can always go with the Marie Kondo way of doing things, only keeping items that spark joy and tossing the rest. But we're pretty sure there is at least one overlooked area in your house that's not being used to it's fullest potential — the awkward space under the stairs.
Staircases often wrap in decor and pretty finishes, but it probably didn't even dawn on you that their unique designs also make perfect nooks for stashing stuff, too. From pantries to diminutive mudrooms, cupboards to hidden drawers, we've got seven under-the-stairs storage ideas that are about to revolutionize the way you organize.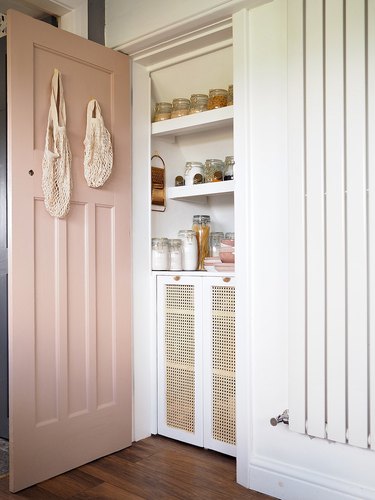 If you have a set of stairs close to your kitchen, you're in luck! That means that you could construct an oh-so-convenient pantry underneath, which frees up precious cabinet space. Olivia of Lust Living added super-stylish accents to her under-the-stairs storage space, including cane details and a pretty pink door.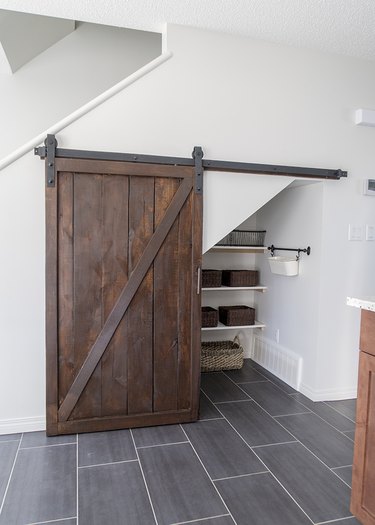 No matter what you're intending for the space under the stairs, there's one thing that you'll need to think about — a door, of course. We recommend going with an option that acts as a stylish touch all on its own. For example, you could follow this tutorial from Christina of The DIY Mommy and make your very own barn door.
3. Install quirky drawers.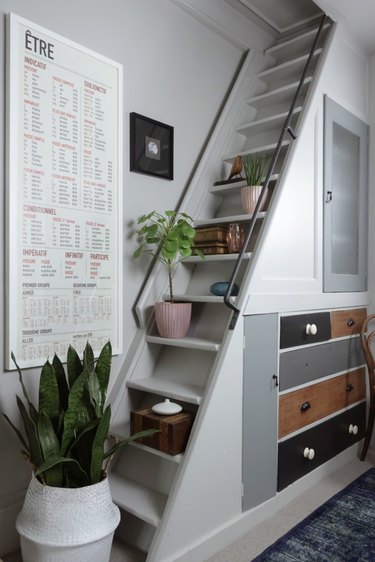 Envisioning a vintage staircase idea? Allow us to recommend installing a few mismatched drawers and an old-fashioned cupboard under your stairs, like Malcolm of Design Sixty Nine did in his home.
4. Set up a mini mudroom.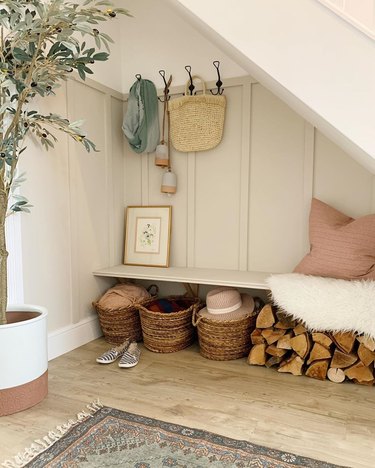 It turns out that a spot underneath a staircase can make for a marvelous little mudroom. Get inspired by Grace's setup of My Best Laid Plans and include must-haves, like baskets for hats and scarves, wall hooks, and even a place to store firewood. The seat is perfect for putting on and taking off shoes.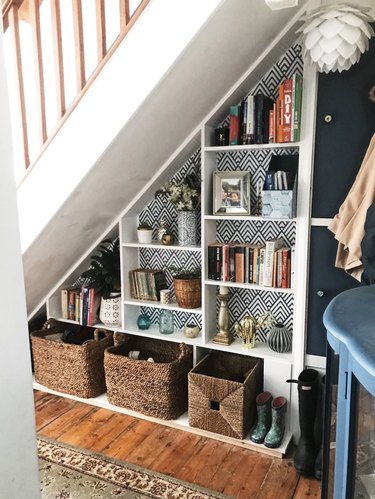 Oftentimes the awkward space under the stairs is the perfect size for a cozy bookcase. Either you can custom-build a shelving unit, which is what Melanie of Melanie Jade Design did in her home, or you can simply invest in a store-bought piece. Regardless, you can use the opportunity to artfully display your favorite pieces of decor, books, and a few baskets to quickly stash loose items.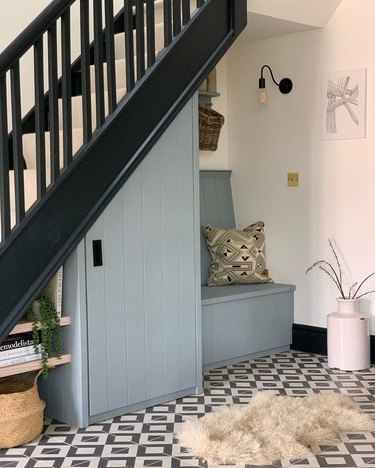 From pantry essentials to coats and board games, there will always be something that you can store under the stairs, so it makes perfect sense to build out a cupboard. You can put your DIY chops to the test and construct one, or you can buy one instead (we're thinking a flea market find would be ideal). Katy of Place Forty Eight painted her cupboard the same shade of blue as the accompanying bench, and the result is cohesive, eye-pleasing, and practical.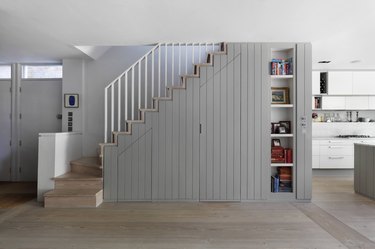 Maybe you'd prefer all your storage solutions to seamlessly fade into the background. In that case, we suggest covering it with paneling to make your under-the-stairs storage look like part of the wall. That's what the team at De Rosee Sa Architects did — we love their modern take on under the stairs storage.