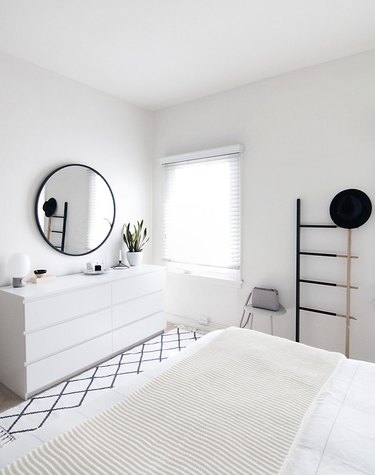 You pretty much can't go anywhere these days without hearing the name Marie Kondo, or the words KonMari on people's lips — or on design blogs, Instagram, bookstore shelves, your Netflix recommendations ... pretty much everywhere. Her signature method of decluttering embraces items that spark joy and encourages giving gratitude to things that are destined for the donation bin, which is especially effective when it comes to small bedroom organization ideas.
And since your sleeping quarters are not readily visible to guests, it can easily become the headquarters for piles of clothes, jam-packed bookshelves, and nightstand drawers bursting with random stuff. And who needs that stress-causing drama? If you know it's time to tidy your bedchamber, you can go the KonMari route or simply commit yourself to paring down while simultaneously creating dedicated areas for the items you keep.
1. Place loose items in baskets.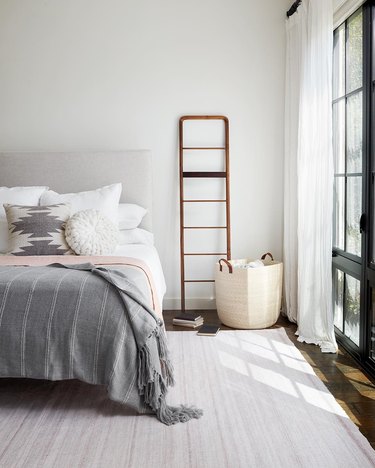 Marie Kondo is all about finding proper places for all of your belongings, and baskets are a great way to do just that. Also, they're perfectly on-trend, don't take up tons of space, and bring natural materials and warmth into a room. In this space a simple basket in the corner serves as an ideal catch-all for catch-all for blankets, towels, and other textiles.
2. Be choosy about the books you display.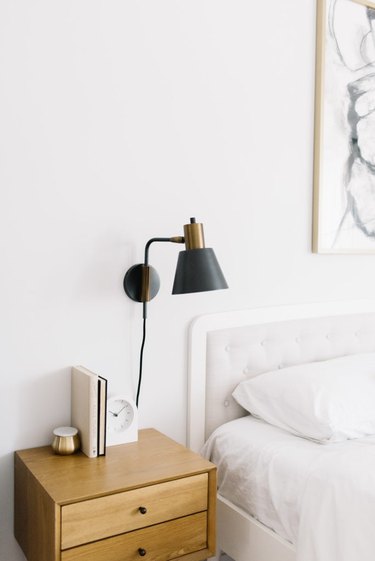 Even though it can be really hard to part with books (it's one of the aspects of KonMari that often inspires debate), opt to showcase only a few treasured tomes in your bedroom. In an airy, minimal space belonging to Kristina Lynne, a couple of beloved texts sit between bedside essentials, namely a clock and candle. By picking only one or two for your nightstand, you'll eliminate the space that could be taken up by a bookshelf.
3. Stash textiles and folded items in a wardrobe.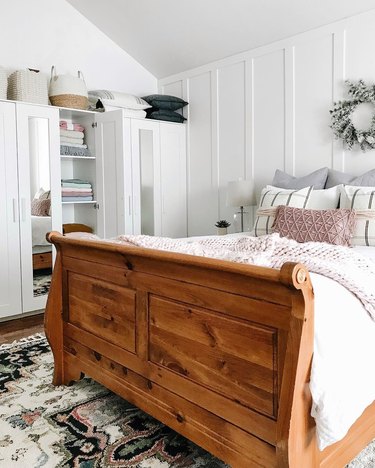 Yes, a dresser in a bedroom is kind of a small bedroom organization idea no-brainer, but for even more function, why not choose a wardrobe instead? It's taller than a dresser (which means its footprint will likely be smaller), and that means more room for your folded clothes and artisan quilts. A wardrobe tucks nicely into a corner, as demonstrated in this charming bedroom belonging to Meredith Rhinas.
4. Hang your accessories on the wall.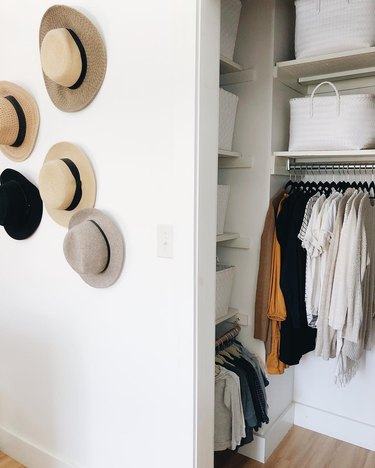 OK, so you've given away all of those hats and necklaces you don't wear anymore, but you've held onto the ones that bring you joy. Display these special accessories (and keep them organized) by hanging them on your wall. Here, in Melanie Fisher's bedroom, her fave hats are neatly displayed on the wall alongside her oh-so-tidy closet.
5. Replace your nightstand with a small bookcase.
If you'd rather keep things out in the open instead of shoving everything into nightstand drawers, consider a small bookcase in its place. The open shelving might force you to keep things even more organized, and it's a lovely way to show off your fave decor while keeping must-haves within reach. This sleek beauty in Jem Juthamat's bedroom is the epitome of gorgeous organization. You can always opt for an option that's smaller than a nightstand to save on space.
6. Embrace minimalistic decor.
Marie Kondo is all about hanging onto sentimental items. After you've discarded everything else, organize your treasures and weave them into your decor, something that Amy of Homey Oh My has done beautifully in her own bedroom, pictured here.