It's no wonder the Marie Kondo craze is alive and well. People are responding to the idea of de-cluttering their life in an almost obsessive way. And we're all for it. Especially when it comes to our bathrooms. Truth: Who else has had it up to here with messy, jumbled bathroom drawers? While the idea of organizing this area of our home can feel a bit overwhelming, the good news is that it's not an insurmountable project. Here are our top five, plus tips for organizing your bathroom drawers and vanity.
Things You'll Need
1. Add handwritten labels.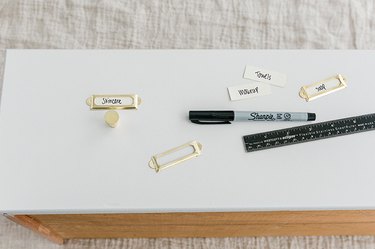 Have you ever had that moment when all you need is a single washcloth, but you can't remember exactly which drawer it's in? Eliminate unnecessary rifling by attaching customizable labels to your drawer fronts, that way you know where everything is at a glance. Swanky gold label holders like these make even handwritten, hand-cut cardstock labels look professional — plus this method allows you to skip a label maker. (You know, the one that always seems to be out of ink or tape!)
2. Try packing cubes.
If you think about it, drawers are very similar to luggage. They're typically rectangular, constricted spaces where you need to cram in as much as possible, while still being able to shut the thing! Because of this fact, you can easily put packing cubes to work in your drawers exactly the same way you would a suitcase. Just separate like items, zip them up in individual nylon bags, and tuck them in and around each other inside your drawer for easy access as needed. We think you'll be surprised by just how much you can fit in.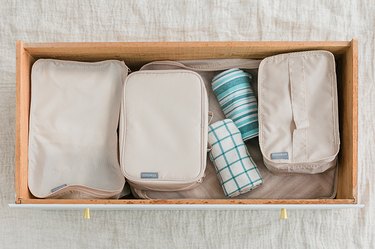 3. Create "His," "Hers," and "Theirs" sections.
For those households with multiple dwellers, it can sometimes get confusing when individual sets of everyday products are put to use in the bathroom. (think: his deodorant, her eye makeup remover, their shared face wash) Instead of getting your arms crossed while getting ready in the morning, divide those daily toiletries into "His," "Hers," and "Theirs" collections using drawer dividers.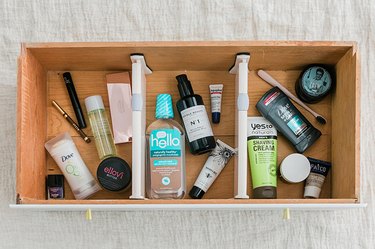 4. Invest in both flat and vertical storage.
No surprise here, but not all bathroom products are the same. Think about it. You've got loose elastic hair ties, small bottles of nail polish, beauty sponges, makeup palettes, and even backup electric toothbrush heads. There's no such thing as a one-size-fits-all storage option for these everyday tools. For this reason, you'll want to consider flat storage for some items, and for the others, you'll need containers that allow them to sit up vertically. Try placing things that need to stay upright in a tall multi-compartment organizer, then fill stacked flat storage boxes with tiny items that could otherwise get lost. By stacking and also making the most of otherwise wasted vertical space, you'll get twice (or even three times!) the amount of storage in a single drawer.
5. Compartmentalize with bamboo boxes.
When you need to separate certain items in a drawer, but don't want to use traditional drawer dividers, you can get a similar effect using a bamboo storage box set. First, empty the drawer and arrange the boxes exactly as you want them, then lift them one-by-one back out of the drawer and stick a removable sticky tab to the bottom of each box. Press them into place inside the drawer, and they'll stay put no matter how many times you open and close the drawer every day. One more tip? Intentionally leave a gap between the boxes to create a bonus space for bulky items, like toilet tissue rolls or hand towels.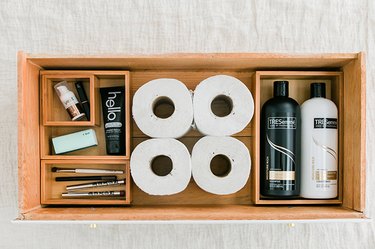 BONUS: Maximize open space, too.
Don't forget to make the most of any open tabletop area above your vanity or dresser drawer space. You can maximize this square footage with small dishes for jewelry and covered boxes (like these cute DIY Scandi-inspired containers) that can be used to hold things like cotton balls and swabs. Once you have your systems in place, make sure you stick to the plan, and your bathroom will be an organized space that works for you instead of against!