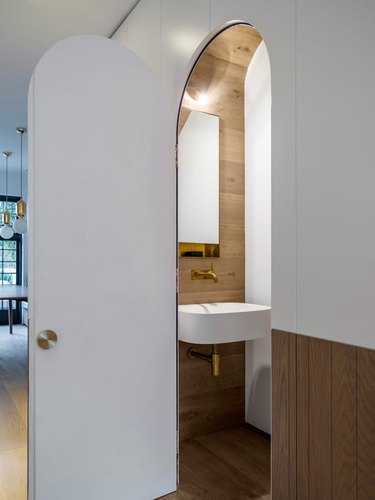 If the thought of having an extra bathroom sounds too good to be true, we have news for you: it's not. Installing a powder room below your stairs could be the answer you're looking for. You simply need some out-of-the-box thinking and a bit of ingenuity to make the awkward space work in your favor.
But before you start looking for wallpaper and tile samples, there are a few factors that you should consider. Do you have enough room for a toilet? Will you be able to use the space without bumping your head on the ceiling? Can plumbing be easily installed? Do you have enough space to include a sink as well? How about a tub or a shower?
If the answer to these questions is 'yes', then here are six ideas for your future bathroom under the stairs.
1. Choose one main focal point.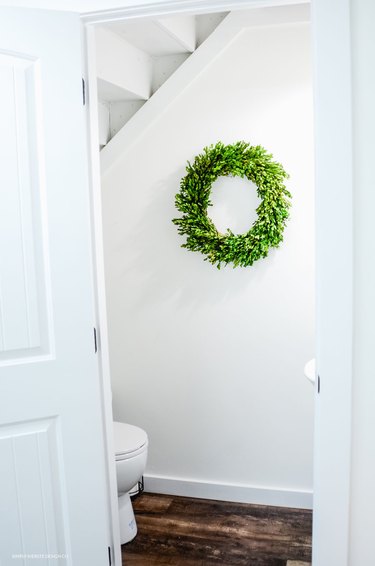 When it comes to designing a bathroom under the stairs, you don't need to overwhelm the space with tons of decor. We're thinking that you should pick an eye-catching anchor to serve as your main focal point. In the case of this powder room belonging to Kierste of Old Salt Farm, a green boxwood wreath does the trick.
2. Wrap in peek-a-boo details.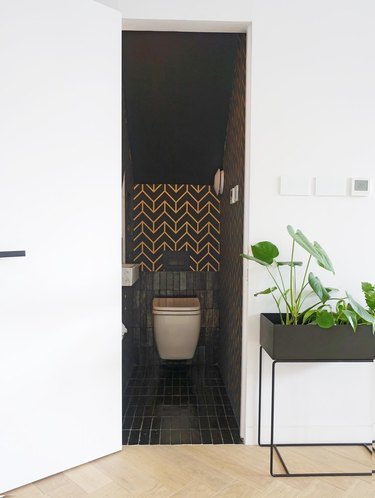 People incorporate lots of creativity into staircase ideas, and a bathroom under the stairs is no exception. In fact, we think it's pretty fun to open the door and discover that it's brimming with style and thoughtful details. For instance, in this teeny tiny space designed by Tash of South Place Studio, gold chevron-patterned wallpaper and matte black tile are a glamorous surprise to all who enter.
3. It's all about the backsplash.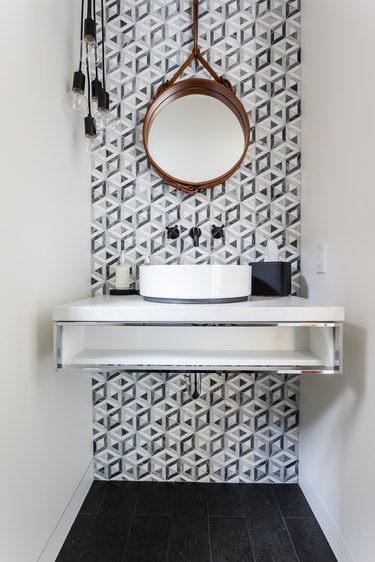 As we mentioned, there's not a whole lot of space for decor in a bathroom under the stairs. But, you always have room for an attention-grabbing backsplash. So why not make tile the focus of your diminutive water closet? The team at JMJ Studios clearly embraced this idea, and the patterned floor-to-ceiling wall treatment is definitely working.
4. Maximize a tiny space.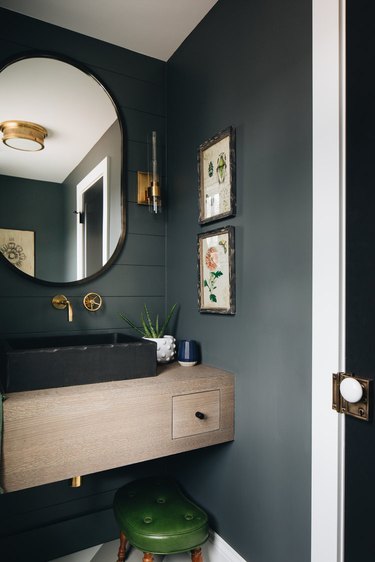 Just because a bathroom under the stairs is presumably spatially-challenged, that doesn't mean you have to forgo style. Surprisingly, you can pack a lot of detail into a tiny lavatory without overpowering it. Follow the lead of Kate Marker Interiors and opt for shiplap in a dark hue, a beautiful vessel sink, gorgeous lighting, and a few pieces of pretty wall art.
5. Don't skimp on amenities.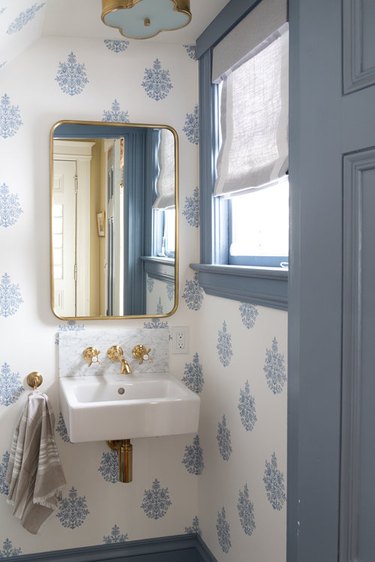 When planning a bathroom under the stairs, you'll definitely have to be more selective about the fixtures you choose to include, but that doesn't mean that you can't include luxe details. For example, in this space by Elliott Meyers Design, the natural light from a small window is maximized with reflective, lustrous brass finishes, a large mirror, and a cool color palette. A wall-mounted sink keeps the floor clear while a flush mount light fixture keeps the ceiling clear, making this water closet feel bigger than it actually is.
6. Consider a rounded door.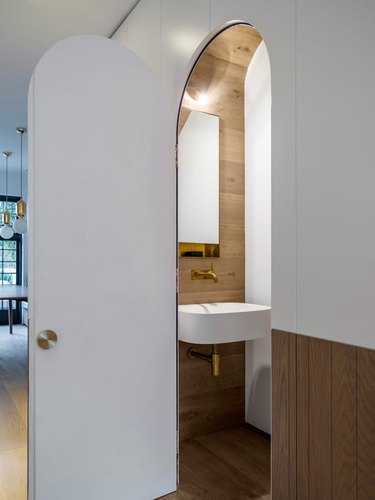 Let's be honest, an arched door is pretty chic! And you know what else is? An arched ceiling. And in the case of this Luigi Rosselli Architects half-bath, both are put to good use. Wood planks, which match the floor, act as a backsplash and continue across the ceiling to add depth and warmth in a tight space. Not to mention, the wood paneling also accentuates the curved design and makes a powerful visual impact.