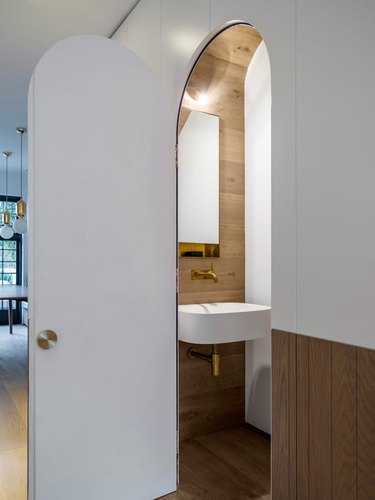 If the thought of having an extra bathroom sounds too good to be true, we have news for you: it's not. Installing a powder room below your stairs could be the answer you're looking for. You simply need some out-of-the-box thinking and a bit of ingenuity to make the awkward space work in your favor.
But before you start looking for wallpaper and tile samples, there are a few factors that you should consider. Do you have enough room for a toilet? Will you be able to use the space without bumping your head on the ceiling? Can plumbing be easily installed? Do you have enough space to include a sink as well? How about a tub or a shower?
If the answer to these questions is 'yes', then here are six ideas for your future bathroom under the stairs.
1. Choose one main focal point.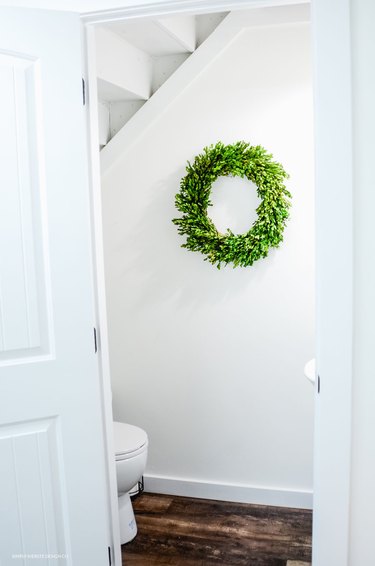 When it comes to designing a bathroom under the stairs, you don't need to overwhelm the space with tons of decor. We're thinking that you should pick an eye-catching anchor to serve as your main focal point. In the case of this powder room belonging to Kierste of Old Salt Farm, a green boxwood wreath does the trick.
2. Wrap in peek-a-boo details.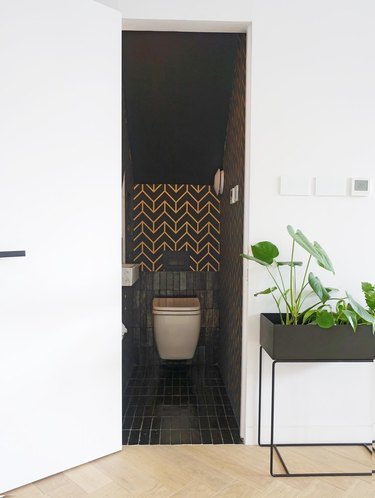 3. It's all about the backsplash.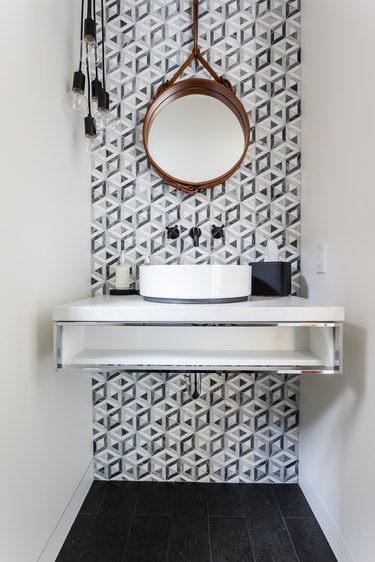 As we mentioned, there's not a whole lot of space for decor in a bathroom under the stairs. But, you always have room for an attention-grabbing backsplash. So why not make tile the focus of your diminutive water closet? The team at JMJ Studios clearly embraced this idea, and the patterned floor-to-ceiling wall treatment is definitely working.
4. Maximize a tiny space.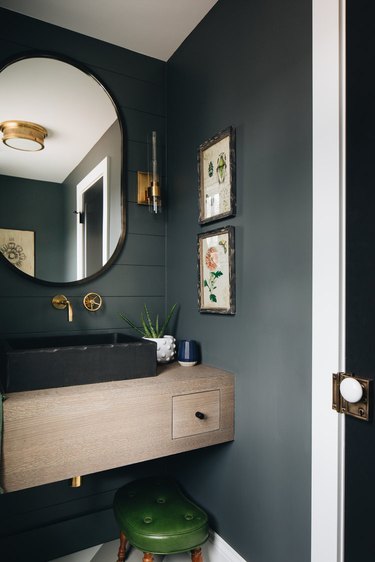 Just because a bathroom under the stairs is presumably spatially-challenged, that doesn't mean you have to forgo style. Surprisingly, you can pack a lot of detail into a tiny lavatory without overpowering it. Follow the lead of Kate Marker Interiors and opt for shiplap in a dark hue, a beautiful vessel sink, gorgeous lighting, and a few pieces of pretty wall art.
5. Don't skimp on amenities.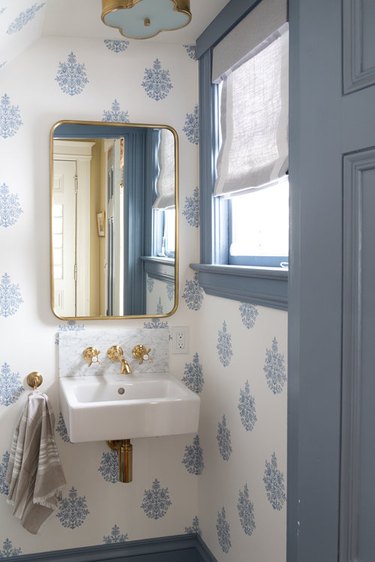 6. Consider a rounded door.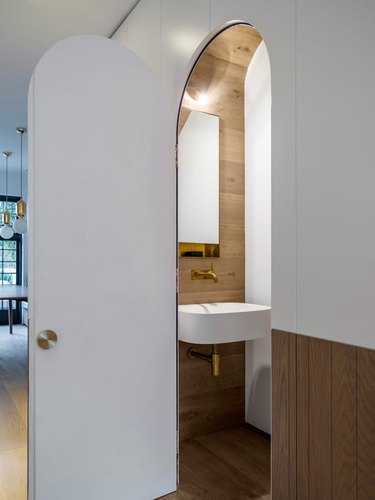 Let's be honest, an arched door is pretty chic! And you know what else is? An arched ceiling. And in the case of this Luigi Rosselli Architects half-bath, both are put to good use. Wood planks, which match the floor, act as a backsplash and continue across the ceiling to add depth and warmth in a tight space. Not to mention, the wood paneling also accentuates the curved design and makes a powerful visual impact.
---
Shelby Deering is a lifestyle writer who contributes to national magazines and websites, including Country Living, Good Housekeeping, Well+Good, and more. When she's not writing, you'll find her shopping flea markets, hiking, and going for walks with her corgi.