You know those old-time movie scenes when the leading lady floats down a gorgeous staircase and makes her grand entrance? Chances are, she was gliding down an art deco staircase, one marked by glimmering railings, a curvaceous profile, and geometric details.
Even though you'll likely be traipsing down the stairs in your favorite pair of pajamas while holding your morning coffee, we still think that this glam design from yesteryear has a place in today's homes. In fact, when it's presented in modern styling, like black railings or reclaimed wood, it can suddenly work with a wide variety of interior styles. Don't believe us?
With eye-catching shapes and linear accents, here are seven art deco staircases that we can't stop thinking about.
1. Go for the dramatic entrance.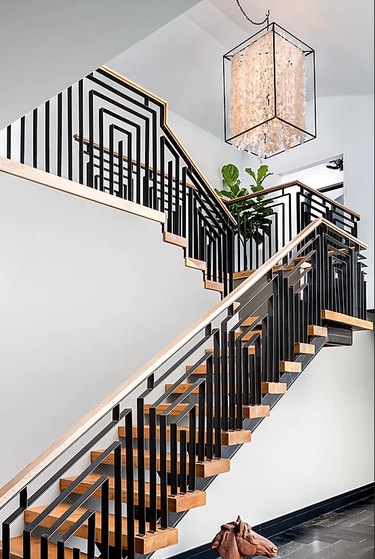 OK, so Marilyn Monroe and Bette Davis might not be traipsing down your stairs anytime soon, but that doesn't mean that you can't dial up the drama in your entryway with an art deco staircase. With its artistic, eye-grabbing railing, this design by the team at SinglePoint Design Build is a true showstopper.
2. Add a hint of glam to a modern farmhouse design.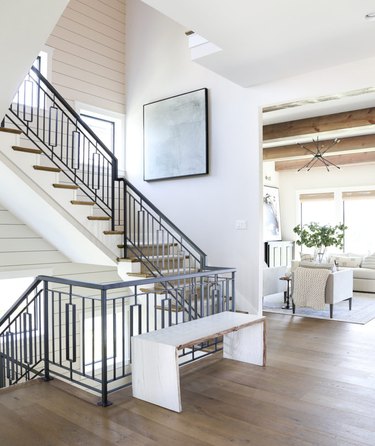 Like we said, an art deco staircase can absolutely work in a modern farmhouse. For instance, in this abode owned by Nancy of Pearson & Company and captured by Sarah of Life on Virginia Street, the stairwell is a contemporary centerpiece that plays surprisingly well with rough-hewn wood finishes and vintage-inspired decor.
3. Wrap in linear details.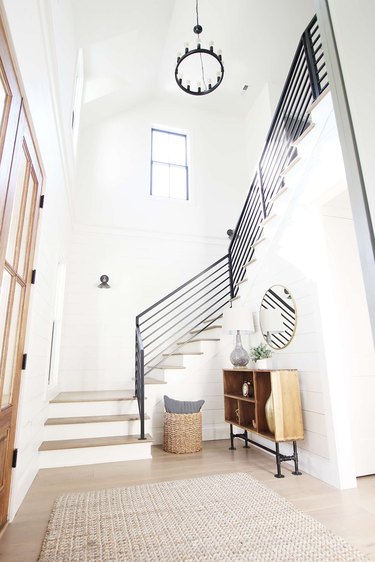 Although geometric shapes are often seen in art deco staircases, clean, linear railings can also communicate the style, too. Curving around the stairs, this design in a home belonging to Brooke and Henry of Plank and Pillow stands on its own as a statement-making piece of art.
4. Mix rustic and art deco touches.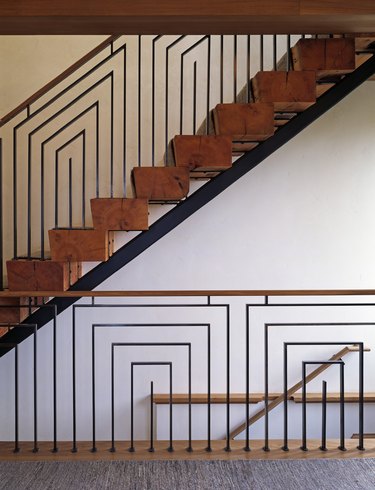 We love good dichotomy around here, and it certainly goes for this rustic-meets-art-deco staircase by architect Ike Kligerman Barkley. The juxtaposition between rough-hewn wood steps and a geometric railing design comes together beautifully in perfect harmony.
5. Opt for a curved look.
Curves are key when it comes to art deco design, and it's certainly true when it comes to staircases. For example, this design by Hecker Guthrie sports curved details that lend a soft elegance to throughout the home.
6. It's all about brass.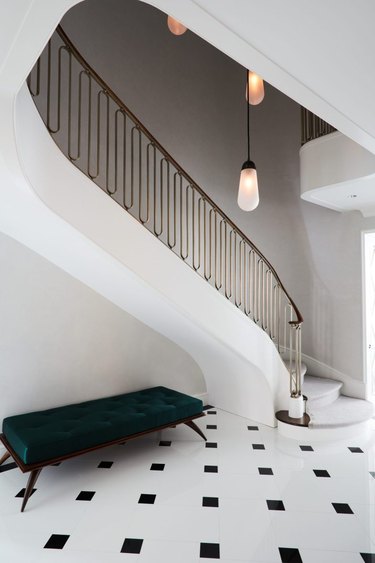 7. Glamour, glamour, glamour.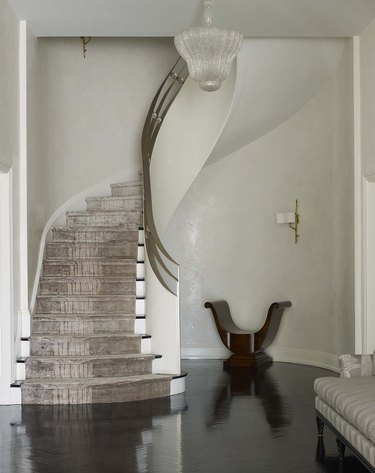 When all else fails, we say go for broke with an art deco staircase and simply embrace the glamour. Opt for brass railings, choose a curved silhouette, and pair it with velvety carpet and a luxe light fixture, visuals that Studio Sofield mastered in this grand entryway.