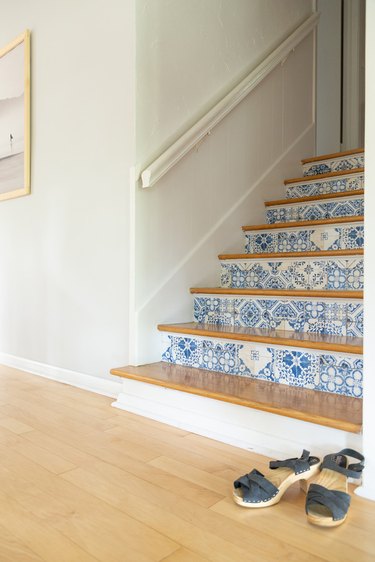 Here's a clever way to add color and pattern to your home: "decorate" your stairs. Yes, stairs. In a few simple and affordable steps, you can add a pop of personality with removable wallpaper.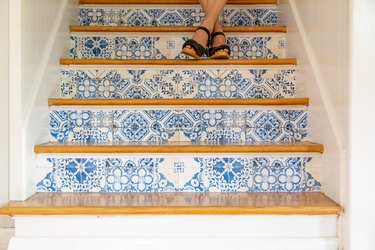 To get a faux tile look, removable wallpaper is a smart (and budget-friendly) solution. And while you can certainly buy patterned peel-and-stick stair risers that are precut, for this tutorial we found a way to make it less expensive and pretty darn easy. This DIY will set you back around $30 — that's it!! Let's get started ...
Things You'll Need
X-ACTO knife

Yardstick

Cardboard, foam core, or self-healing mat

Pencil
Step 1: Measure the stair risers.
Measure and check each riser (they should be the same size, but you will want to double check). The risers in this tutorial were 39.5 inches by 4.85 inches.
Step 2: Measure out dimensions onto the removable wallpaper.
First we measured the front of wallpaper to check that the lines were straight on the front pattern.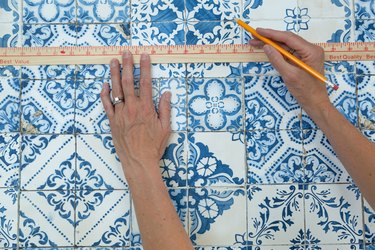 Step 3: Cut the wallpaper with an X-ACTO knife.
When cutting the wallpaper, be sure to cut on top of a piece of cardboard, foam core, or a self-healing mat.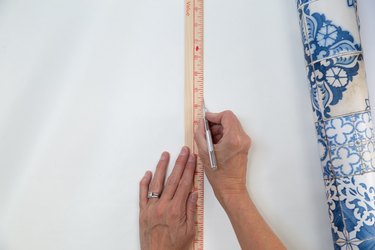 Step 4: Peel and stick.
Now it is time to adhere the peel-and-stick wallpaper pieces to the stair riser. Peel off the backing and line up the piece on corner of riser. The removable wallpaper is forgiving, so if you need to straighten the paper, it is all good!
Step 5: Use the scraper to smooth out any bubbles.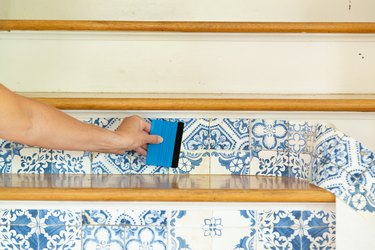 Step 6: Finish all of the risers.
Continue applying the removable wallpaper pieces until you have covered the risers.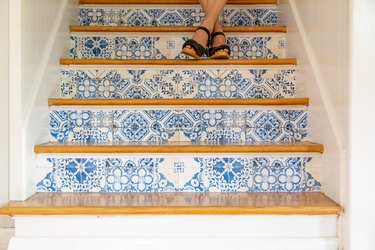 What we love most about this simple DIY project is how you can completely change the look of a focal point in your home with an inexpensive project. The faux blue-and-white tile is perfect for summer, don't you think? We are dreaming up a black-and-white print for the cooler months! (Keep things changing to keep things interesting!)