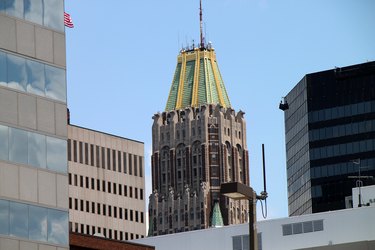 In addition to home decor and posh interiors, art deco style also influenced architecture — resulting in the production of some of the most iconic buildings to date. You can often take entire tours in major cities dedicated to seeing these architectural marvels.
Art deco buildings were built with a focus was on modernity and opulence. These structures stood out against their surroundings, often because of their height, sharp angles, or gleaming towers. While no two art deco buildings look exactly the same, you can often spot them due to a few overlapping design elements.
Here are just a few of the major characteristics of art deco style architecture:
Gleaming Exteriors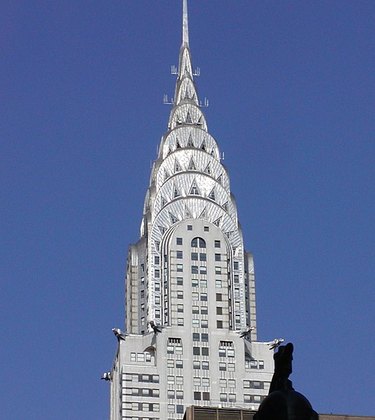 The steel framework and metal accents of the Chrysler Building in New York give it a shiny, glam look that epitomizes the art deco style. In Art Deco, Eric Knowles writes that the building included "visual metaphors for the Chrysler motor car company." For example, "the windows suggesting the spokes of a car wheel." The gleaming exterior of the structure became a symbol for art deco glamour.
Highly Stylized Interiors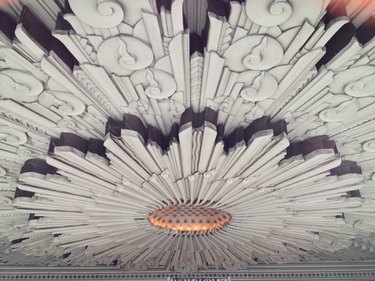 If you don't already see them on the exterior of an art deco building, you'll definitely spot them inside. Stylized details often make their way into art deco architecture. This intricate design, for example, is on the ceiling inside The Wiltern in Los Angeles. Other popular motifs include chevrons, geometric patterns, and marble accents.
Brightly Colored Terra Cotta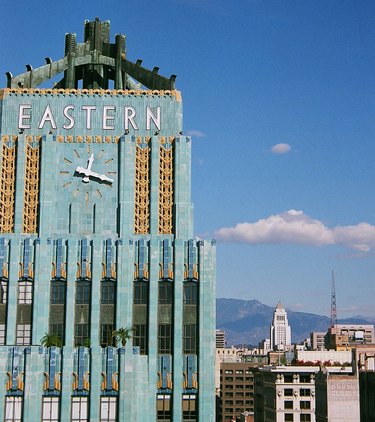 Besides using sleek and shiny materials, architects of the era also wanted to grab the attention of passersby with colorful elements. You might notice a few art deco building make use of turquoise terra cotta, like the Eastern Building in Los Angeles.
Intricate Carvings
Although some art deco structures have the smooth and glossy look, other buildings in the era included ornate carvings and friezes. The Kansas City Power and Light Building, for example, shows panels with detailed designs. Other structures, like the Southern California Edison Building, included bas-relief visual elements that hinted at the building's purpose (take, for instance, this symbol of hydroelectric power).
Sleek Lines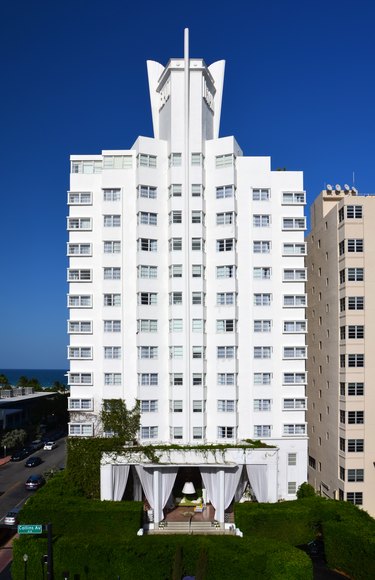 The art deco era focused on the future, and on how architects might make the lines in buildings look more modern. The Delano South Beach Hotel in Miami showcases this beautifully, with sleek lines that meet in staggered layers — a nod to the geometric forms that also thrived during this time.
Metallic Accents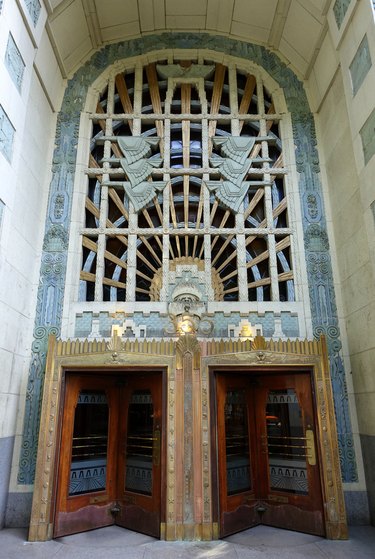 Not all art deco building exteriors use a single material or color. Some of them, like the Marine Building in Canada, mix and match them instead. You can see a number of different metallic accents on the exterior of the structure, even down to the gold handrails on the doors. You'll often see large areas of an art deco building covered in a grid-like metal or bronze layer, sometimes with artistic renderings of nature or symbolic figures — adding just another touch of ornamentation before you even enter the structure.
Ziggurat Outlines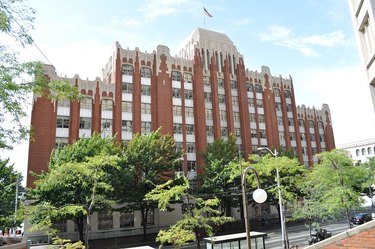 Based on the Egyptian structure of the same name, the ziggurat plays an important part in art deco architecture. The modern interpretation basically looks like receding levels, or a small structural element stacked on top of a bigger one. Take for instance the Federal Office Building in Seattle, which perfectly highlights this style.
Sky-Reaching Towers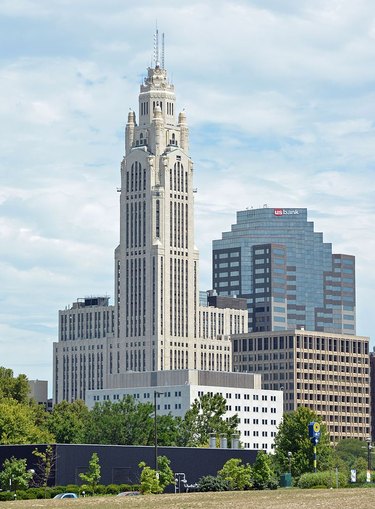 Many an art deco building features a tower or spire that seems to almost pierce through the clouds. This goes back to the focus on new materials and technologies. The Chrysler Building, which we mentioned above, was once the world's tallest skyscraper. Other buildings, like the LeVeque Tower in Ohio, also reach for great heights.