This article was originally published on Lonny.
One of the best ways to create some style in your home is to do something unexpected. One of those subtle, yet totally incredible tricks? Painting your staircase. Whether you are creating a cool contrast with a railing, going totally rainbow, or adding in hand-painted tiles, your home will totally make a cool statement.
Want to get inspired by some pretty stairways? We rounded up 15 incredible spaces that will convince you to grab a paint can. Click ahead to get elevated.
1. Rad Railing
A stark black railing adds lovely definition to this modern space.
2. Directional Design
Lavender triangles add a nice pop of color and also add some direction as you are descending the stairway.
3. Tile It
Hand-painted tiles are always an incredible option for an outdoor staircase.
4. Take It In
But they make even more of a statement indoors!
5. Tangerine Dream
Don't be afraid to fill your stairwell with a wash of color. It's going to totally transform your space for the better.
6. Go Gray
Want to keep things neutral? A gray staircase is a nice way to mix up an all-white space.
7. Retro Pop
The infamous stairwell at Opening Ceremony in Tokyo is such an inspiring design for anyone who wants to fill their home with a Memphis-style aesthetic.
8. Treasured Trim
A touch of green on the trim of this stairwell is a simply chic way to incorporate in color.
9. Faux Runner
Details painted down this beautiful minimalist stairway almost make it look like there is a carpet running down.
10. Pretty Pastels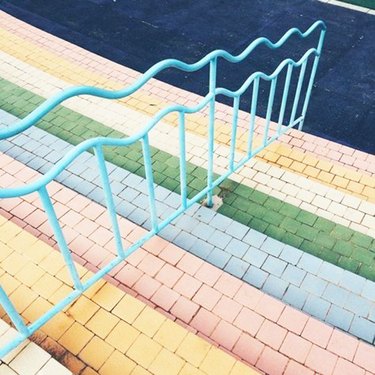 Don't be scared to paint your bricks in a wash of bold color. All your friends will be 'gramming them at every visit.
11. Shades Of Blue
Want to do a rainbow staircase that stays on palette? Find a mix of complimentary shades that will keep each step cohesive.
12. Frame It
Painting the side of your staircase a bold color will create a seriously cool contrast to frame your wall beneath.
13. Graphic Alternative
Don't want to deal with a paint can? Wallpaper is a great alternative to add a pop to your steps.
14. Go Green
We love how this light sage color brings life to this space.
15. Have Fun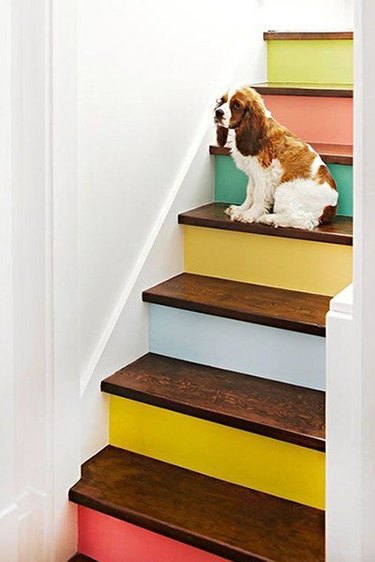 Don't forget to have fun! Your home is a space to express your personality, whatever the shade.