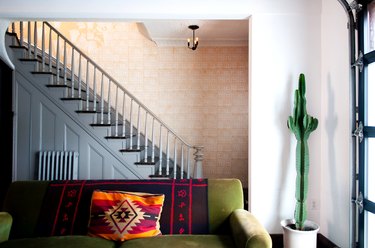 When you picture the perfect modern staircase, what do you see? Chances are you envision a series of steps stacking toward the ceiling either in a straight line or maybe an effortless art deco curve. But before you even reach the risers, you'll probably see the painted stair rails. Consequently, the stair rail color palette, without a doubt, sets the mood and energy for your space.
Stair rails and banisters are much like maps; they show you the exact path you will take to get to the next floor and room. But how do you settle on the right colors for your painted stair rails; where do you start?
Here are a few lovely ideas to guide you in the pursuit of a perfect stairwell design.
1. Classic Black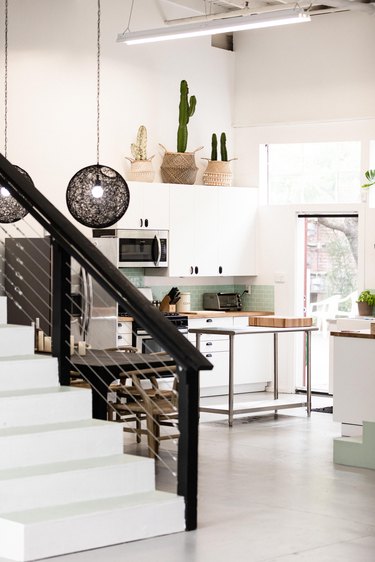 If you're set on a more classic or minimalist look, go for something rich. Black painted stair rails and banisters prove time and again that they can introduce subtle, clean, and inviting vibes to any entryway without distracting from the design.
2. Luxe Gold and Black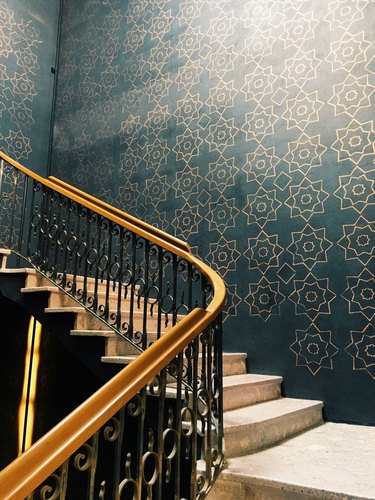 If you're looking to add a little flair to a traditional entryway, try a gold and black palette. These two colors feel almost like they were made for each other because the richness of black paint enhances any gold tone. Plus, the luxe combo lets you add a little extra glam in the room. This design even features a stunning gold filigree wallpaper.
3. Crisp White
If dramatic and bold isn't your thing, there's nothing wrong with embracing classic and creamy white painted stair rails. This is especially true if you're working with a smaller space in which the staircase serves as a principal object in the room. A crisp white will work especially well in a cozy Scandi room like this one.
4. Soothing Gray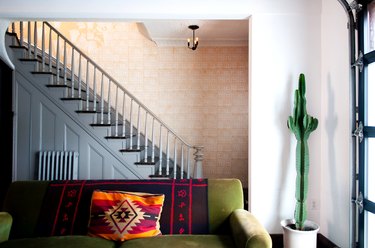 Believe it or not, a little gray goes a long way. Take this staircase, for example. We like how it doesn't just blend into the light pink walls. In fact, using a subtle gray color on the stair rails completely shifts the dynamics of this desert-style room. It highlights an otherwise unnoticeable feature, adds depth to the space, and complements the greenery.
5. Navy Blue
Navy blue is a lovely primary color variation to consider. It works not just for painted stair rails, but for the surrounding room as well. A striking blue on the kitchen cabinets and island, for example, will pair perfectly with your banister and creamy walls. Expect a cool and calming energy when you use this shade.
6. Bold Pink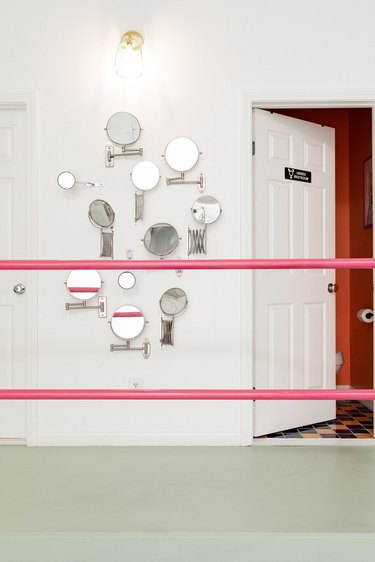 Even if pink isn't typically your color, consider adding a bright, bold version of it on the stairway railing and banister. A high-contrast color, like bright rose, blue, or even neon green, will turn your staircase into a conversation piece.
7. Bright Yellow
There's something to be said for contrasting and bold bohemian color palettes. If you really enjoy combining fun shades, go for yellow stair rails with forest green risers. Why be monochromatic when you can be vibrant instead?