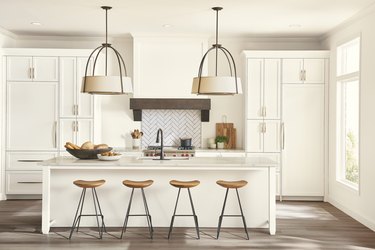 White walls look good in a house no matter the season — but picking the right white paint is actually much trickier than it seems. Turns out there are many factors to consider, from your current decor to the way natural light hits your space.
"While all whites may look the same, they're not all strictly 'white,'" Sue Wadden, director of color marketing for Sherwin-Williams, tells Hunker. "Each white paint color has different undertones."
Wadden recommends three Sherwin-Williams white paints that are surefire hits in any space: Alabaster, a yellow-tinted white; Drift of Mist, with gray undertones; and Pure White, a timeless white with just the slightest hint of warmth. We asked her to share her best tips about how to choose the right one for your space.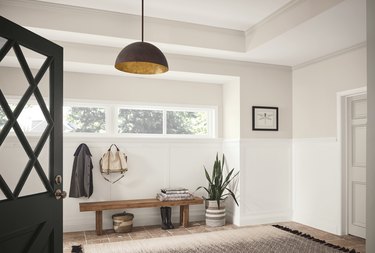 1. Pay Attention to Undertones
"To find the best white for your space, consider whether your decor is mostly warm or cool, and match the white's undertones to that," Wadden says.
2. Take Lighting Into Consideration
"Additionally, you'll want to note the natural light your space gets — the less natural light, the more the undertones will show through, so use a timeless white for a truer finish."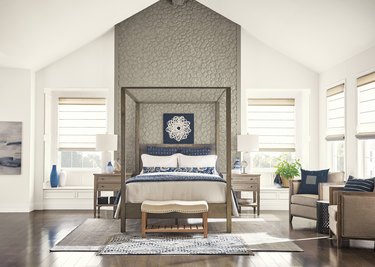 3. Know the Subtle Differences
"Warm whites have undertones of red and yellow, while cool whites have undertones of blue and gray. Timeless whites are more pure, meaning they have fewer undertones and read more as 'true' whites."
While white is great because it's so versatile, different kinds of whites work best with different design styles. Timeless whites are truly the jack-of-all-whites since they have fewer undertones, meaning they can be used anywhere and with any color you like. Warm whites work best with traditional styles, which tend to use warmer finishes and colors. Cool whites are the perfect pairing to modern styles, which use cooler-colored finishes like chrome and black.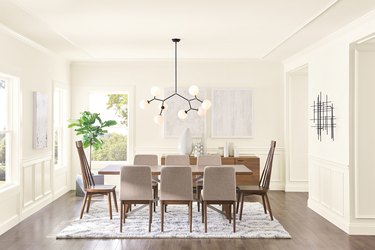 4. Test Before You Commit
Sherwin-Williams has an excellent app called ColorSnap Visualizer, which you can use to virtually view paint colors on your walls and build color palettes. However, since the differences between whites are so subtle, I highly recommend taking paint chips home to tape up on your walls. Then, when you've narrowed it down to a few choices, get wet samples and paint a large square of each color. Look at it at different times of day to get a sense of how it looks in different lighting situations.
---
Stefanie is a New York–based writer and editor. She has served on the editorial staffs of Architectural Digest, ARTnews, and Oyster.com, a TripAdvisor company, before setting out on her own as a freelancer. Her beats include architecture, design, art, travel, science, and history, and her words have appeared in Architectural Digest, Condé Nast Traveler, Popular Science, Mental Floss, Galerie, Jetsetter, and History.com, among others. In another life, she'd be a real estate broker since she loves searching for apartments and homes.
View Work