The products we write about are recommended by our editorial team. Hunker may earn compensation through affiliate links in this story.
Most paint shopping experiences happen the same way: you walk to the paint section of your local hardware store and your eyes widen as you take in all the options. Or maybe you arrive at the store with a photo or paint chip in hand, only to realize there are more than a dozen similar hues.
As much as we love getting lost in seemingly endless rows of colors at the store, sometimes you don't quite know what color you want. Or maybe you can't find the exact shade you envisioned (even though there seem to be a ton on display). Enter the next phase of paint shopping experiences: brands that specialize in making the whole situation easier. (And a whole lot more chic.)
We highlighted some of the names that are currently catching our eye — whether through ingredients, packaging, color theory, or the shopping experience. Here are some of our current favorites:
1. Portola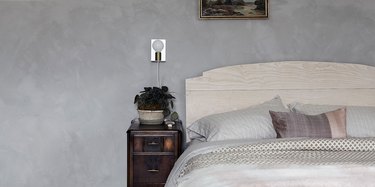 With paint names like Chateau, Moonlight Drive, and River Rock, the hues featured in Portola's collections make us feel relaxed already. The paint brand produces its small batches in Los Angeles, with every color blended by hand. The natural beauty of Southern California largely inspires the colors.
In addition to paint and lime wash options, Portola also carries a Roman Clay, which its website describes as an "eco-friendly plaster finish ideal for smooth interior walls." You apply it with a putty knife for a rustic look.
2. Backdrop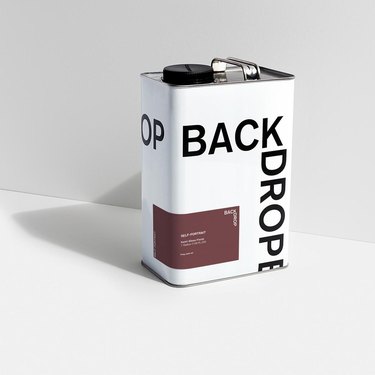 We highlighted Backdrop previously, but we can't help but revisit the brand for this list. Just recently, Urban Outfitters started carrying its distinctive paint cans. After realizing that paint companies "have been doing things the same way for almost 200 years" — as its website states — the brand gave the ol' paint can a makeover. It includes an easy-to-use handle, rustproof stainless steel, and a bigger opening.
The company's 50-color selection includes standard paint, semigloss paint, and primer. Some of the hues include Dark Arts, Surf Camp, and Self-Portrait. Instead of sending typical samples to interested customers, Backdrop decided to go with 12-inch-by-12-inch stickers, which you can move around your wall to envision the color in your space. Backdrop purchases also help support the International Rescue Committee, which spearheads efforts to help people affected by humanitarian crises.
3. Clare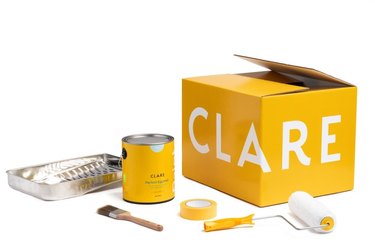 Interior designer Nicole Gibbons wished that finding the perfect paint could be easier, so she decided to create Clare. The paint brand's Color Genius tool uses eight questions — like what space you want to decorate, how much sunlight it gets, what your decor looks like — to suggest your ideal shade. The brand's shades come in names like Greige, Golden Hour, Lemonade, Money Moves, and Matcha Latte.
The brand currently offers wall, trim, and ceiling paint, along with primer. Everything arrives in bright and cheery packaging at your doorstep so you can avoid the stress of a hardware store visit. Clare paint is also zero VOC and Greenguard Gold certified, meaning it has low chemical emissions.
4. Sydney Harbour Paint Company
Made by Sydney-based artisan paint company Porter's Paints, the hues featured in Sydney Harbour Paint Company range from Violets and Burnt Umbers to Liquid Gold. The Duchess Satin category includes colors like Evening Slipper and Dry Ice. The water-based paints are also zero VOC, with a depth of color that the company prides itself on.
If you're looking for more of a finish, the brand also carries lime wash and specialty finishes, like chalkboard paint. If you want to deepen your knowledge, you can take special workshops to learn more about paint application across these categories.
5. Magnolia Home by Joanna Gaines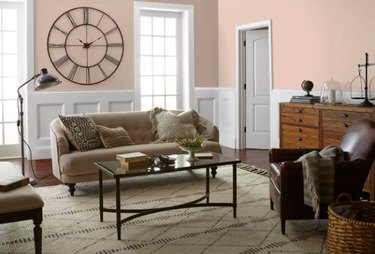 Joanna Gaines continues to make a splash in home decor, so it's no surprise that her Magnolia brand also includes paint options. Though limited at the moment, her interior paint collection perfectly encapsulates her farmhouse-chic style.
Each hue comes in matte, eggshell, and satin finishes. Fans of deep, eye-catching hues might gravitate toward Vine Ripened Tomato. For a more weathered look, the brand also carries Chalk Style Paint meant to "revamp old furniture." So you can get that Gaines vibe going on not just your walls but also your furniture.
6. One Kings Lane
Besides carrying super-chic decor brands, One Kings Lane also created its own paint brand. The 32-color collection is made in the U.S. and developed with Colorhouse (mentioned below), the focused collection is much smaller than your average suite of paint hues. That way, you can find your ideal set of colors without getting indecision headaches.
The collection's hues include Boysenberry, Honeycomb, and Wine Country. If you want to try a color ahead of time, you can get an 8-ounce sample shipped to your doorstep. The paints are mildew and mold resistant, low odor, and zero VOC when untinted.
7. Colorhouse
Originally conceived as YOLO Paint — a custom color and mural service — Colorhouse came to fruition when founders Olivia and Janie started to dig more into the chemical makeup of paint. They started talking to paint and green chemists to find a way to make paints with less toxic ingredients. Now, they offer eco-conscious colors that come in collections like Sprout and Earth's Color.
Each color arrives in recycled containers and if you happen to live in Portland, you can dispose of leftover paint at the company's warehouse for recycling. You can request an 8-ounce sample of a color you love or a fan deck featuring 128 colors.
8. Bauwerk Colour
First created in Austrlia, Bauwerk Colour aims to create a range of hues for both indoor and outdoor use — and makes them with natural materials. The brand's Colour Picker lets you upload a photo of a space to see which colors in its collections might match. And if you want a splash of color on something smaller than an entire wall, the brand also carries Pot Paint, good for cement, stone, terra cotta, and masonry.
No matter which hue you choose, the brand creates each paint entirely with "lay, minerals and beautiful natural pigments," according to its website. Bauwerk also keeps the environment in mind, with production processes that are 100% green-powered.
9. Farrow & Ball
Farrow & Ball's history traces back to 1946, but somehow the brand's offering — and general aesthetic — appeals to our modern taste for timeless hues. Plus, its selection includes names like Elephant's Breath, Nancy's Blushes, and Borrowed Light. And, according to the brand's website, Farrow & Ball claims the title of the first in the industry to move to an entirely water-based range. So that makes its paint both eco-friendly and stylish.
The brand takes color seriously and offers "colour consultancy," which includes expert advice on choosing colors for up to four rooms. The New Yorker calls Farrow & Ball's moody, darker shades the kinds of hues that were "favored in former centuries to hide the stains of oil lamps or pipe smoke." If that doesn't convince you to draw the shades and warm up the fireplace before settling into your armchair with a book, we don't know what will.
---
Eva Recinos is an associate editor at Hunker. You can reach her at eva@hunker.com

View Work