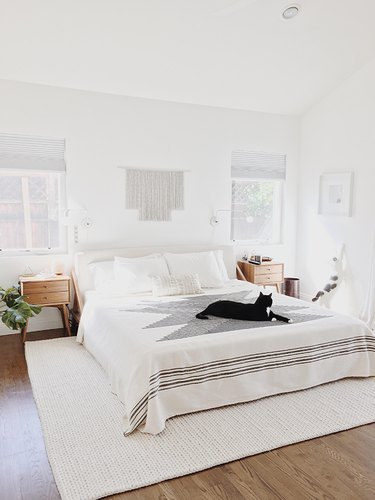 If you scroll through your Instagram feed, you'll undoubtedly notice that there's one color that reigns supreme these days: white. Even though it's everywhere, we haven't tired of the all-white trend yet. Why? Whether small or large, windowless or overflowing with sunlight, the snowy shade has the amazing capability to brighten up any room — but it looks especially at home in a bedroom combined with soft light, creating a soothing sanctuary. (It also has major minimalist benefits, too.)
So instead of painting a bedroom white and overwhelming it with colorfully patterned pillows and throws, allow the shade to speak for itself and only display thoughtfully chosen pops of color. Since it's timeless, we're guessing that you won't tire of your color choice anytime soon. Here are six all-white bedroom ideas that will convince you to embrace the trending neutral.
1. Think about the silhouettes.
This all-white bedroom captured by photographer Nicole Frazen is completely on-trend, and yet, it's quiet and unassuming with textured accents. Follow Space Exploration Design's lead and seek out silhouettes that are current and invite the eye to linger. Here, a white circular pendant light meshes flawlessly with an abstract lamp and ceramic vase.
2. Hang artwork that won't overpower the room.
Vibrant artwork definitely has its place, but you may want to dial down the color of your wall art in an all-white bedroom. Instead, choose simple designs and neutral hues that match the vibe of the rest of the space. Amy of Homey Oh My has done that perfectly here, hanging chic black-and-white linear wall art above her bed.
3. Incorporate houseplants.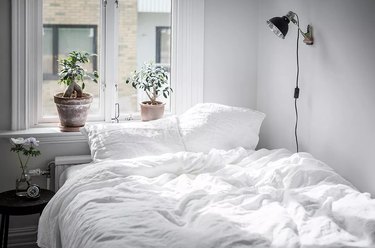 Here's another all-white bedroom idea: Adding greenery is a fail-safe way to subtly weave color into monochrome sleeping quarters. In the case of houseplants, green is a neutral, and they look particularly organic when placed in a peaceful, down-to-earth white bedroom. For example, the verdant plants in this Swedish bedroom look downright cozy sitting in the windowsill.
4. Consider texture.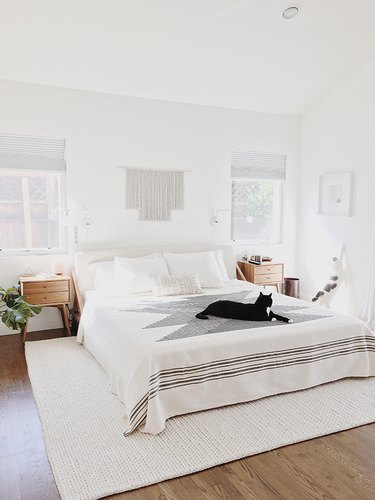 Texture is a great all-white bedroom idea that's anything but boring. Through pillows, blankets, linens, rugs, and wall hangings, you can invite visual appeal. Molly of Almost Makes Perfect showcases lots of cool textures in her bedroom, from the woven blanket to the yarn wall hanging to the handwoven area rug.
5. Choose decorative pieces carefully.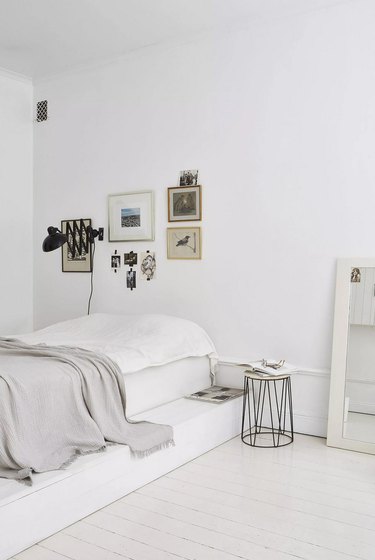 If you're striving for a truly minimal all-white bedroom idea, it's key to be oh-so-thoughtful with each and every decor choice you make. Pick items that have special meaning to you or make subtle impacts. For instance, take a page out of Fantastic Frank's Scandinavian design book and place minimal, yet sentimental artwork above the bed.
6. Mix together varying shades of white.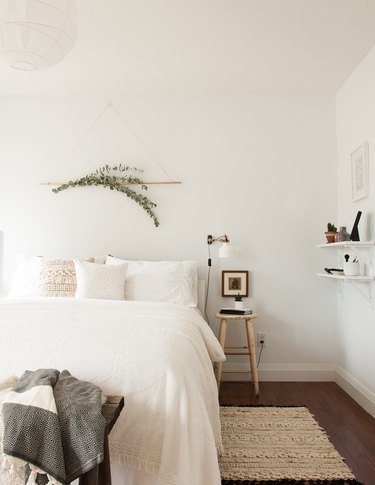 One awesome thing about an all-white bedroom is that you don't have to stick to the same exact shade of white throughout the space. In this boudoir belonging to Amy of Love on Sunday a myriad of white hues, from cream to beige to stark white, come together effortlessly to create a dynamic feast for the eyes to enjoy.