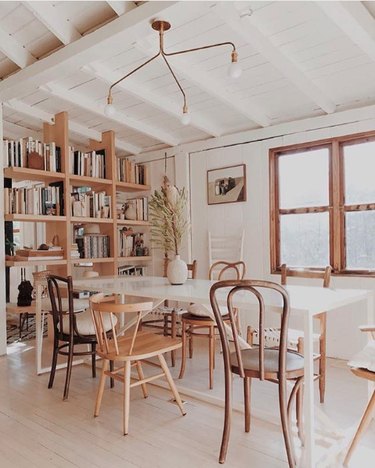 Welcome to Scandi-land, our celebration of the magic that is Scandinavian design. All week, we'll be bringing you tours, features, and shopping guides that dive deep into what makes Nordic design so covetable. Want more to read? Check here.
Instagram is obviously a hotbed for design inspiration, but there are so many images to sift through. There are more than 2.3 million results under #scandinaviandesign alone, for example. So, we've done some curating for you in honor of our Scandinavian design week. Check out 10 Scandi decor ideas we're stealing from Insta:
1. Storage as Decor
Scandi design is all about minimalism, so you'll often find storage pulling double-duty as decor. Try grouping tops in similar shades on a clothing rack to make a pretty statement.
2. One Leaning Print
Speaking of minimalism, if you're going to create a Scandi-approved gallery wall, stick to similar neutral hues. We love how one of these prints is simply leaning against the wall instead of hanging.
3. Repurposed Bar Cart
Bar carts offer a great organizational opportunity, but keep it Scandi by not cluttering yours up. You don't even have to use it for alcohol, honestly. Try storing your magazines on the bottom and displaying decor accents on top.
4. Haphazard Greenery
This bouquet is perfectly imperfect, breaking up the clean minimalism in the rest of the room. Plus, it's pretty easy to recreate on your own.
5. Mix-and-Matched Iconic Chairs
The Scandinavians are internationally known for their iconic seating, such as Hans Wegner's Wishbone and Elbow chairs. The Scandi-inspired chairs in this dining room look great mixed and matched.
6. XXL Houseplants
If you look at Scandi interiors, you'll often find houseplants — and especially of the large-and-in-charge variety. Plus, we're always in favor of adding a little greenery.
7. Taper Candles
Unscented candles are a Scandi essential to brighten up long, cold nights — so place them anywhere and everywhere. Plus, you can have fun picking out funky candlesticks like the one on this dining table.
8. Elements of Hygge
This living room is the definition of hygge — a Danish cultural concept that equates cozy surroundings with general well-being. Just pile on the blankets and throw pillows.
9. Neutral Bedside Blooms
We've noticed a lot of low-key bouquets in Scandi spaces that don't detract from the overall minimalist vibe — and especially on nightstands. Now that's a nice way to wake up in the morning.
10. Mixing Neutrals
Scandi design is all about a neutral color scheme — especially white. But try mixing and matching those neutrals to add more dimension.